What can Small World Vacations do for you?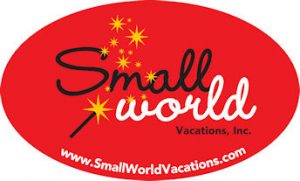 Small World Vacations, a Diamond Level Authorized Disney Vacation Planner, can help you save time, headaches and money. We have been creating magical Walt Disney World® Vacations since 1996. We are proud to be recommended by MouseSavers.com and the DisneyFoodBlog.
Your Small World Vacations agent is your best resource when planning a magical Walt Disney World Vacation. We are happy to speak with you and help you figure it all out. There is no charge for our Disney expertise and experience.
Let's get the magic started!
Below is a list of Walt Disney World® planning tools, guidebooks and trusted websites that our agents use every day.  Contact your Small World Vacations agent if you have any questions.
Walt Disney World® Planning Websites
Walt Disney World® Guidebooks
These links are for guests who booked a vacation package reservation with room and tickets and/or dining on or before October 15, 2018.
These links are for guests who booked a vacation package reservation with room and tickets and/or dining on or after October 16, 2018.
Walt Disney World® Theme Parks

Beyond the Theme Parks
Theme Park Ticket Options
Base Tickets (One Park Per Day) – Able to visit just one Theme Park per day
Park Hopper Option – Able to visit more than on Theme Park in one day (Upgrade $ from Base)
Park Hopper Plus Option – Visit Water Parks, Select Golf and Mini-Golf and ESPN Wide World of Sports (Upgrade $)
My Disney Experience – Your Digital Guide to the Magic
Create a My Disney Experience Account at StartYourDisneyExperience.com and link your Walt Disney World® reservation number. Enjoy all that My Magic + has to offer including:
Customize your Magic Bands– Disney's all-in-one waterproof wristband which will be encoded with your room key and other components (if applicable) such as park tickets, dining plan credits, charging privileges, FastPass + selections and Memory Maker.  (Your magic bands can be customized  up until 11 days prior to arrival and shipped directly to your USA residence. (International guests can pick up their bands at their Disney Resort)
Make and view Advanced Dining Reservations (Starting at 6am EST, 180 days prior to arrival)
Reserve multiple Disney Fast Pass+ for select rides, entertainment and character meets
(At 7am EST 60 days prior to arrival. Subject to availability)
Check-in to your Disney Resort online. (Suggested at 10 days prior to arrival.)
If you need technical assistance creating your My Disney Experience account, ordering your Magic Bands, or selecting Fast Pass+ call Disney's help desk at (407)-939-7765 between 7 a.m. and 11 p.m. EST.
If you have multiple room reservations or are traveling with other families, click here for directions for linking more than one MyDisneyExperience Account so you can schedule FastPass+ Selections (or Memory Maker)
Download the My Disney Experience (MDE) app onto your Smartphone prior to going to Walt Disney World©.
Advanced Dining and Other Reservations
Walt Disney World® Restaurant Menus
At exactly 180 days in advance, you can begin making Advanced Dining Reservations (ADRs), Bibiddi Bobiddi Boutique/Pirate's League, Recreation, Dinner Shows and Tours. To determine when you can start, click this link to a Planning Calculator, a handy webtool to calculate the exact date when you can begin making reservations. (All Advanced Dining Reservations are subject to availability.)
Arrange your Advanced Dining Reservations through your My Disney Experience account.  You can link your dining reservations to your account and keep your reservations organized in a central location. Or call 407-WDW-DINE.
If you purchased a Disney Dining Plan with table service meals, your Small World Vacations agent would be glad to assist you in reserving your Advanced Dining Reservations.
DisneyFoodBlog.com 
Mobile Ordering
FastPass+ Selections
Starting at 7am EST 60 days in advance, you can reserve your favorite Walt Disney World® experiences before you leave home.  In order to set up FastPass+ Selections, your Walt Disney World® Vacation Package Reservation # or Valid Theme Park Passes must be linked to your My Disney Experience account.  (Subject to availability.)
Planning Calculator – When to make important reservations and FastPass+ Selections
This Touring Plans Link has great information about making your FastPass+ Selections.
You can choose up to Three Disney's FastPass+ Selections for one theme park each day through your My Disney Experience account. Certain restrictions apply.
You can get a limited number of additional FastPass+ after your original Fast Pass+ Selections have been used or expire.
Make changes with the My Disney Experience mobile app, at your Disney Resort Lobby Concierge or at the FastPass+ kiosks conveniently located throughout all four theme parks.
If you need assistance selecting FastPass+ call the My Disney Experience IT Help Desk at (407)-939-7765 between 7 am & 11 pm EST.
Your FastPass+ Selections will be encoded onto your Magic Bands and listed on your MyDisneyExperience.
Disney Magical Express
Disney's Magical Express (DME) is complimentary luggage delivery and roundtrip transportation via Motor Coach from Orlando International Airport (MCO) to your Disney Resort. This must be set up in advance.
Have your flight info (airline, flight#s connecting flights, flight times, city of origin) to set up Magical Express (866-599-0951).
Have your MagicBands accessible when you land at Orlando International Airport. Disney will scan them before you get on the Magical Express bus.
Travel Protection
Learn More  – US Residents Only
If you have purchased a Walt Disney World® Vacation Package and have not added Travel Protection, you can only add travel protection before final payment. Travel Protection must be paid when added.
If there is someone in your party that has a pre-existing medical condition, it is strongly advised that you add Travel Protection at the time of booking.
Contact Small World Vacations for assistance with your Disney Vacation
Published: January 5, 2010