All-New Tenaya Stone Spa is Now Open in Disney's Grand Californian Hotel & Spa at Disneyland Resort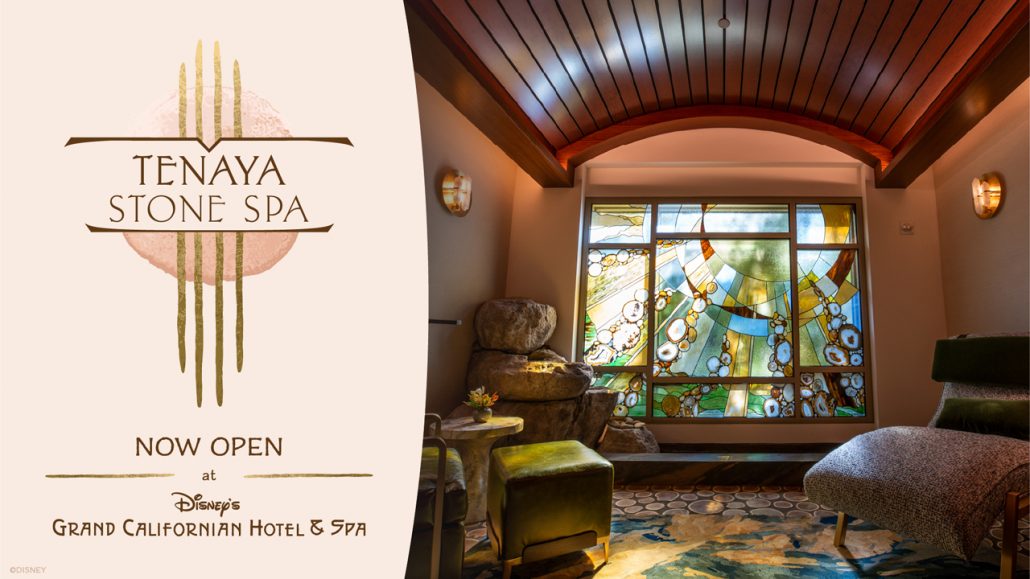 The new Tenaya Stone Spa is now open at Disney's Grand Californian Hotel & Spa at Disneyland Resort!
This all-new, one-of-a-kind retreat was designed by Disney Imagineers who gathered inspiration from the spirit of nature, indigenous cultures of California and the iconic Craftsman design of the hotel. This full-service spa is a rejuvenating haven, where Guests can enjoy a spa day and choose from an array of luxuriating body treatments, massage and salon services, all performed in this serene setting.
Here to give a tour is Tenaya Stone Spa Director Brett Perkins!
"Tenaya Stone Spa's distinctive setting and experience encourages relaxation, revitalization, and restoring balance," Perkins said. "Our customized treatments are designed to be stress-relieving, pampering and purposeful, combining a blend of therapies and products."
Choose from a wonderful selection of treatments including the Tenaya River Stone Massage, the Head, Hands & Feet With Heart Massage, the Wild Honey and Mud Body Renewal, the Step in Time Foot Massage or the Avocado Lime & Honey Foot Treatment to name a few!
The spa is located near GCH Craftsman Bar & Grill where spa guests may enjoy a bite to eat before or after their spa treatment, just steps from the hotel's entrance to Disney California Adventure Park.
Tenaya Stone Spa features eight treatment rooms, two for couples massage, four manicure/pedicure chairs, a relaxation lounge, men's and women's changing rooms, and a retail boutique.
Appointments are now available for Guests of the Hotels of the Disneyland Resort. The spa will open to the public at a later date. For more information and a complete list of services, click here.
We look forward to welcoming Guests to Tenaya Stone Spa!
At this time, all spa Guests are required to wear approved face coverings during their entire visit, regardless of vaccination status. Visit disneytraveltradeinfo.com/dlr for other important information to know before visiting the Disneyland Resort.

---
Published: September 16, 2021

[