Gran Destino Tower at Disney's Coronado Springs Resort by Agent Jodie
Gran Destino Tower at Disney's Coronado Springs Resort
by Small World Vacations' Agent Jodie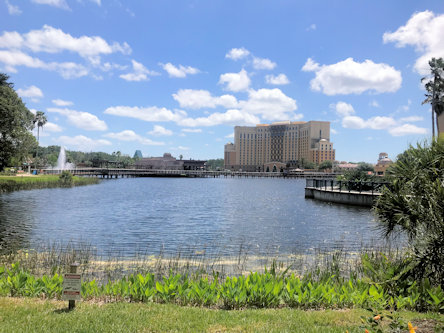 Coronado Springs Resort was the first resort I stayed at onsite many years ago.  It remains one of my favorite Moderate Resorts.  With all the growth happening at the Walt Disney World property, they are building a new tower at Coronado Springs Resort named Grand Destino Towers.  Coronado Springs is the home of one of the largest convention halls and with the new rooms opening up soon, I hope to stay there again soon.
I  toured the grounds to see the update on the Grand Destino Tower and the new Villa Del Lago restaurant.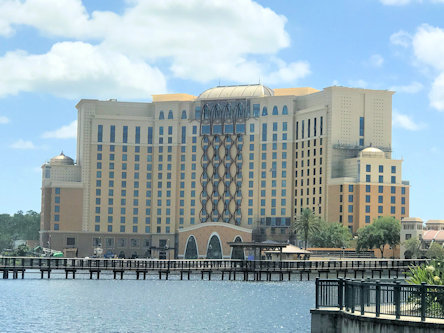 The outside of the new tower is basically completed with a few areas of scaffolding that remains.  From the outside the colors and ornamentation they added compliments the colors and architecture of the original Coronado Springs Resort.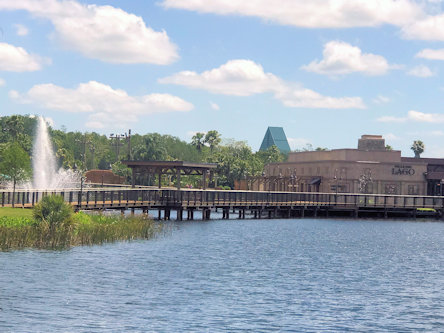 The new restaurant and bar, The Three Bridges Bar and Grill and The Grill at Villa Del Largo, is built over the water and offers great views of the resort.  We tried to get closer to the new restaurant Villa Del Lago, however, they had the bridge locked off with security.    The menu looks very interesting and they have Specialty Cocktails and a Sangria selection.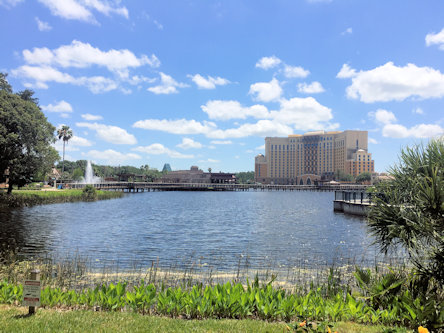 We were able to walk along the walkway in front of the Tower towards the main building and you can see that most of the detail is completed on the outside, the interior is currently being looked at.
Villa De Lago will be accessible by 3 bridges located throughout the resort.  This just opened up this week and I cannot wait to go back and take advantage of their eclectic menu offerings. You sure can't beat the views.
There will also be a new rooftop restaurant, Toledo – Tapas, Steak and Seafood opening along with the new Tower Rooms.  Now is the best time to plan a stay at Disney's Coronado Springs Resort and check out all the new offerings at the resort.
Contact Small World Vacations' Agent Jodie at Jodie@smallworldvacations.com for assistance with your Disney Vacation.