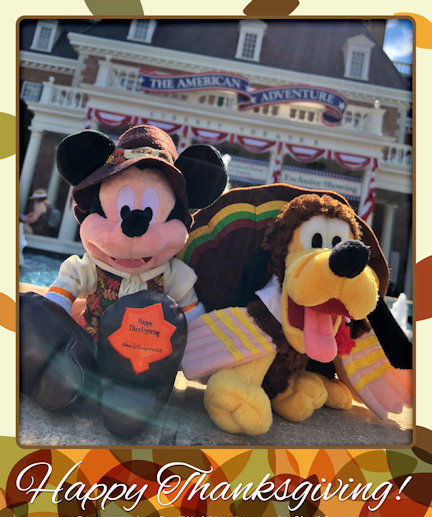 Thanksgiving is a Very Special Day
It's a day when we share family stories and reminisce about happy times.
It's not surprising that many of those memories were made in a Disney theme park.
We're so grateful to have helped you create cherished Disney Vacation memories.
And, when you feel ready to start planning your next Disney Vacation,
We're happy to help you get the Magic started again!

Small World Vacations has a Special Offer just for you!

Get a FREE $25, $50, $75 or $100 digital Disney eGift Card*
courtesy of Small World Vacations when you book a
NEW Walt Disney World Vacation Package valued at $2500 or more
from November 25, 2020 through January 2, 2021
Check-in between December 1, 2020 and April 17, 2021
Exclusive Small World Vacations Disney eGift Card offer Code 2021E: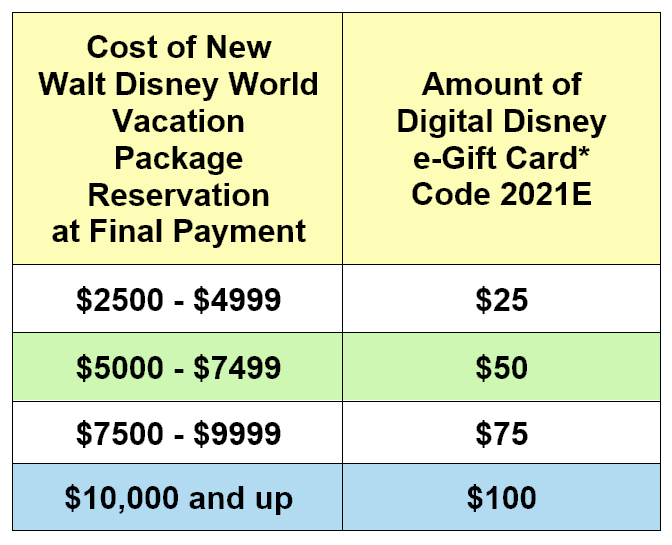 Make New Magical Memories!
Plan a Disney Vacation to look forward to in 2021!
Give your family the gift of a Walt Disney World Vacation
and get some EXTRA spending money from Small World Vacations!

Save up to 35% on Select Walt Disney World Resorts January 3 – April 17, 2021

Use your digital Disney e-Gift Card to buy souvenirs, snacks, photos, gifts, meals, clothing, toys or whatever you like at select locations at Walt Disney World, Disneyland, Disney Cruise, Disney Stores, DisneyStore.com, DisneyPhotoPass.com and Adventures by Disney. The Disney Gift Card cannot be used towards the purchase of a real estate interest in a Disney Vacation Club® Resort.
Please note: Disney Resort hotels, restaurants, attractions, experiences and other offerings may be modified and will be limited in capacity and subject to limited availability or closure, based on direction from health experts and government officials to promote physical distancing. Limited Disney Resorts are currently open to guests but some amenities may be limited or unavailable. For more official Disney info visit this link: Know Before You Go
* Code2021E Small World Vacations Exclusive Offer – Book a new Walt Disney World Vacation Package Reservation with a total value of $2500 or more and get one FREE $25, $50, $75 or $100 Digital Disney e-Gift Card per qualifying reservation. Value of Digital Disney Gift Card will depend on the cost of your Disney Vacation at the final payment. Offer good for check-in December 1, 2020 through April 17, 2021. Offer valid on bookings made from November 25 until 5pm EST on January 2, 2021. Previously booked reservations made with Small World Vacations are not eligible. This offer cannot be shared or transferred and is intended only for the recipient of this email. Void if reservation is cancelled or if travel dates are modified to non-eligible dates or price. Not responsible for lost or stolen Gift Cards. If reservation is cancelled after final payment, the gift card will become the property of Small World Vacations.
Disney e-Gift Card is courtesy of Small World Vacations and is redeemable at shopDisney.com, Disney store, Walt Disney World Resort, Disneyland Resort and more. Disney e-Gift card amount will be determined after final payment is made and will be emailed to guests 3- 5 days prior to arrival. Small World Vacations is not responsible for lost, deleted or unused Gift Cards.
Important Details about the Digital Disney eGrift Card
Only Included when a NEW Walt Disney World Vacation Package with a $2500 or more at the time final payment is made.
New Walt Disney World Vacation Package must be booked and deposited with Small World Vacations November 25, 2020 – 5pmEST on January 2, 2021.
One Free Digital Disney e-Gift Card per qualifying reservation.
Free Digital Disney e-Gift Gift will be email to guest approximately 1 – 3 days prior to arrival. The email will contain a bar code for use of the Disney e-Gift Card. If you don't receive your Disney Gift Card in your inbox, check your spam folder or contact your Small World Vacations' agent.
Disney e-Gift Card is usable only to buy goods and services at participating locations including Disneyland Resort, Walt Disney World Resort, Disney Cruise Line, Disney store locations in the US, Canada, Puerto Rico and shopdisney.com.
Not refundable or redeemable for cash unless required by law.
Not redeemable to purchase another gift card, or towards previously purchased goods or services.
Not a credit or debit card. Does not expire and no fees apply. Lost, stolen or damaged gift cards cannot be replaced without required proof of purchase and complete gift card number. Disney Gift Card Services, Inc. (DGCS) is the card issuer and sole obligor to cardholder and is not responsible for any unauthorized use of card. Card is valid only if obtained at select Disney locations in the US, Canada, or Puerto Rico or authorized third-party distributors. Card is not valid and will not be honored if obtained from unauthorized resellers, including through Internet auction sites.
For balance inquiry, participating locations and additional terms and conditions (including arbitration agreement) for this gift card, visit DisneyGiftCard.com or call (877-650-4327). DGCS reserves the right to change the terms and conditions of the gift card upon notice at Disneygiftcard.com.
Purchase, use or acceptance of card constitutes constitutes acceptance of these terms.
Disneygiftcard.com will be upgraded on January 20, 2021. All Existing DisneyGiftCard.com account details (logins and gift cards added) will no longer be available after January 19, 2021. As a reminder, your account is not a mobile wallet and should not be considered as such. Always be sure to keep your physical and digital Disney Gift Card with you as it will be required to make any purchases.