A Taste of Wine Bar George at Disney Springs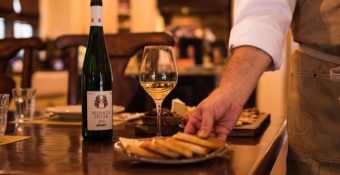 Wine Bar George is one of the most highly anticipated additions to the vibrant food and beverage scene at Disney Springs®. This 200-seat wine bar, scheduled to open soon, is centrally located at The Landing. The space is reminiscent of a winemaker's home, complete with terrace seating that has sweeping views of Disney Springs and the waterfront stage.
Wine Bar George will offer more than 130 selections by the ounce, glass, and bottle in a range of varietals, vintages, and prices. Acclaimed wineries as well as up-and-coming growing regions and wineries will be featured along with small plates, artisan cheese and charcuterie boards, and sharable entrées designed to complement the wine list.
The biggest reason for all the excitement is George Miliotes himself – renowned wine expert, native Floridian, and Disney alum. A celebrity in the wine world, George is a Master Sommelier – one of only 249 in the world. In fact, Wine Bar George is the only wine bar in Florida owned by a Master Sommelier.
Here you can choose from a variety of wines, including those listed as "Outstanding by the Ounce." These exceptional wines are selected by George in partnership with the respective winery, and they  can be ordered by 1 oz, 3 oz, or 6 oz pours or by the bottle.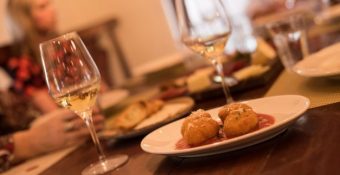 Plus, you can enjoy a tasty menu developed by Executive Chef Ron Rupert. Menu items include:
The Big Board – An impressive selection of six artisan cheeses and five crafted meats that serves two or more.
Grilled Octopus with Lemon Vinaigrette – This light and refreshing salad has tender pieces of Spanish octopus (a result of grilling then chilling the octopus) with a touch of acidity from the lemon vinaigrette.
Crispy Mac & Cheese Bites – These crispy cheesy bites are surprisingly light. Served with tomato nage and Pecorino, they are Ron's imaginative take on a grilled cheese with tomato soup.
Porchetta Spiced Pork Cheeks – Served with a creamy three-cheese polenta, these small bites of meaty goodness are cooked long and slow to perfection. The orange gremolata takes it over the top.
Grilled Whole Greek Sea Bass – One of the "family-style plates" that serves two or more, this light and tender whole fish is served with cannelloni bean ragoût and seasonal vegetables.
Olive Oil Cake – This moist cake with a rich olive oil flavor is served with candied olives and lemon mascarpone.
Stay tuned for more exciting details on Wine Bar George, including  the opening date