Adventures by Disney – Arizona-Utah by Small World Vacations' Agents Lisa and Beth
Adventures by Disney – Arizona-Utah by
Small World Vacations' Agents Beth and Lisa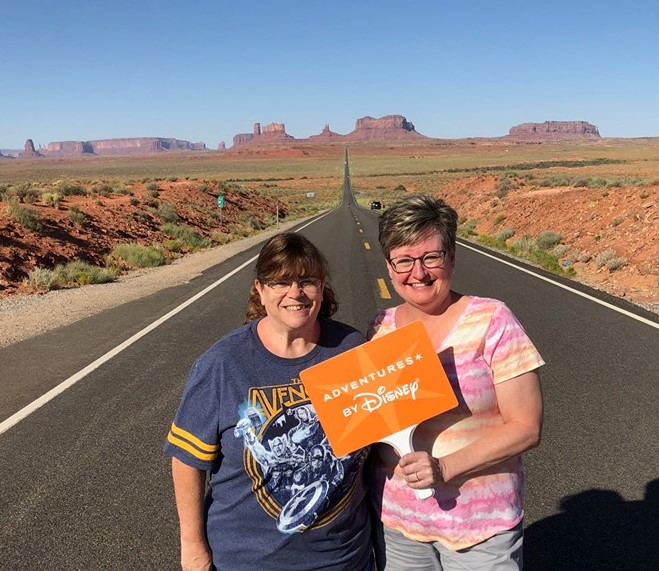 Breathtaking views mixed with history of the Old West best describes the Arizona & Utah Adventures by Disney.  Myself and fellow agent, Beth, had the opportunity to explore so many iconic landmarks.  From the Vortexes of Sedona to the Grand Canyon, our guides, Doug and Diana, make this is a must-see vacation! Each day holds something new and exciting for the whole family.
Day 1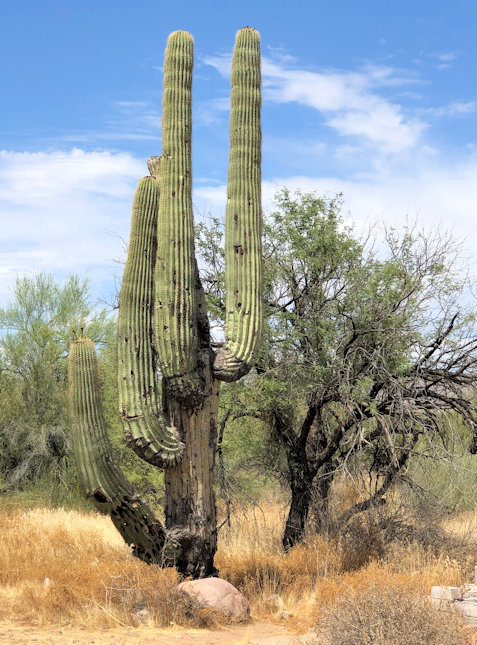 As we drove out of Phoenix, our guides told us all about the climate and landscape and how we would see drastic changes throughout our journey.  Our very first stop was just off a highway exit to learn more about the Saguaro cactus and our first photo OP!  One of the best parts of an ABD is that the guides take photos throughout and you can download everything after you return home!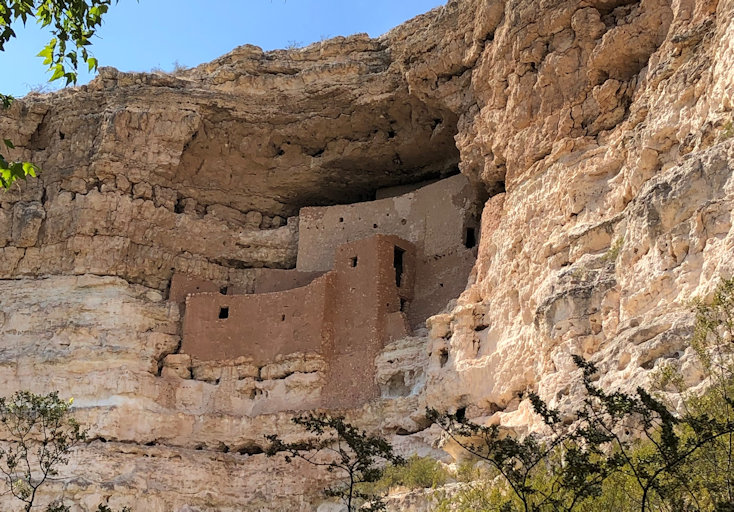 Our next stop was at Montezuma Castle National Monument.  We stopped here for about an hour.  We walked out to the castle where our guide, Doug, explained more about the monument and gave us a little free time to explore.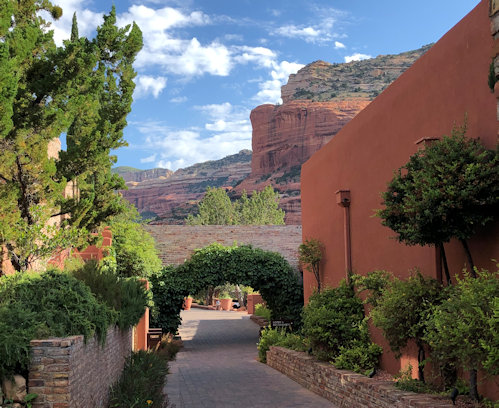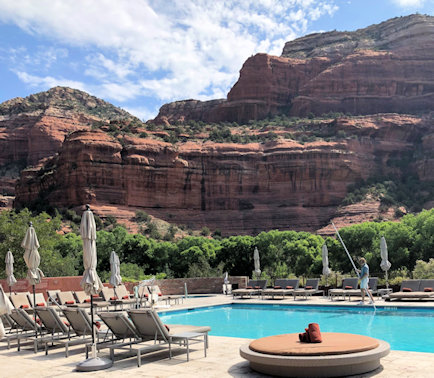 Our first official destination was Sedona, Arizona.  We arrived at The Enchantment Resort which is outside of Sedona in a secluded area surrounded by incredibly beautiful mountains.  We arrived at our very spacious room where Tinkerbell had already delivered our luggage.  This resort is top of the line for luxury.  Rooms are very spacious.  They can accommodate larger families as they have rooms that will connect to make a larger suite.  During our welcome dinner, we were treated to a guest speaker who played traditional Navajo music on assorted instruments.  His stories of the history of the Navajo Indians and his family were mesmerizing.
Day 2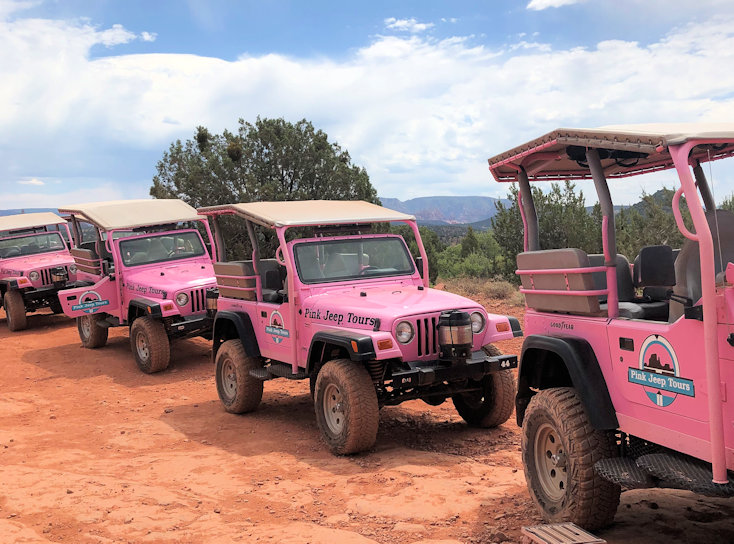 Our morning to sleep in!  After breakfast, we ventured out on a Pink Jeep tour through the Diamondback Gulch.  This was a lot of fun as well as very informative.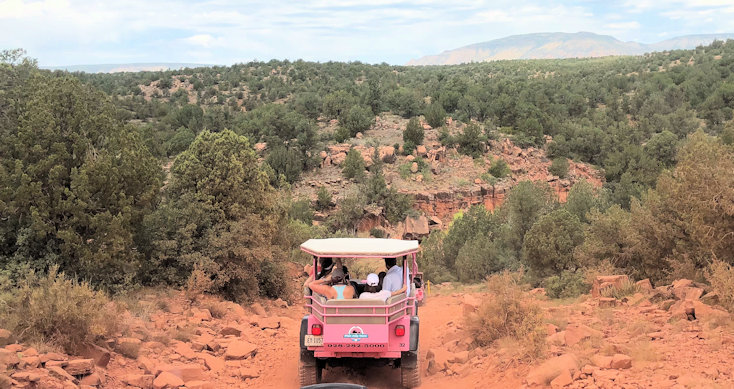 We were out on the tour for a couple of hours; a very bumpy ride.  For those with back or other medical issues, they did offer an alternate tour offered with less bumps.
Back in the town of Sedona now, we enjoyed a delicious lunch at Sound Bites Grill.  If you ever have the opportunity, be sure to try a Prickly Pear margarita!  The margarita wasn't included; however, we were able to purchase on our own.  After lunch, we were given about an hour to shop in town before getting on the bus to head back to the resort.  The town of Sedona has some very unique shops; some where you can get your aura read or purchase healing stones.    The rest of the afternoon and evening were on our own.  It was nice to have some free time to just relax, swim, hike, or even check out their award-winning spa.
Day 3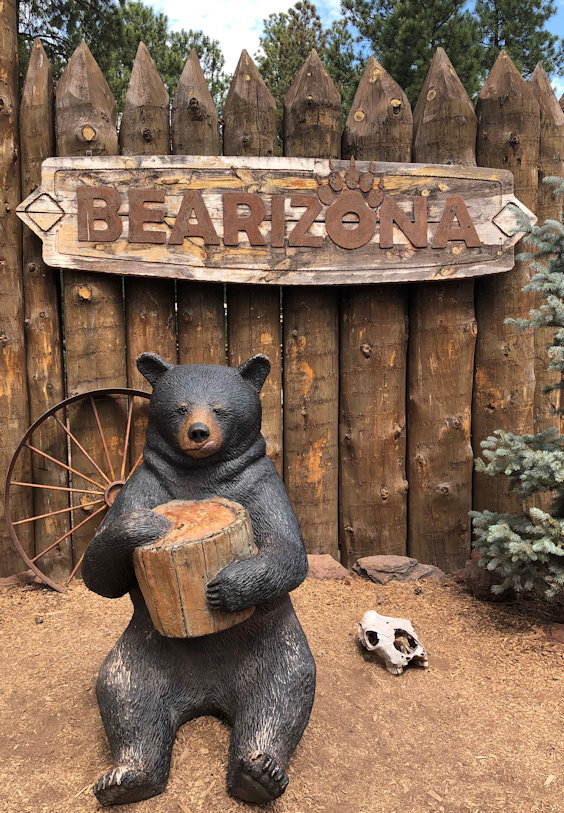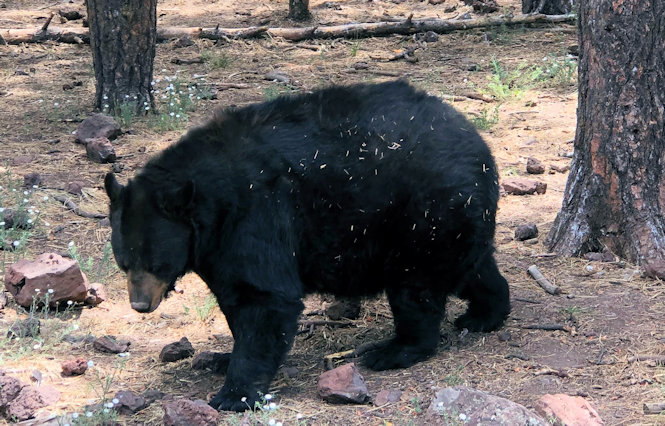 An early start today, we put out luggage outside our door for Tinkerbell and headed to our buffet breakfast.  Our next stop was Bearizona, near Williams, AZ.  We'd never heard of this place and what a delightful surprise it was!  We received a very warm welcome upon our arrival.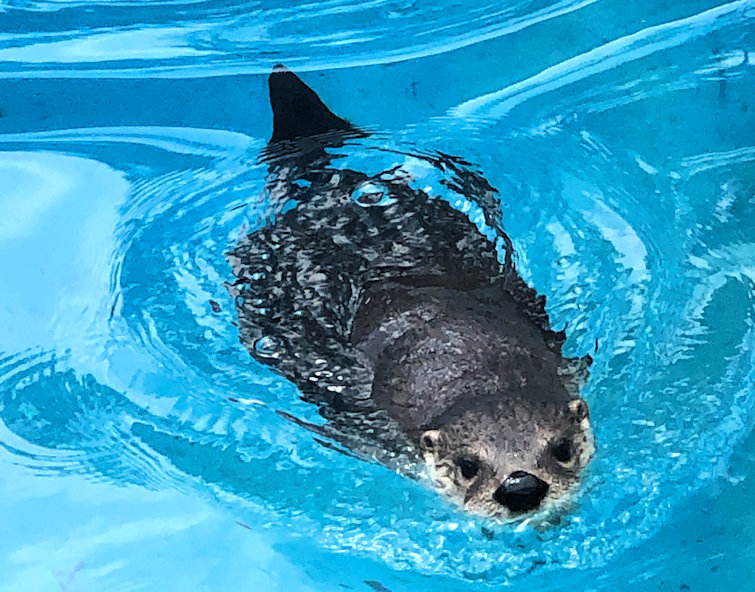 One of Beth's favorites was the otter pool!  Because we were on an Adventure by Disney, we had a private viewing of the pool and were able to feed the otters.
Since we were in a theme park, we really weren't expecting much for lunch.  Well, we were certainly proven wrong!  They escorted us to their beautiful restaurant and treated us to a delicious buffet lunch.
Love to shop?  The Bearizona gift shop was incredible!  Many unique items and reasonably priced, too.  We could have easily spent a couple of hours in there.

Mid-afternoon, we headed into the town of Williams, AZ.  What's unique about this town?  Historic Route 66 – lots of little shops and dining.  Some guests even zip-lined right there in town. The town of Williams helped inspire the movie, Cars, and is the last section of Route 66 to be cut off by I-40.  The guides took pictures of adventurers in front of the large Route 66 sign!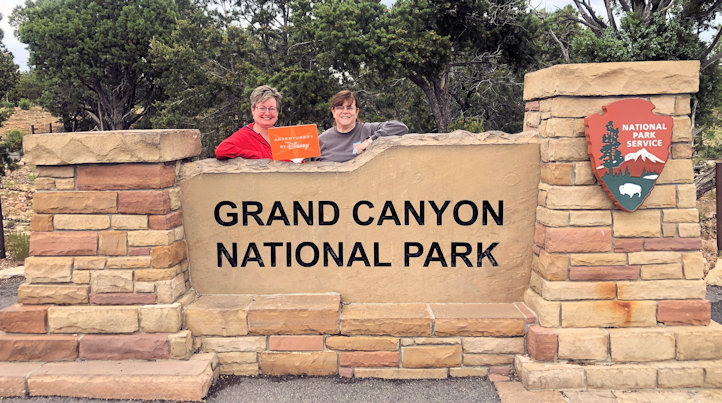 After about an hour in Williams, we were back on the bus heading to Grand Canyon National Park.  The majority of guests on the bus had never seen the Grand Canyon.  We arrived at Mather's Point late afternoon, just after a rainstorm so it had cleared out nicely.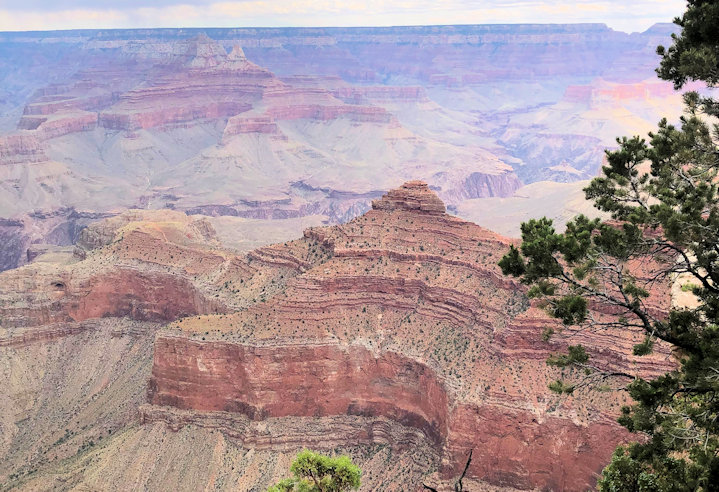 The temperatures had also dropped drastically and it was a very windy and chilly for our first viewing!  Breathtaking to say the least!  Our guides brought us to the ledge in a very special way (which we won't spoil for future Adventurers!).  Let's just say all of us were speechless at our first view of the Grand Canyon; just seeing pictures really aren't the same!
Our final stop for the day was Thunderbird Lodge which is right inside the park; with the Grand Canyon as our "backyard".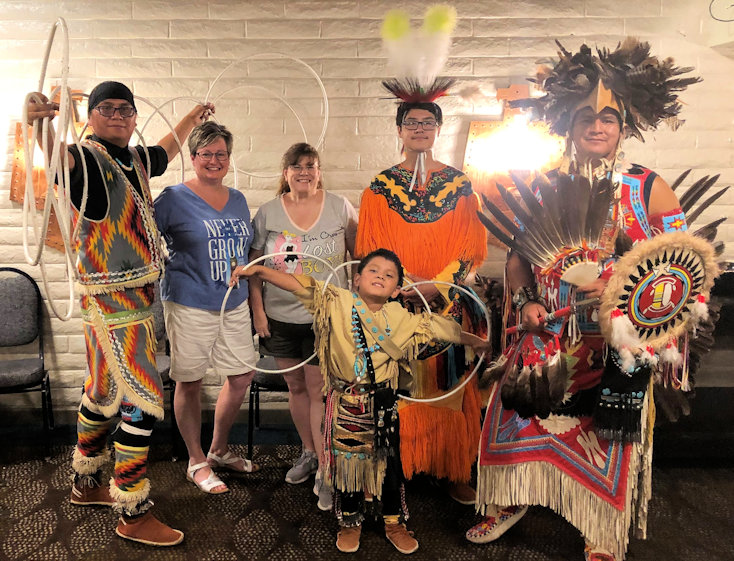 Dinner that evening was at the Thunderbird Lodge in a small banquet room.  We were treated to traditional Native American singing and dancing from a Navajo family.  At the end of the night we were invited to join the family in a traditional dance.  So many smiles on the faces of each Adventurer.
Day 4
With an additional local guide on-board, our day was filled with more incredible landscape of the Grand Canyon, lots of great stories about the area, and a short hike back to the lodge.   (For those who didn't want to hike, guests could just stay on the bus to head back.)
The rest of the afternoon and evening were on our own.  We enjoyed a leisurely lunch with a couple of other adventurers at the lodge and then walked to a pizza pub at a nearby hotel for dinner.
Day 5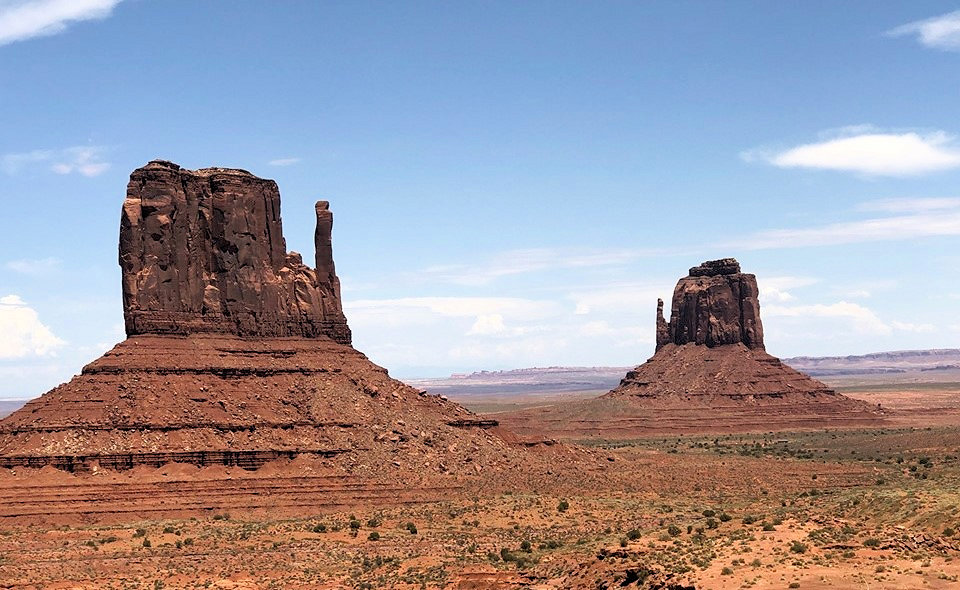 Monument Valley, Utah was our next destination.  As we headed out of the Grand Canyon National Park area, we observed another landscape change.  We arrived at Goulding's Lodge mid-day where we were served lunch and had a brief time to check out the gift shop.  After lunch, we boarded a tram pulled by a truck and ventured out into the valley for a tour; a very dusty tour.  Fortunately, Tinkerbell had provided us with bandanas to cover our face.  Our guide was again, very knowledgeable about the history and culture of the valley.
After our tour, we were able to go to our casita; much like a tiny house.  We had a one-bedroom suite with a kitchen and living area.  For dinner, we hopped back onto the same trams and they took us to a very secluded area for a cookout.  Prior to this, we had no idea what fry bread or Navajo tacos were.  We were able to make our own and the tacos were delicious.  After dinner, we headed over to a campfire, learned more about the culture, and even did a little singing and dancing to close the evening.  The trams took us back to our casitas right around dusk.
Day 6
Off to Moab, Utah!  This is the day many of us had been waiting for – river rafting down the Colorado River!  We had a couple of surprise stops along the way to our final destination, Red Cliffs Lodge.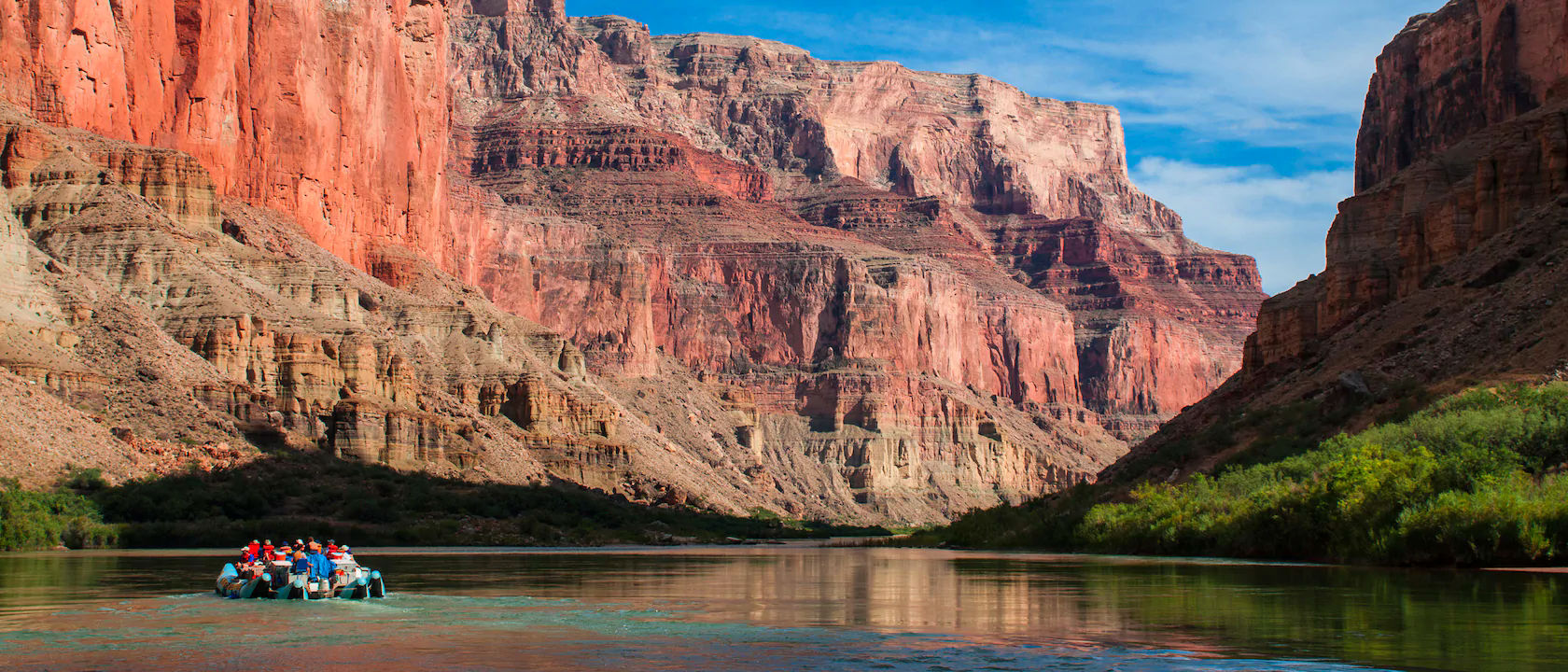 Once we had lunch, we hopped on the bus for a quick ride to our drop-in point and our safety instructor, Sam, was onboard.  He gave us the information we needed to know before donning our lifejackets and heading to our rafts.  Each raft held around 8 guests plus your guide.  This was a great first experience for us; it was so peaceful and beautiful.  Of course, our Adventures by Disney guides also made it very entertaining!  Lots of laughs and smiles the whole afternoon.
After river rafting, Lisa went horseback riding while Beth ventured over to check out the winery on property.  Horseback riding was an extra cost but worth every penny.  The ride through the valley and streams made you feel you had been taken back in time.  This evening, we had a reservation at the lodge restaurant and dined with a few other Adventurers.  We enjoyed great food and conversation.
Day 7
If you want to disconnect from the rest of the world, this is definitely the right adventure for you.  Cell-service & WiFi were very spotty throughout our adventure.
Adventurers hiked at Arches National Park and had the choice of selecting one of two hikes.  One was an easy walk where the second being quite a bit more challenging.
Our farewell dinner, a Cowboy cookout, was in a private area at the lodge.  We were treated to a campfire and a singer who originally started at the working ranch before it was turned into a resort.  We enjoyed singing and roasting smores by campfire.
Day 8
After breakfast, we departed Utah with our final landscape change into our third state, Colorado, for our ventures home from Grand Junction airport.  This was a very small regional airport.
Each day, guests received a Disney pin matching the theme for that day.  These are unique pins that you cannot get anywhere except on this adventure.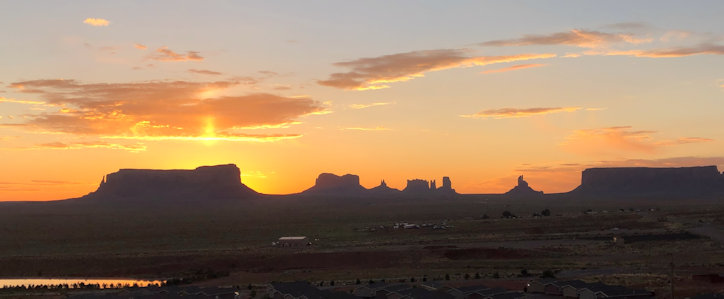 If you love the outdoors, this itinerary is wonderful for families or for adults only.  Doug and Diana exceeded all expectations, taking care of every possible detail.
We can't wait to start planning your Adventure by Disney!  Whether it is the Old West or a quaint European town… Adventure is out there for you to grab!!
If you'd like assistance with your own Adventure by Disney contact Beth@smallworldvacations.com or Lisa@smallworldvacations.com to begin planning!
Save up t$100 – $1000 when you book your Adventure by Disney with Small World Vacations. Follow this link to learn more.