Ahsoka, The Muppets, 9 More New Disney PhotoPass Ops at Walt Disney World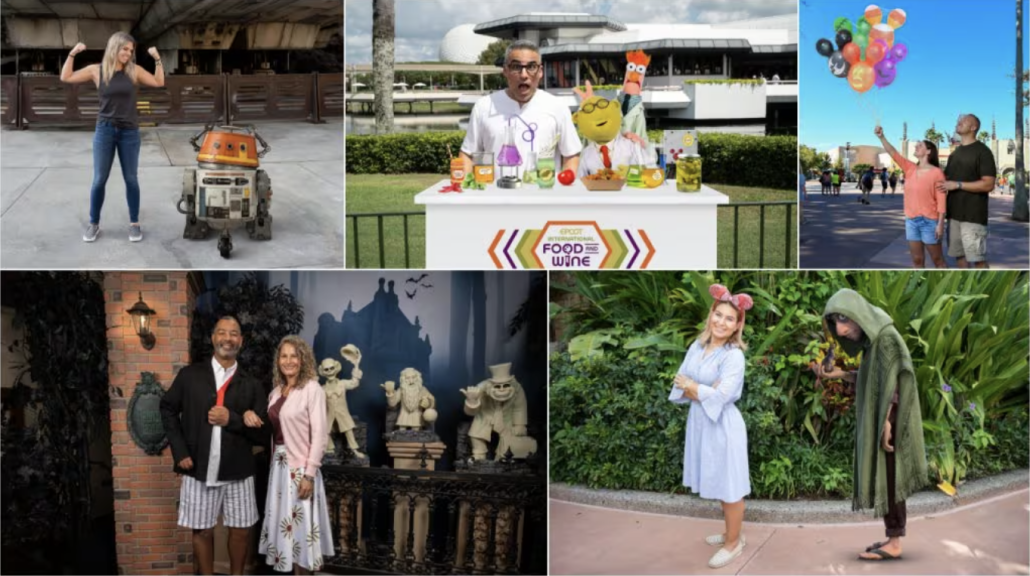 from Disney Parks Blog by Emily Southard, Communications Specialist
It's not often that I can chat new photo ops for Ahsoka, The Muppets, "Encanto," the Haunted Mansion, and Tinker Bell all at once, but at Walt Disney World Resort, Disney PhotoPass Service just launched new experiences featuring those favorites and many more!
Between celebrating special events and dreaming up brand new experiences featuring the latest technology, the Disney PhotoPass team has been hard at work ensuring there are plenty of new and enhanced offerings for you to enjoy this fall and beyond. Check out some of my favorites below.
Ahsoka Magic Shots
To celebrate the release of Ahsoka on Disney+, Image Scanners in Batuu (known on our planet as photographers), have started capturing new Magic Shots featuring Chopper, a Loth Cat, and of course, Ahsoka.
Hispanic and Latin American Heritage Month photo ops
There are many ways to celebrate Hispanic and Latin American Heritage Month around Walt Disney World Resort. Disney PhotoPass photographers are joining the celebration by offering Magic Shots inspired by Walt Disney Animation Studios' "Encanto" and Disney/Pixar's "Coco" at select locations.
Meeting Mirabel
One of your favorite members of the Familia Madrigal recently arrived at Magic Kingdom Park! As you meet Mirabel outside of Casa Madrigal, a Disney PhotoPass photographer will be there to capture all the smiles and hugs. It's one of the many character greeting locations where Disney PhotoPass Service captures your encounter so you can stay in the moment.
Halloween Magic Shots
At all four theme parks, photographers are offering new Halloween Magic Shots, including a seasonal twist on some of your year-round favorites, including Tinker Bell and balloons. And of course, there are many frightfully fun photos you can capture during Mickey's Not-So-Scary Halloween Party.
A spirited studio backdrop  
Serpents and spiders, tail of a rat — call in the spirits … to the Disney PhotoPass Studio at Disney Springs! Our new Haunted Mansion backdrop is perfect for fun and festive fall photos. The studio is open from 11 a.m. to 9 p.m., and no reservations are required. Visiting after the fall? The studio is updated each season so there's always a new photo op for you to enjoy.
The Muppets Magic Shot
At the EPCOT International Food & Wine Festival, the Brew-Wing Lab at the Odyssey features the culinary creations (and mishaps) of Muppet Labs. It's the home of the famous Pickle Milkshake – need I say more? Nearby, you'll find a new Magic Shot featuring Bunsen and Beaker showing off a few of their… uh, interesting dishes. Bon appétit!
New Disney PhotoPass Lenses
One of the great perks of purchasing Disney Genie+ service (or being an Annual Passholder!) at Walt Disney World Resort is access to Disney PhotoPass Lenses. These Lenses (located in the My Disney Experience app), feature many of your favorite Disney characters and icons so you can capture the magic wherever you go.* We're constantly releasing new lenses. Check out the newest ones below.
Enhanced Space Mountain attraction photo
Attention, space travelers! As you blast off onboard Space Mountain, you'll notice your attraction photo has a new look. To learn more about your attraction photo experience at Walt Disney World Resort.
Capture Your Moment – now available in Toy Story Land   
You can now go to infinity and beyond during a Capture Your Moment photo session at Disney's Hollywood Studios. We've recently moved the check-in location for these sessions to make it easy for you to visit Toy Story Land. Hollywood Boulevard, Sunset Boulevard, the Hollywood Tower Hotel, and Echo Lake remain available as session photo locations. To learn more about Capture Your Moment or to book a session.
More Disney PhotoPass Video Memories
Disney PhotoPass video memories are the newest Memory Maker benefit, allowing you to easily create and post themed videos featuring your vacation photos. You can customize the videos as much or as little as you'd like. We can even create the full video for you if you prefer! We just released our newest video template (check it out above), with more coming soon.
Disney100 Celebration Magic Shots
As some of the biggest Disney fans, join us in celebrating 100 years of magic with new Magic Shots at EPCOT and Magic Kingdom Park. These limited-time photo ops honor YOU and all the storytellers who have carried on the Disney legacy over the last century – and will inspire you to look ahead to an incredible future.
Don't forget to purchase Memory Maker so you can take home all of the Disney PhotoPass photos and videos captured during your vacation. You can purchase it before, during, or after your vacation, but you can save when purchasing it far enough in advance.**
*With the purchase of Disney Genie+ service, Walt Disney World guests can access many Disney PhotoPass Lenses in the My Disney Experience app as soon as they enter the park. Select Disney PhotoPass Lenses are accessible only within designated areas of Walt Disney World Resort. Other Disney PhotoPass Lenses will remain accessible in the My Disney Experience app until 5:59 a.m. on the 45th day after the day on which the Disney Genie+ service was used; certain states and localities are excluded. Many Disney PhotoPass Lenses use technology that detects the coordinates of key points on a guest's face and/or hands and may be used only by guests 18 years of age and older who have consented to use of this technology. Therefore, guests unable to provide such consent, as well as guests under 18 years of age, will have fewer lenses available to use. To access Disney PhotoPass Lenses, an eligible mobile device with the My Disney Experience app with access to the device's camera and location is required. A purchase of Disney Genie+ service at Walt Disney World Resort does not include downloads of a guest's Disney PhotoPass photos or videos that were captured by photographers and onboard attractions. Use of Disney PhotoPass Lenses is subject to the Terms and Conditions. Subject to restrictions and change without notice.
**Disney PhotoPass Service and Memory Maker are subject to the applicable terms and policies. Includes photos taken during the applicable Memory Maker Window as defined in such terms (generally, photos taken (i) within one day for Memory Maker One Day or (ii) within 30 days from the date of first activation for standard Memory Maker). If Memory Maker is purchased at the advance purchase price, any photos taken within 3 days of the date Memory Maker is purchased are not included and must be purchased separately. A MagicBand, or an eligible mobile device with Bluetooth technology enabled for the My Disney Experience app, is required to receive certain attraction photos and other digital content. Online registration required. Disney PhotoPass Photos in your account will expire pursuant to the expiration policy. Downloads are restricted to personal use only. Not responsible for missing, lost or damaged photos. Subject to restrictions and change without notice. Valid theme park admission and park reservations are required for certain photo locations.