Annual Raglan Road Mighty St. Patrick's Festival at Disney Springs
Annual Raglan Road Mighty St. Patrick's Festival at Disney Springs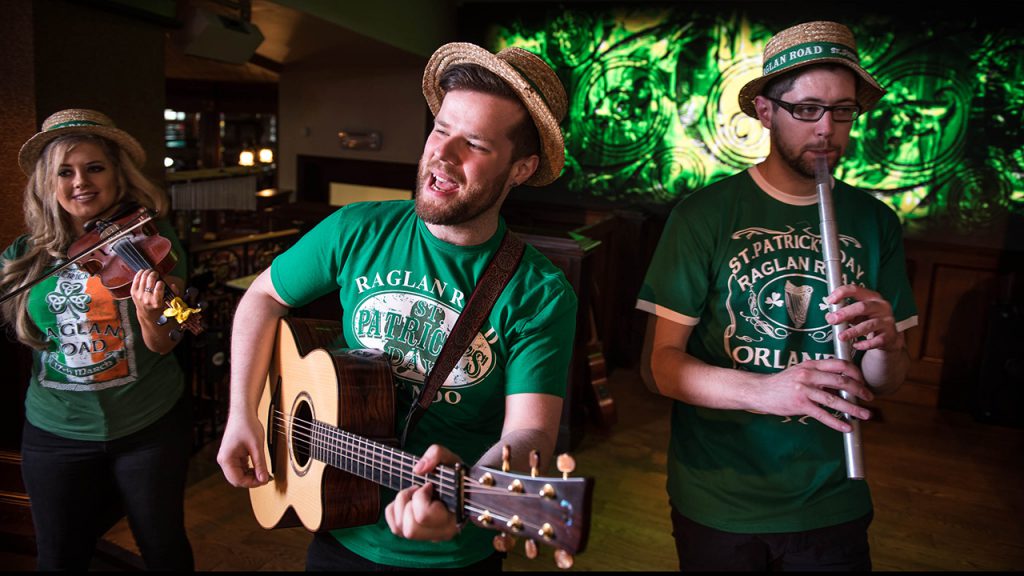 For over 15 years, Raglan Road Irish Pub & Restaurant has been a Guest favorite at Disney Springs®.  As soon as you enter the restaurant, you feel as if you're in Ireland. And that's because most of the interior was actually built in Ireland and shipped to Orlando. While Guests never need a reason to celebrate at Raglan Road, the annual Mighty St. Patrick's Festival, which is held March 15-17, is a perfect time to visit!
Here are a few highlights to expect this year:
Live Entertainment: Guests can always find amazing live music at Raglan Road, and there will be even more jam-packed talent at the festival. The line-up includes the Young Dubliners, one of Celtic rock's hardest working bands and the festival headliner; Ben Gunnery, Irish music superstar and multi-instrumentalist; Briste, a female duo with a mix of country, folk and Irish traditional music; The Byrne Brothers, an Irish music family featuring Dempsey (age 9), Finn (age 12) and Luca (age 14) playing alongside their father Tommy; The Raglan Roots Coalition, an edgy house band known for its soul-rockin' Celtic bluegrass funky beats and High Road, three talented musicians hailing from Ireland with a crowd-pleasing symphony of traditional Irish songs, among others.
Authentic Irish Grub: The classic fish and chips are always a "must-have," but don't forget that Raglan Road boasts an incredible menu of Irish pub favorites and brilliantly reimagined classics. If you're looking to try something new, you can enjoy the Guinness-infused Bangin' Bangers and Mighty Mash (that's sausage and mashed potatoes Irish-style) or "In Cod's Way", a pan-seared north Atlantic cod with lemon, herb crusted potatoes, garden peas, with a tomato and caper butter sauce. Of course, there's always a mighty selection of brews, whiskeys, and cocktails to cap off the dining experience.
Family-Friendly Fun: Bring the whole family and watch the ever-popular Raglan Road Irish Dancers plucked from the world's greatest Irish dance shows. Guests can catch them intermittently throughout the festival and learn traditional Irish dance steps from the pros with no experience necessary! Plus, there is also complimentary face painting March 15 from 3-9 p.m. and March 16-17 from 10 a.m.-8 p.m.
If you're planning to celebrate on St. Patrick's Day, be sure to plan ahead for the fun!
On March 17, Guests will be seated on a first-come, first-served basis with a cover charge of $10 for each guest age 18 and older. Reservations can be booked for other festival days, including brunch, by calling 407-938-0300.