Celebrate Mickey Mouse's Birthday with Limited-Time Offerings at Disney Springs and Downtown Disney District
Celebrate Mickey Mouse's Birthday with Limited-Time Offerings at Disney Springs and Downtown Disney District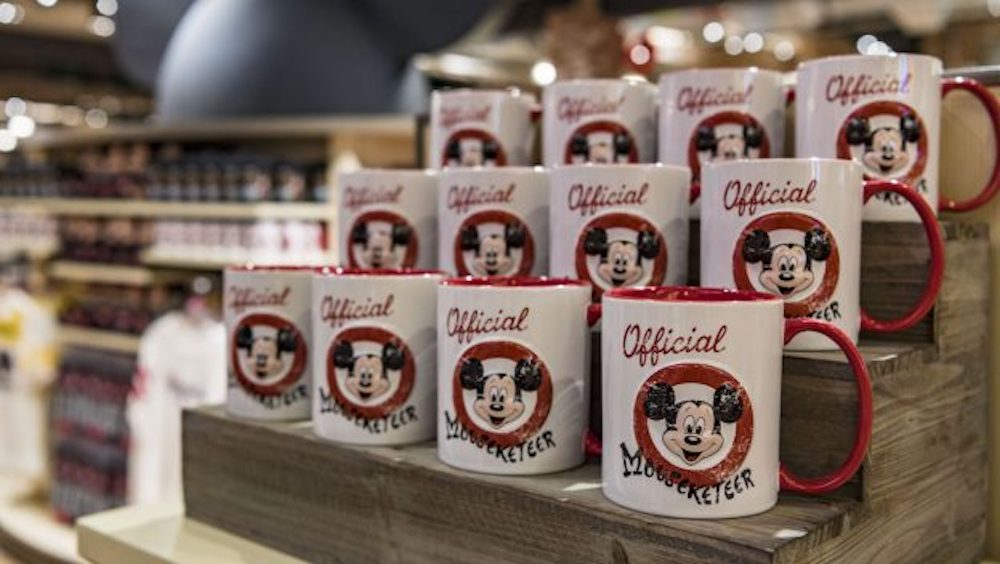 Disney is celebrating Mickey Mouse's 90th birthday throughout the Disney Theme Parks and beyond, including at Disney Springs® in Florida and Downtown Disney® District in California. Here's a look at some of the limited-time offerings that you can experience.
You may have heard about the #ShareYourEars program – every public photo posted to Facebook, Instagram or Twitter using the hashtag #ShareYourEars unlocks a US $5 donation from Disney to Make-A-Wish (up to a total of US $2 million) to make even more life-changing wishes come true. At Disney Springs, a new photo backdrop was recently installed on the West Side, while at Downtown Disney District, Guests can find it near the Downtown Disney LIVE! stage, offering the perfect setting for your own #ShareYourEars masterpiece.
Another masterpiece in the works? The LEGO Mystery Build celebrating Mickey Mouse. Taking place November 16-18, 2018, at The LEGO Store at both Disney Springs and Downtown Disney District, Guests will have the chance to contribute to a LEGO mural that will come together as LEGO blocks are added, ultimately revealing new artwork that was custom-created for the celebration.
Many Disney Springs and Downtown Disney District retailers are sharing masterpieces of their own with new collections and products honoring 90 years of Mickey Mouse.
Art of Disney (Disney Springs) will host a "Celebration of the Mouse" Artist Event on Friday, Nov. 16, 2018, kicking off a weekend of festivities. Guests will have the opportunity to meet acclaimed Disney artists Brian Blackmore, Doug Bolly, Don "Ducky" Williams, and Darren Wilson from 6-9 p.m. EST as we launch a new art program celebrating Mickey. Guests can catch Doug Bolly, Alex Maher, and Don "Ducky" Williams on Friday, Dec. 7, 2018 from 6-9 p.m. EST and Sunday, Dec. 9 from 12-3 p.m. EST to keep the celebration going.
At Curl by Sammy Duvall (Disney Springs) and Curl Surf (Downtown Disney District), Guests can find watches featuring "Mickey the True Original" by Nixon as well as a Mickey and Minnie-inspired shoes from the new "Disney x Vans" collection; both are perfect for a day in the Parks!
The Dress Shop on Cherry Tree Lane at Marketplace Co-Op (Disney Springs) and The Disney Dress Shop (Downtown Disney District) will launch sales of a new Mickey Mouse Dooney & Bourke Bag alongside a matching "Mickey Through the Years" dress and MagicBand on Nov. 18, 2018.
Ever After Jewelry Co. & Accessories (Disney Springs) will feature a Mickey's Birthday Watch and a Sugarfina co-branded release, both available on Nov. 17, 2018.
Joffrey's Coffee & Tea Co. (Disney Springs) recently released Mickey's 90th Anniversary Blend, a smooth, medium-roasted coffee that is part of the new "Disney Coffee Collection" coming soon to select Joffrey's stores nationwide. (Spoiler alert: the coffee smells heavenly and tastes even better!)
Havaianas (Disney Springs) is launching a new collection that features illustrations representing each decade of Mickey Mouse. The Opening Edition Style, featuring a mix of two icons with the signature Havaianas striped sole and Mickey Mouse ears, will launch on Mickey's birthday on Nov. 18, 2018. A new style will be released every Monday through Jan. 21, 2019. Expect designs that represent the playful spirit of the Havaianas brand with versions of Mickey that range from the classic Steamboat Willie, a 1970s-themed "Groovy Mickey" and a "Boy Band" version representing the 1990s.
At Lacoste (Disney Springs), the store windows are dressed with the newest "Disney | Lacoste" fashions featuring an exclusive collaboration around the merriest of tennis matches. The line is "a very merry match" indeed.  On Nov. 18, 2018, the retailer will host an in-store event with fun photo backdrops, candy, and more.
Levi's (Disney Springs) has reimagined their favorite styles with a magical twist; their designers toured the Disney Animation Archives to create an exclusive graphic of Mickey Mouse. Recently, the brand partnered with Snapchat to offer their Disney Springs Guests the opportunity to purchase a limited-edition Mickey Mouse hat, part of the new collection.
Earlier this month, Melissa Shoes (Disney Springs) debuted their new "Celebrate 90 Years of Mickey Mouse" shoe collection with designs for both kids and adults.
PANDORA is marking Mickey's milestone with a limited-edition Disney dangle charm in sterling silver, detailed with a 14k gold number "90" – it will be available at both Disney Springs and Downtown Disney District, while supplies last. In California, the retailer will welcome Disney illustrator Robert Griggs on Sunday, Nov. 18, 2018; during the event, Guests will receive a special illustration featuring Mickey artwork (no purchase required).
Just this week, Sunglass Hut debuted a new option for fans of Ray-Ban Mickey Mouse glasses available at Disney Parks. The classic Ray-Ban Wayfarer glasses feature bold custom artwork by Disney lead artist Jeff Shelley and are available in both adult and "Mini Me" sizes. The designs are available at Sunglass Icon by Sunglass Hut on both coasts, and at other Disney Parks Sunglass Hut locations, while supplies last.
At UNIQLO (Disney Springs), the new "Mickey Stands Collection" is now in store. Guests are loving the iconic Mickey pose mixed with the comfortable, high-quality products UNIQLO is known for. To support the launch, the store will be adding extra entertainment with traditional Japanese drummers and brand ambassadors select weekend dates in November and December from 4-9 p.m. with the first activation taking place on Saturday, Nov. 17, 2018.
Similar to the Art of Disney, WonderGround Gallery at Marketplace Co-Op (Disney Springs) will also host a "Celebration of the Mouse" Artist Event Nov. 16-18 and Dec. 7-9. WonderGround artists Dave Perillo and Kristin Tercek will be available to meet Guests and sign their newest Mickey pieces Nov. 16-17 from 6-9 p.m. EST and Nov. 18 from 12-3 p.m. EST. Matt Hawkins and Bill Robinson will be appearing Dec. 7-8 from 6-9 p.m. EST and Dec. 9 from 12-3 p.m. EST. This is your chance to check out their unique interpretations of Mickey Mouse.
Of course, World of Disney is joining the party, too! On Nov. 17, the newly-renovated stores at Disney Springs and Downtown Disney District will offer event tees, commemorative Mickey plush and a new Sugarfina co-branded product release, all available while supplies last.
At Disney Springs, Zara's "Mickey's 90th Anniversary!" collection offers an assortment of T-shirts, leggings, sweats, and accessories for fashionable kids.
With so much shopping to do, Guests might need something sweet to keep them fueled up. Ghirardelli's Magical Birthday Sundae is available for a limited time on both coasts; the same goes for treats from Amorette's Patisserie and The Ganachery at Disney Springs – they'll be serving a Mickey's Birthday Dessert and celebratory frozen beverage and Mickey Mouse Chocolate Ganache Square and Strawberry Ganache Mickey Lollipop, respectively. Plus, at Goofy's Candy Co. and Candy Cauldron, Krispie Treat Birthday Cake will be available.
In Florida, the weekend will include Happy Birthday music and shout-outs from DJs and performers as well as special photo backdrops from Disney PhotoPass Photographers. In addition, at Disney Springs, complimentary buttons will be available near the Disney Springs Christmas Tree Trail, Amorette's Patisserie, Marketplace Co-Op, and Art of Disney.