Celebrate World Princess Week with Magical Disney Merch Finds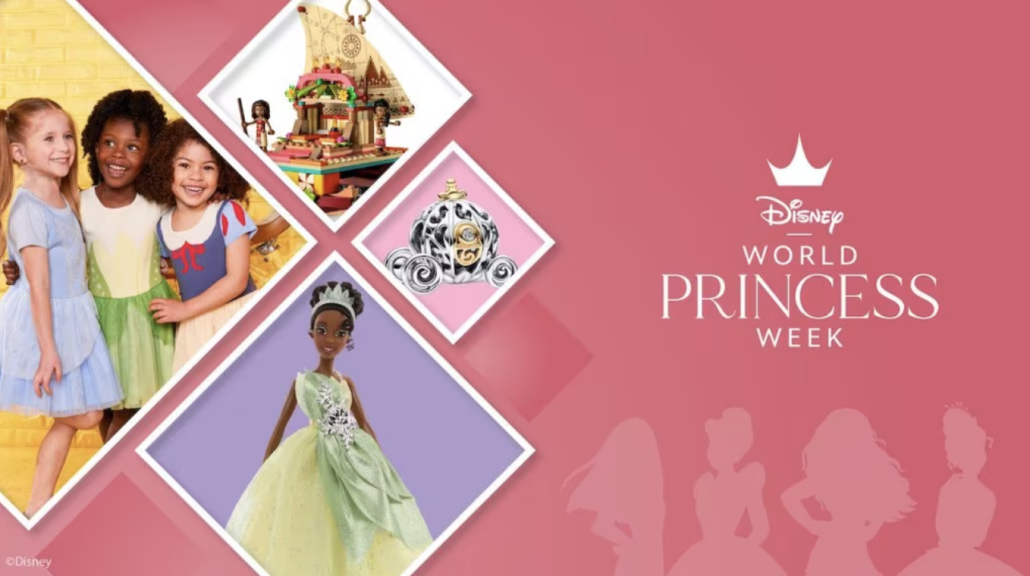 from Disney Parks Blog by Ligia Mallmann, Senior Specialist, Communications
Hello, fellow Disney Princess fans! As we continue the month-long celebration of all things Princess this August, it's time now to celebrate World Princess Week! For those of you just joining the party, World Princess Week is a global extravaganza that highlights the beloved storytelling of Disney Princess, taking place August 20-26.
In honor of this special week, we've put together a short list of Disney Princess-inspired products to celebrate the spirit of Disney Princess.
Let's begin with some suggestions for those of you looking to add a touch of Princess to your homes. Little ones can get excited for bath time with new fluffy towels from Pottery Barn Kids. They're super soft, absorbent, and come embroidered with beloved Disney Princess characters like Disney's Belle, Jasmine and Cinderella. And for our older Disney Princess fans the Disney Princess Home Collection from Ukonic is perfect for some added relaxation, featuring some unique fragrances like the Princess Jasmine-inspired Lotus Flower scent. They come in an adorable Tea Tin format with beautiful designs for that extra Disney Princess style.
Dinner anyone? You can host the perfect Disney Princess-themed dinner with these 16-piece ceramic dinnerware sets from Ukonic. There are four unique place settings featuring different Disney Princess characters, and each set comes with dinner and salad plates, bowls and mugs. Or if you're looking to take your meals outside, the Picnic Time Aladdin Impresa Picnic Blanket is perfect for a meal under an unbelievable sky. It's water resistant, machine washable, and comes with a matching drawstring backpack to make things super easy for a Princess on the go. And we can't talk about food without thinking about Disney's Tiana and her dreams of opening her own restaurant. If cooking is your passion, you can display your creations with the Princess and The Frog Acacia Cutting Board & Tools Set, with a design that swivels open to reveal three stainless set tools.
Let's dive into décor and collectibles! In celebration of 100 years of Disney, Enesco Studios recently launched a commemorative collection featuring some of the most beloved Disney Princess characters, like the classic Snow White figurine. Each one was designed and created especially for this milestone, and comes with a special Disney100 holographic packaging, making it extra special.
If you want to continue the collectible celebration, look no further than Mattel's new special collector edition Tiana and Cinderella dolls. In this gorgeous new line, Tiana wears a luxe new version of her memorable green gown, while Cinderella shines in satin, glitter and an elegant diamond motif. The dolls are available for pre-order now and feature beautiful displayable packaging. A dream come true for any Disney collection!
No matter what your passion is, Disney Princess characters inspire us to always follow our dreams, and maybe even find a few adventures as we go along! Moana's epic voyage and love of the ocean come to life in the LEGO Moana's Wayfinding Boat Set. The buildable toy set comes with two mini doll figures of Moana and her mother Sina, and amazing little details to inspire hours of wayfinding play, like oars, drums, coconuts, and even a dolphin friend! To celebrate creativity, you can get inspired with the Disney Princess Rapunzel Fashion Doll. It includes an adorable Pascal friend figure, who can clip to Rapunzel's arm, an easel, a paintbrush and a palette for art-making adventures!
Disney Princess-inspired fashion can also be the perfect accessory to inspire that extra bit of confidence that little ones need as they head back to school. If you're looking for magical new finds, the new sweater dress collection from Bentex has options for everyone. From tulle skirts to glittery prints, the line is inspired by beloved Disney Princess characters like Disney's Snow White, Cinderella and Tiana. More Disney Princess-inspired designs also come to life in PatPat's new line, which features everything from 2-piece sets to beautiful puff sleeve sweaters. Young Disney Princess fans will love rocking the Jasmine set, or the Little Mermaid leggings set that comes with a skirt mesh overlay.
As we round up our short list of Disney Princess products, we can't forget about accessories! Whether you're hopping from your home to work, or from park to park, the Otterbox Disney Princess iPhone cases are perfect to show your personality while keeping your phone safe, and are available on shopDisney! Ray-Ban also recently released new sunglass designs inspired by the hit film Disney's "The Little Mermaid." Adults can choose the classic wayfarer style with black frames, adorned with Ariel's silhouette, while little ones can rock the new design for kids, featuring a transparent frame and blue-aquamarine gradient lenses. You can find them at multiple locations around Walt Disney World Resort, including Island Supply at Magic Kingdom Park and Sunglass Hut at Disney Springs. For those traveling to Disneyland Resort, find them at Sunglass Hut and Sunglass Icon Open Air at the Downtown Disney District, as well as the Sunglass Hut Kiosk at Disney California Adventure park. Complete the look with the Mulan 25th Anniversary Disney Princess Loungefly mini backpack, featuring a key moment from the film.
Jewelry lovers can celebrate both World Princess Week and 100 years of Disney with a Disney 100th Anniversary Cinderella's Enchanted Carriage Diamond Charm by Pandora, which includes Disney 100 limited edition packaging. This charm is available at Uptown Jewelers (Magic Kingdom Park), Legends of Hollywood (Disney's Hollywood Studios) and Ever After (Disney Springs) at Walt Disney World Resort; and at La Mascarade d'Orleans (Disneyland Park), Embarcadero Gifts (Disney California Adventure park), and The Disney Dress Shop (Downtown Disney) at Disneyland Resort.
To celebrate World Princess Week, the Hey Disney! voice assistant (available on Amazon Alexa-enabled devices) will be debuting new Moana content! Enjoy jokes, fun facts, and soundscapes with some of your favorite Disney characters—find out more about Hey Disney!
Now, go out there, dream, and find some adventures! Happy World Princess Week!