Celebrate World Princess Week with Sweet Treats at Disney Parks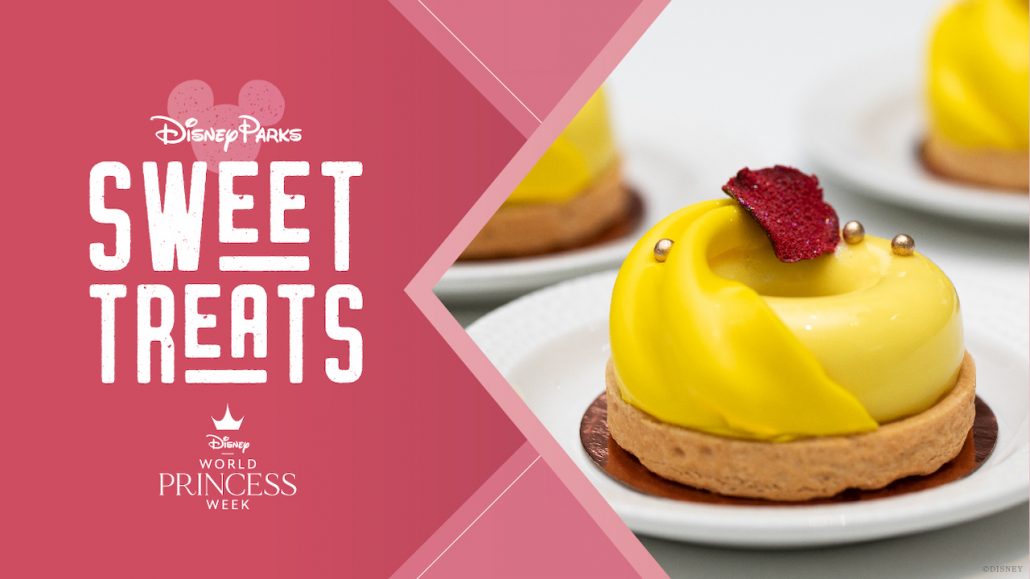 from Disney Parks Blog by Karen McClintock
The first-ever World Princess Week, part of the Ultimate Princess Celebration, starts Aug. 23 and celebrates the courage and kindness displayed by Disney Princesses and Queens. We have pulled together a list of all the yummy sweet treats our talented pastry chefs have created for this special week (Aug. 23-29) dedicated to all things Princess and Queens.
Be sure to check out all the fun festivities during World Princess Week and join in the conversation by sharing your own acts of kindness throughout the week using #UltimatePrincessCelebration. Now that's sweet!
The Princess Madeleine Trio from Maurice's Treats at Disneyland park is just too adorable!
There are three flavored madeleines dipped in colored chocolate to represent our favorite Princesses:
Belle – Citrus-flavored madeleine
Snow White – Chocolate chip madeleine
Aurora – Raspberry-flavored madeleine
There will be plenty of sweet treats for all princesses and princes (at any age!) at Disney Princess Breakfast Adventures – chocolate princess cake pops, petite raspberry tarts, seashell macarons, sorbet, and more.
And Disney Princesses will greet you on a private patio for an exclusive photo opportunity. Throughout the experience, little princesses and princes will enjoy fun Princess-themed activities and receive a special keepsake to remember their special morning!
Disney Princess Breakfast Adventures at Napa Rose at Disney's Grand Californian Hotel & Spa opens on Aug. 26, with booking now available.
Amorette's Patisserie, Disney Springs
Tiana Petit Cake – Dark chocolate chiffon cake, raspberry mousse, raspberry pâte fruit, and chocolate crisp pearls
The Ganachery, Disney Springs
Princess Chocolate Bars – Ganache chocolate bars featuring Jasmine, Ariel, and Snow White
World Premiere Food Court, Disney's All-Star Movies Resort
Mulan and Rapunzel Cookies – Sugar cookie featuring Mulan or Rapunzel
Landscapes of Flavors, Disney's Art of Animation Resort
Mermaid Cupcake – Vanilla cupcake filled with pineapple topped with coconut buttercream and a white chocolate mermaid tail
Contempo Café, Disney's Contemporary Resort
Cinderella Cupcake – Vanilla cake with vanilla crème custard filling, buttercream, white chocolate slipper, and fondant pumpkin (available now through September 30)
Goods to Go, Conch Flatts General Store, and Turtle Shack Poolside Snacks, Disney's Old Key West Resort
The Artist Palette, Disney's  Saratoga Springs Resort & Spa
Snow White Cupcake – Vanilla cupcake with spiced caramel apple filling topped with caramel buttercream, red chocolate dip, and a red bow
Capt. Cook's  and Kona Island, Disney's Polynesian Village Resort
Moana Cupcake – Vanilla cupcake, toasted coconut mousse, and vanilla buttercream with white chocolate Moana accent piece
Everything Pop Shopping and Dining, Disney's Pop Century Resort
Aurora Cupcake – Vanilla cupcake filled with marshmallow topped with strawberry buttercream, gold chocolate crown, and sprinkles
Le Petit Café,  Disney's Riviera Resort
Belle Cheesecake – Lemon cheesecake with lemon curd in a vanilla tart shell decorated with modeling chocolate to resemble Belle
I.C. Expeditions and Warming Hut, Disney's Blizzard Beach Water Park
Elsa Freeze Sundae – Vanilla soft-serve ice cream with a blue raspberry swirl topped with sleigh ride winter sprinkles and a while chocolate Elsa topper
I.C. Expeditions, Disney's Blizzard Beach Water Park
Elsa the Snow Queen Cone – Crystalized white chocolate waffle cone, vanilla soft-serve, and spiraled frozen fractals
Creature Comforts, Disney Animal Kingdom Theme Park
Pocahontas Dessert – Pineapple banana cake with cream cheese coconut mousse and colored sprinkles glazed in turquoise glaçage and finished with a chocolate gem, chocolate feather, and sugar flower
Block & Hans, EPCOT
Arendelle Aqua Lemonade – Frozen lemonade with cotton candy syrup
Oasis Sweets & Sips, EPCOT
Mosaic Cookie – Sugar cookies sandwiched with apricot jam and topped with mosaic fondant and chocolate Jasmine
Sunshine Seasons, EPCOT
Sisters Cupcake – Strawberry cupcake with strawberry filling and strawberry buttercream topped with a chocolate crown
Traveler's Café, EPCOT
Sisters Cookie – Sugar cookies sandwiched with chocolate ganache and garnished with chocolate Elsa and Anna
The Trolley Car Café, Disney's Hollywood Studios
Seaside Brownie – Brownie topped with chocolate fudge, graham cracker crumbs, and seaside-themed chocolate
Merida Cupcake – Yellow cupcake filled with a mixture of green, red, orange, and black sprinkles with green and burnt orange buttercream, gold crisp pearls, and chocolate arrow
Prince Eric's Village Market, Magic Kingdom Park
Mermaid Slushy – Frozen blue raspberry and frozen green apple topped with whipped cream and a mermaid tale
Cinderella's Royal Table, Magic Kingdom Park
Cinderella Slipper – White chocolate or milk chocolate slipper filled with chocolate mousse and raspberry coulis garnished with fresh berries
(Note: Offerings subject to availability.)