Dino-riffic Burgers and Sundaes Dinner Coming to Restaurantosaurus at Disney's Animal Kingdom
Dino-riffic Burgers and Sundaes Dinner Coming to
Restaurantosaurus at Disney's Animal Kingdom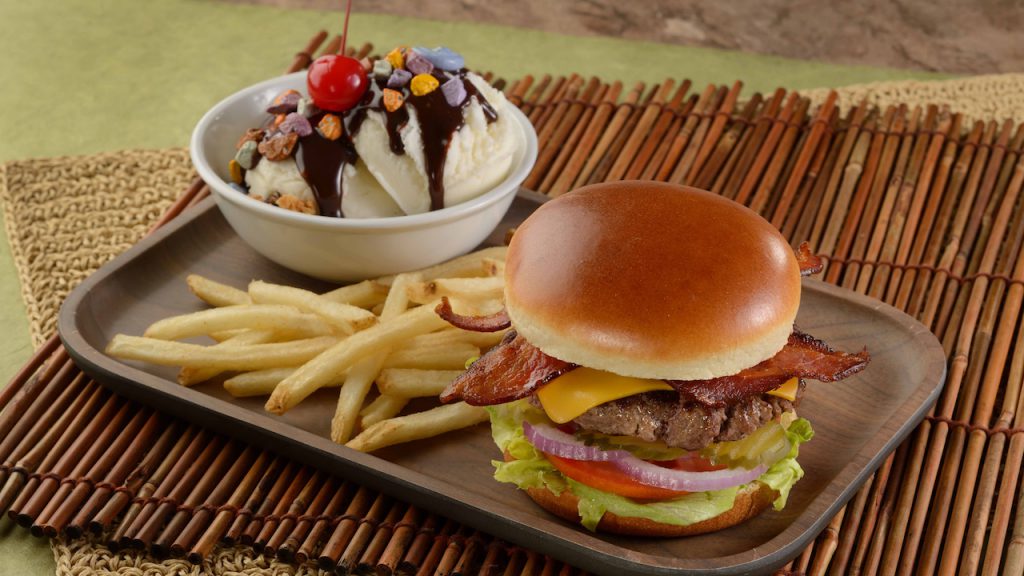 If you're looking for a classic burger meal and a yummy sundae to top off their day in DinoLand, U.S.A., this new dinner experience is definitely for you! Disney's opaleontology students have conspired to open a fun and exclusive burger joint right at Restaurantosaurus, giving families a great way to enjoy hand-crafted burgers and a build-your-own sundae bar.
For just one price, you can select an entrée and a side dish and even build their own sundae! On the menu are gourmet burgers, a chicken sandwich, a veggie burger, and a salad. For the sides, Guests can choose from fries or onion rings served with a delicious house-made dipping sauce. Plus, dinner also includes a non-alcoholic beverage.
When you order, you'll receive a token that can be redeemed for a bowl with two oh-so-yummy scoops of delicious ice cream, which you can then take over to the toppings bar to build your own dig site sundae with an abundance of selections to choose from. And in addition to savoring these burgers and treats, your will be able to color with fun dinosaur stencils while cast members entertain you with games and stories of the paleontology students who created the restaurant.
Restaurantosaurus Burgers and Sundaes is only available only during dinner on select nights and is $22.99 plus tax for adults and $14.99 plus tax for children ages 3-9. Alcoholic beverages will also be available for purchase. This experience can also count as one quick-service meal entitlement on the Disney Dining Plan. Quick service dining at Restaurantosaurus will still be available. Guests partaking in this new dinner experience will check in at a designated register where they will be escorted to a table in a separate dining room. Reservations will be open starting tomorrow and can be made by calling 407 WDW-DINE (407 939-3463) or by visiting the Walt Disney World Resort website. Walk-ups are welcome but subject to availability.