Disney Cruise Line Debuts New Deck Party on the Disney Dream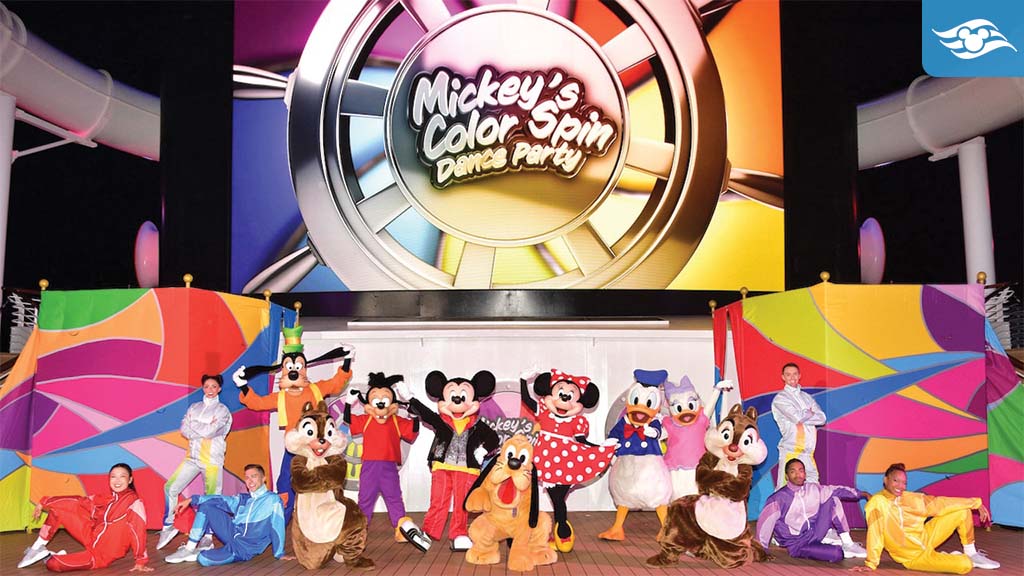 The Disney Dream is about to get even 'dreamier' this summer as Disney Cruise Line guests can now participate in a brand-new prismatic pop dance party taking place on the upper decks during select sailings.
Complete with colorful new fun for the whole family and a 90s throwback feel, it will be all feet on deck for Disney Cruise Line guests at Mickey's Color Spin Dance Party, and we're excited to reveal more details about this vibrant and energetic celebration perfect for Disney music lovers of all ages.
For starters, it's not a deck party without appearances from Mickey Mouse (in all-new attire), Minnie Mouse and many of their favorite friends – even Max! – and they are all dressed up and ready to bust a move. Each character is assigned a color, and when the wheel lands on their color – it's time to party!
This unique deck party is interactive from start to finish. After a sing-along preshow of "Into the Unknown," each spin on the color wheel will have families singing, dancing and yes, even doing the wave and hand jive to unique renditions of iconic Disney songs with an upbeat techno twist.
Partygoers can dress like their favorite character for the festivities or join the color crew dancers, who will don colorful throwback track suits on stage.
Mickey's Color Spin Dance Party is coming to select sailings on the Disney Dream beginning with this week on the voyage to the Norwegian Fjords and Iceland.