Disney Eats: Foodie Guide to Princess Nite 2023 at Disneyland Resort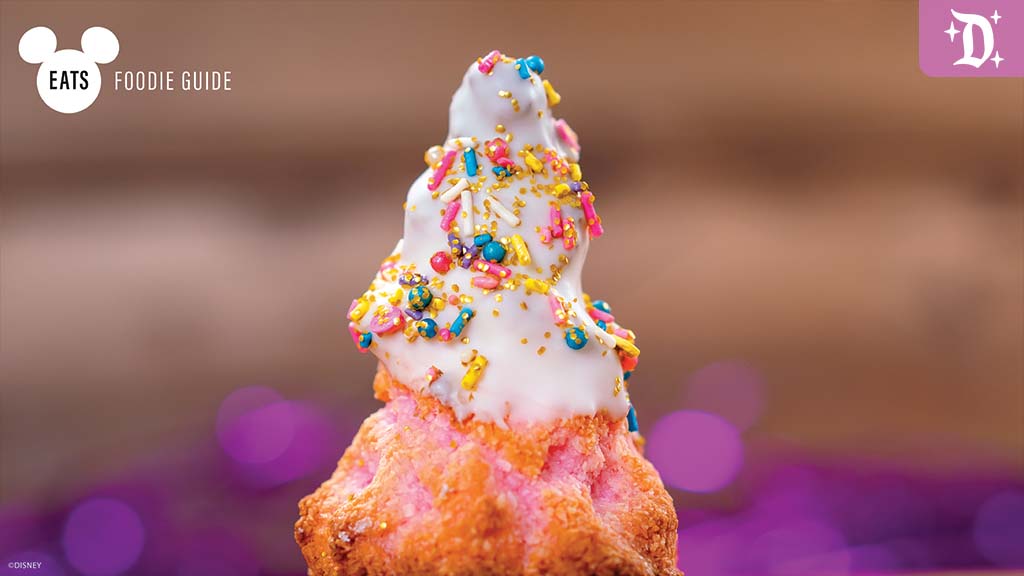 Hear ye, hear ye! If guests will be attending Disneyland After Dark: Princess Nite, we've got a special treat for them – all of the delicious eats and sips they can enjoy at the event and where to find them!
The royal gatherings on March 7 and 9, 2023, will be a night to remember. This all-new celebration held in Disneyland Park will feature the royal heroines we all know and love and allow everyone to immerse themselves into their stories with special performances, dance parties, character experiences, and, of course, event-exclusive treats.
We are honored to present to everyone the regal delights available at the first ever Disneyland After Dark: Princess Nite!
Bengal Barbecue (Mobile order available)
Pineapple Shrimp Skewer: Island-inspired grilled shrimp, spicy sausage, and sweet pineapple
Café Orleans
Tea Service featuring short rib, caviar egg, crab avocado toast, monte fritter, Creole chicken & apple-pecan salad po'boy, crepe layer cake, blueberry-almond scone (Plant-based), strawberry shortcake (Plant-based), strawberry-chocolate cream puff, and an assorted selection of tea (New)
Plant-based Tea Service featuring an IMPOSSIBLE sandwich with arugula, pickled shallots, and horseradish aïoli, roasted potato, avocado toast, ratatouille sandwich, cucumber & watercress salad, strawberry shortcake, chocolate raspberry bar, fruit cobbler, blueberry-almond scone, and an assorted selection of tea (New) (Plant-based)
Kids' Tea Service featuring peanut butter & jelly, grilled cheese, meatball po'boy, assorted fruits, and crème puff (New)
Galactic Grill (Mobile order available)
Spicy Huli Huli Loaded Tenders: Huli Huli-tossed chicken tenders with sweet mayonnaise drizzle, togarashi slaw, diced pineapple, and cilantro (New)
Royal Sparkling Lemonade: Lavender-infused lemonade (New)
Gibson Girl Ice Cream Parlor (Mobile order available)
Princess Sundae: Blackberry, peach, and raspberry sorbets in a white chocolate-dipped waffle cup topped with whipped cream, sprinkles, and edible gold glitter (New)
Harbour Galley (Mobile order available)
Fresh-baked Chocolate Chip Cookies
Mixed Berry Milk (New)
Hungry Bear Restaurant (Mobile order available)
Cajun Honey-glazed Chicken and Loaded Steak Fries: Fried chicken thighs tossed with Cajun honey served over steak fries and topped with crispy shallots, candied pecans, and green onion (New)
Tea Time Lemon Funnel Cake dipped in lavender citrus-infused condensed milk topped with edible glitter, purple sugar, lemon sorbet, basil blossoms, and candied hibiscus (New)
Jolly Holiday Bakery Cafe (Mobile order available)
Daydreamer Macaroon: Raspberry-coconut macaroon, topped with white chocolate and sprinkles (New)
Princess Trifle: White chocolate mousse and mixed berry compote with vanilla cake topped with crunch pearls and a white chocolate crown (New)
Little Red Wagon (Mobile order available)
Mixed Berry Wagonade: Lemonade with blueberries and strawberries (New) 
Plaza Inn Restaurant  
Be Brave Spicy Chicken Dinner: Spicy chicken leg and thigh, coleslaw, cornbread, and a pickle spear (New)
Honey BBQ Chicken Tenders: Chicken tenders, mac and cheese, cornbread, and honey BBQ sauce (New)
Red Rose Taverne (Mobile order available)
Escargot Flatbread: Garlic-butter escargot, mushroom blend, cherry tomatoes, and herb flatbread (New)
Wild Mushroom Flatbread: Mushroom blend, cherry tomatoes, and herb flatbread (New)
Glowing Strawberry Sparkle Tea: Strawberry-flavored blended tea with edible silver sparkle dust served with a glow cube (New) 
Refreshment Corner (Mobile order available) 
Curried Beef Dog: Curried beef, pickled vegetables, and chili aïoli in a potato bun (New)
Cotton Candy-Cream Cheese Pretzel: Cream cheese-filled pretzel drizzled with marshmallow and cotton candy frosting and topped with sprinkles (New)
Churro Cart near Sleeping Beauty Castle, Frontierland, and Tomorrowland
Berry Good Churro rolled in raspberry sugar, topped with freeze dried raspberry crumble, sweetened cream cheese drizzle, and garnished with micro flowers (New)
Churro Carts near "it's a small world" and in Fantasyland
Blueberry Cheesecake Churro rolled in graham cracker-flavored sugar and served with blueberry cheesecake dipping sauce (New)
Churro Cart in New Orleans Square and Churros & Lemonade Carts in Critter Country
Friendship Churro rolled in raspberry-limeade and pink lemonade sugars, drizzled with lime glaze, and topped with candied pearls (New) 
Pretzel Cart in Tomorrowland
Macadamia Nut Pretzel: Cream cheese-filled pretzel, white chocolate sauce, toasted macadamia nut, and vanilla wafer crumble with a caramel sauce drizzle (New)
(Note: All offerings are subject to change and availability.)