Disney Eats: New Shiki-Sai: Sushi Izakaya Opening at EPCOT This Summer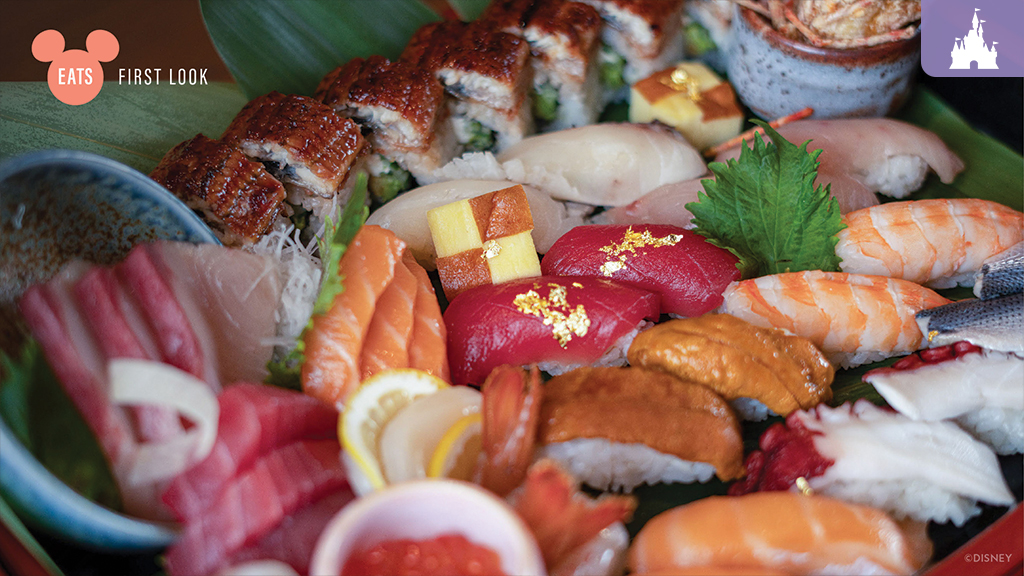 Foodies know that one of the best places to explore a variety of global cuisines is at EPCOT, which will soon be home to a new location at the Japan pavilion – Shiki-Sai: Sushi Izakaya. This table-service restaurant will offer a festive dining experience in a sharable Izakaya-style for guests to create memories and good times through flavors.
Here, guests will be able to experience the essence of Japan's seasonal festivals, where each month brings a new celebration to their table. From hanging tanzaku to celebrate Tanabata in July to savoring moon-viewing dumplings in September, a cultural representative from Japan will guide guests through each unique festival experience, one bite at a time. The atmosphere also embraces the festivals of Japan, with the atmosphere featuring beautiful, hand painted artwork and lanterns highlighting some of the natural wonders that Japan offers as well. Each and every visit is designed to create unforgettable memories that capture the spirit of Japan's vibrant seasonal festivities.
In addition to a full menu filled with mouthwatering Japanese delights like sushi and teppan items, there will be an open sushi bar and grill. Located on the second floor of the Japan pavilion, Shiki-Sai offers stunning views of EPCOT, the World Showcase Lagoon, and, of course, fireworks!
Sushi lovers will marvel at the first-hand look at sushi being made right before their eyes by the chefs when sitting at the sushi bar. This unique spot provides a can't-miss dining experience along with a magnificent trellis inspired by the roof of the Phoenix Hall in Kyoto that will mesmerize guests eyes' while the food captivates their taste buds.
Speaking of taste buds, let's take a look at some of the dishes that will be served up at Shiki-Sai.
If guests fancy themselves a sushi afficionado or they're looking to expand their palate to a new bite, this menu has no shortage of delicious bites for guests to try. Some highlights from the sushi bar include the Kobore Sushi, Tokyo Negi Roll, Funamori, and The Monster Roll.
Kobore Sushi translates to "overflowing sushi" and this item is "overflowing" with flavors. It features negi toro and nakaochi tuna elegantly paired with salmon roe and green onion. The Tokyo Negi Roll combines green onion tempura rolled with tuna tataki and topped with jalapeno aïoli, shredded carrot, and sliced jalapeno for a delightful roll that guests simply need to try.
The Funamori features sashimi and sushi arranged on a boat-shaped platter. This iteration of Funamori is even served with the festive pomp and the boat procession of the famous Tenjin Matsuri!
guests will also be able to sample dishes from the delicious world of Japanese Izakaya, a type of casual pub-style restaurant. One of the main highlights of Izakaya culture is the emphasis on sharing plates of food while enjoying drinks and conversation with friends. The menu at an Izakaya typically features a wide range of small dishes, and here is no different. From savory Karaage Chicken to succulent Salmon Misoyaki, even a refreshing Tomato Salad with Avocado, Izakaya cuisine is all about offering a variety of delicious small plates that can be indulged in a social and relaxed atmosphere.
Not only can guests get dishes from the sushi bar, but the grill will also be serving up delicious options commonly found in Japanese cuisine. Among the grilled items to enjoy, Okonomiyaki is a highlight. This Japanese savory pancake is made with a batter of flour, eggs, and water, and then filled with shredded cabbage and bacon, and topped with tangy okonomiyaki sauce, mayonnaise, aonori, bonito flakes, and pickled ginger.
Welcome to EPCOT, Shiki-Sai: Sushi Izakaya. We hope everyone is as excited as we are for this new location to open its doors this summer!
(Note: All offerings are subject to change and availability.)
 Small World Vacations is celebrating 27 Years of Magic.
Learn how our experience can help you!
Request your FREE price quote for your Walt Disney World Vacation Today!