Disney MAGIC Norwegian Fjords Cruise by Small World Vacations Agent Karen
Disney MAGIC Norwegian Fjords Cruise by Small World Vacations Agent Karen
Day 1 (pre-night) – London, England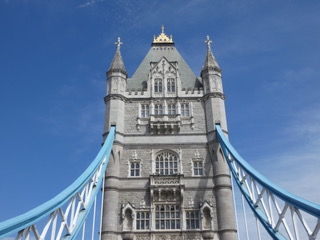 Heading over London Bridge on the way to the Tower of London.  We did a Red Bus Tour of the city for the day (Hop On / Hop Off) and it was a great way to see the city in the few hours we had prior to the cruise.
—-
Embarkation Day – Dover, England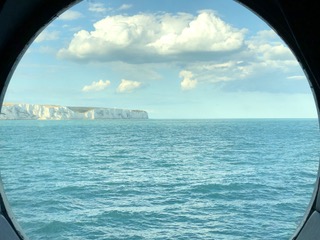 The White Cliffs of Dover.  On the way to the Port, via Disney Cruise Line ground transfers, we wondered if we would see the famous "White Cliffs of Dover".  This question was quickly answered once we arrived to the port.
—-
Copenhagen, Denmark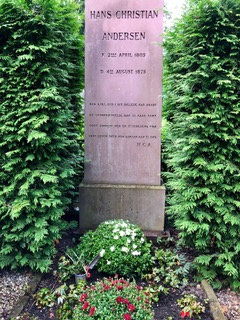 Hans Christian Anderson's grave site.  It was a bit rainy so we didn't get to see the Little Mermaid Statue so instead we visited Assistens Cemetery where we paid our respects to this famous author of Fairy Tales such as The Little Mermaid, The Brave Tin Soldier, The Ugly Duckling, The Snow Queen (Frozen!), The Little Match Seller, and more!
—–
Oslo, Norway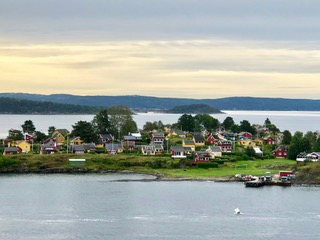 Arriving into Oslo, Norway – This is a quaint village we saw while sailing into the Port of Oslo.  It was a rainy day here too so we enjoyed the Viking Ship Museum, lunch and the Magic Ice Bar!
——
Stavanger, Norway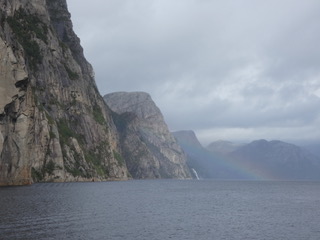 We took a Fjord boat tour and saw goats, bridges, waterfalls and rainbows!  Such a beautiful area!
——
Bergen, Norway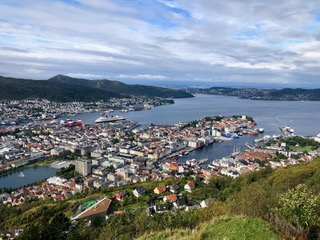 Overlooking the town of Bergen (and the Disney Magic!) from Mount Floyen after taking the fun Funicular up!  We had a rare beautiful day so we had to take advantage of the sun and quickly made it to the top for this gorgeous photo.