Disney Magic Offers Culinary Delights for the Entire Family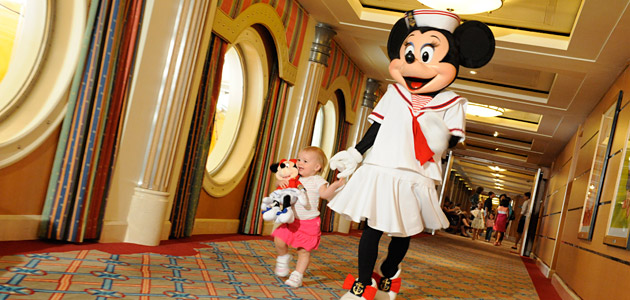 CELEBRATION, Fla. — Mealtimes are memorable experiences for families and guests of all ages aboard the Disney Magic. There's a full course of culinary fun throughout the cruise at elaborately-themed restaurants that combine distinctly Disney touches with world-class cuisine to please the palate and satisfy all the senses.
A Disney Cruise Line Tradition
The Disney Magic began Disney Cruise Line's innovative family dining concept, where guests experience one of three imaginative restaurants each night accompanied by a dedicated service team assigned to their family throughout the voyage. With exceptional attention to detail, guests enjoy a variety of dining experiences with friendly, familiar and personalized service every evening.
In addition to elaborately themed, upscale restaurants, the Disney Magic offers a variety of dining options ranging from quick bites, casual dining and 24-hour room service to specialty treats, gourmet cafes and premium dining exclusively for adults.
Rapunzel's Royal Table, a dining experience inspired by the beloved story of Disney's "Tangled," transports Disney Magic guests to the kingdom of Corona for an evening of music and interactive fun featuring Rapunzel and the mischievous Snuggly Duckling Thugs.
Guests step inside a regal ballroom in the royal castle, lit by glowing wish lanterns and adorned with colorful drawings that reflect Rapunzel's artistic talents. Here, the King and Queen of Corona invite everyone to take part in a festive celebration of Rapunzel's birthday and the anniversary of her return to the kingdom.
Throughout dinner, guests of all ages are treated to live entertainment, including spirited singing and dancing led by the maître d', a merry band of musicians, the mischievous Snuggly Duckling Thugs and of course, Princess Rapunzel herself.
The family fun is complete with themed menus, special activities and a lively parade to cap off the evening in Corona.
Animator's Palate
One of the most popular restaurants on the Disney ships, features animation-adorned walls and larger high-definition flat-screens to provide the best views of the animation magic that takes place all around. Furnishings all around the interior of the restaurant, including custom-built Mickey Mouse chairs, provide a fun feast for the eyes, while the delectables and dishes provide a feast for the palate.
'Drawn to Magic'
On every Disney Magic cruise, a heaping helping of entertainment is served up during the "Drawn to Magic" dinner animation show.
The venue, cloaked from floor to ceiling in a classical black and white motif, tips a nostalgic hat to old-time animation in the Steamboat Willie era of Disney's animation past. Over-sized digital canvases line the walls of Animator's Palate, where unseen artists sketch character portraits in real-time throughout the meal.
Pixie dust heralds the final element of animation, completing the arc from sketch, to pencil test, to ink and paint, leading to the result—storytelling. As dinner begins to wind down and desserts are selected, a grand "Drawn to Magic" finale begins, immersing guests in an animated show about a hero's journey through Disney and Pixar animation from wishing upon a star to happily ever after.
The tale begins as the room darkens so that the illuminated digital canvases can tell the story of dreams, featuring iconic wishing moments from films like Tangled, The Princess and the Frog, Aladdin, Sleeping Beauty and more. "When You Wish Upon a Star" tugs at heartstrings, as guests reminisce with the characters, of dreams and wishes.
For the finale, scenes from classic and modern Disney films play on canvases around the room, as the walls flash with moving watercolor medleys, bathing the black and white room in full color. The celebration comes to life, with a parade of color and "transformed" wait staff, led by Sorcerer Mickey.
'Animation Magic'
During select sailings on the Disney Magic, as guests are seated at their tables, they are invited to draw a character of their own using a simple template on their placemat. Then, just before dinner, house lights dim and a sprinkling of pixie dust illuminates the room.
On several large monitors around the room, Mickey Mouse appears, places the Sorcerer's hat upon his head and begins the show. He invites guests to sit back, relax and enjoy a taste of animation as a montage of memorable food-themed moments from Disney and Disney•Pixar films is shown, set to the tune "Be Our Guest." After the number is complete, guests' drawings are whisked off to Mickey Mouse, who is conjuring a magical final act.
After dinner, Mickey returns for the exciting finale. With a musical crescendo, he works his magic and conjures the guests' drawings—now fully animated and brought to life—into the onscreen action.
A parade starts as Mickey leads the guests' drawings in a march across the screens around the dining room. The animation becomes more elaborate as the drawings step into scenes from beloved Disney movies, skipping and dancing side-by-side with characters such as Mickey Mouse, Jiminy Cricket, Cinderella and Snow White.
At the conclusion of the show, Mickey returns to say "so long" while credits roll on screen showing each guest's name listed as a guest animator. To commemorate the experience, guests' drawings are returned to them with an added touch: a golden seal proclaiming them an official Disney animator.
Lumière's
Lumière's invites passengers to "be our guest" in a grand dining room with French elegance, reminiscent of classic transatlantic ocean liners. Relive the magic of Beauty and the Beast at this restaurant named after the scheming candelabra from the hit movie.
Make your way into a spacious ballroom, where grand glowing roses hang in wondrous glass domes and golden Art Deco columns mingle with a sweeping mural depicting the classic ballroom sequence from the hit Disney film. Inside, guests are invited to fall in love with freshly prepared and artfully presented French and American cuisine, as they celebrate one of the greatest romances of all time: the love of Beauty and the Beast.
Impeccable dining and a touch of enchantment from Disney's Beauty and the Beast make Lumiere's light up from morning until night. Offering a four-course affair, Lumiere's sets taste buds aflame with an enticing selection of American and French fare with a modern twist.
Quick-and-Casual Family Dining
While the Disney Magic offers upscale table-service experiences throughout the day, families can enjoy quick, convenient meals and snacks with casual walk-up dining options.
Cabanas
Cabanas aboard the Disney Magic is a casual dining experience offering food and beverage stations during daytime hours.
Drawing inspiration from Australian influences with uniquely Disney touches, Cabanas offers indoor and outdoor dining. The Australian setting of the Disney-Pixar animated classic "Finding Nemo" inspires the décor and guests can find hints of the film's fishy and feathered friends throughout the restaurant. The beach-themed dining room, colorful surfboards, beach umbrellas and teak Adirondack chairs create a sunny "down under" setting for guests.
Duck-In Diner
The Duck-In Diner, inspired by Donald Duck, is known for its fresh, Middle Eastern-inspired shawarma and classic American fare like hamburgers and hot dogs.
Pinocchio's Pizzeria
Savor a slice of sizzling pizza throughout the day at this outdoor eatery located next to Goofy's Pool. Make your heart's desire come alive with pepperoni or let your conscience be your guide as you choose between vegetarian, Hawaiian or plain cheese.
Eye Scream Treats, Frozone Treats
Frozen sweet treats are available from two quick-service venues conveniently located near Donald's Pool on Deck 9. Frozone Treats – named after the ice-creating superhero in the Disney•Pixar movie "The Incredibles" – mixes delicious fruit smoothies. Eye Scream Treats – inspired by the friendly, one-eyed monster Mike Wazowski from the Disney•Pixar animated feature "Monsters, Inc." – offers soft-serve ice cream.
Room Service
Guests can feast on fresh, made-to-order Disney dining in the comfort of their stateroom to ensure the entire family's cruise vacation is the most convenient and hassle-free that it can be.
Small World Vacations offers $50-$1000 onboard credit based on your cruise fare.
Get on our 2024 Disney Cruise Line Waitlist here!