Disney PhotoPass Service x Snap: Announcing New PhotoPass Snapchat Lenses and Can't-Miss Surprises for the Walt Disney World 50th Anniversary!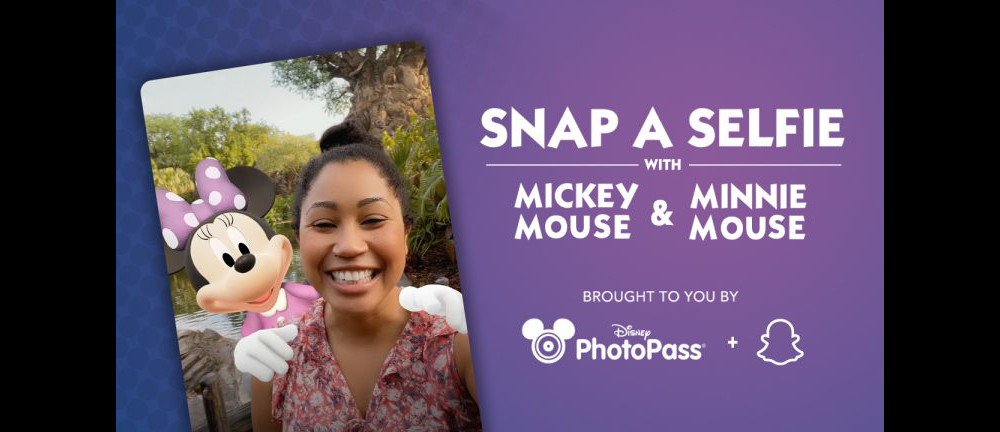 Disney PhotoPass Service is teaming up with Snap to show Guests Walt Disney World Resort in a whole new way, with magical augmented reality experiences to share with their friends and family – and featuring some of their favorite Disney characters.
It all starts with new ways to meet up with Mickey Mouse and Minnie Mouse at the resort, with Snapchat Lenses starring everyone's favorite duo. Mickey and Minnie will be right beside Guests in Snapchat with their playful expressions and gestures. They can even give Guests a hug!
The Mickey Mouse and Minnie Mouse Lenses will be available in the Snapchat app* only at Walt Disney World Resort, but to celebrate the launch – and other special experiences to come! – Guests can try them at home, anywhere in the U.S., until June 3.
We can't wait for Guests to show us their Disney spirit on Snapchat! Find the Mickey Mouse and Minnie Mouse Lenses on the new Disney PhotoPass Snapchat profile – plus more fun Walt Disney World stories on the Walt Disney World Snapchat profile.
This is just the beginning. We're working with Snap on more amazing photo experiences, including some magical surprises in celebration of the Walt Disney World Resort 50th anniversary.
Generations have come to Walt Disney World Resort to escape the everyday, be part of their favorite Disney stories, and travel to new worlds. This fall, The World's Most Magical Celebration will bring Disney fans together to commemorate 50 incredible years of magic.
To mark the occasion, Disney PhotoPass Service is working with Snap to virtually transform Cinderella Castle. With the My Disney Experience app, Guests will be able to place their favorite image captured by Disney PhotoPass photographers on the iconic castle with augmented reality. Guests can look through their camera lens in the app and they'll see a beautiful mosaic of special moments shared by our Guests to celebrate the 50th. The best part is, Guests can share memories with friends and family, and the next time they return during the 18-month 50th Celebration, their photo will be there waiting for them!
There will be even more to discover in the My Disney Experience app this fall – including special Disney PhotoPass Lenses Guests can use right from the app, powered by Snap's camera technology. Guests will be able to take selfies with their favorite Disney characters, experience unique Walt Disney World moments, and even make some magic of their very own with augmented reality! There will be more news to share ahead of the 50th anniversary, so stay tuned.
We're just getting started and always discovering new ways to bring Disney stories and characters to life – whether you meet us at one of our Disney destinations, at home, or online. And every day, we're exploring how technology can help us bridge the physical and digital worlds to create unforgettable moments for our guests.
It's all so that Guests can experience even more magic with the people they care about and be part of the stories they love. And with so many fan-favorite characters, theme park icons, and Disney adventures at our fingertips, the possibilities are practically endless for what we call the 'theme park metaverse.'
We can't wait to show Guests what else we're working on, so stay tuned and get ready for more amazing experiences to come!
*Snapchat is available for download on the Apple App Store and the Google Play Store.  Snapchat requires separate registration. Separate terms of use and privacy policy apply. Message, data and roaming rates may apply. Availability subject to handset imitations, and features may vary by handset, service provider or otherwise. Coverage and app stores not available everywhere. Some features require separate theme park admission.
---
Published: May 20, 2021

[