Disneyland Resort Celebrates America with Patriotic Fanfare
Disneyland Resort Celebrates America with Patriotic Fanfare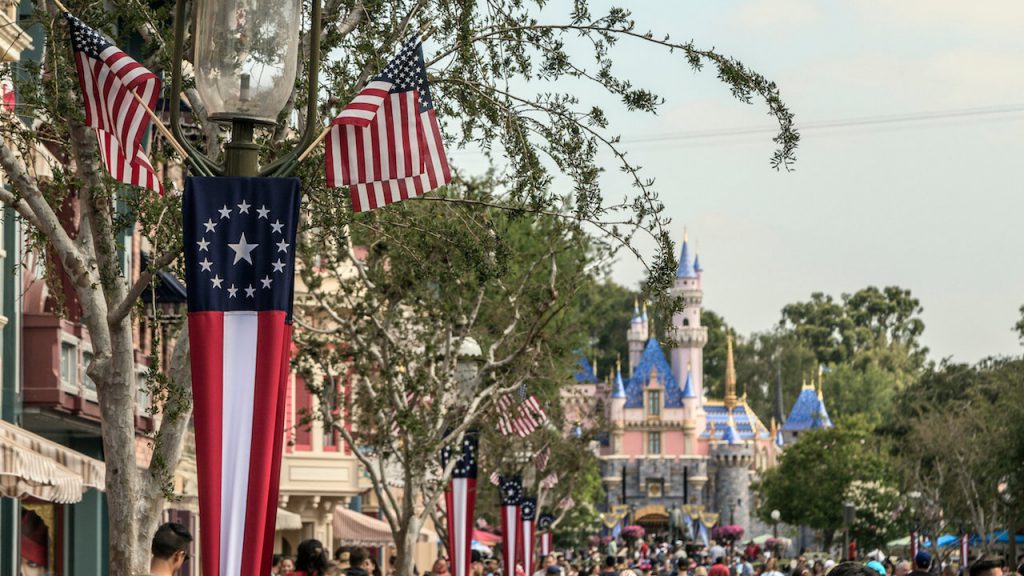 Beginning when he was a young boy, after learning about President Abraham Lincoln, Walt Disney developed a sense of patriotism that stayed with him throughout his lifetime. His love of country can be seen throughout the Disneyland®Resort. It's no wonder that here you can discover a flurry of patriotic fun in celebration of Independence Day.
At Disneyland Park, Main Street, U.S.A., inspired by Walt Disney's childhood hometown of Marceline, Missouri, honors America with red, white and blue décor, serving as the gateway and backdrop for patriotic memories.
Guests looking to showcase their patriotism with a Disney flair, will find Americana-inspired merchandise for a limited time at Emporium and at Pioneer Mercantile in Disneyland Park; at Elias & Co. in Disney California Adventure Park; and at World of Disney in the Downtown Disney District. Festive items include Spirit Jerseys, t-shirts, dresses, Minnie Ears, light-up necklaces, place settings and more.
You can also capture a moment with Mickey Mouse in his patriotic finest! They'll find him in Town Square from 8 a.m. until 3:30 p.m. on the Fourth of July.
To underscore America's Birthday at Disneyland Park on July 4 only, "Disney's Celebrate America! – A Fourth of July Concert in the Sky" will animate the night with star-spangled spirit to the sounds of patriotic songs.
From Disneyland Railroad, to Great Moments with Mr. Lincoln, to Frontierland and Mark Twain Riverboat, to the flag retreat ceremony saluting visiting members of the armed forces, America is celebrated daily throughout Disneyland.
There's more! Here's what else you will find throughout the resort:
At Disney's Paradise Pier Hotel, on July 4 only, from 3-10 p.m., Guests will discover a Fourth of July family BBQ at the rooftop The Sand Bar, with live music starting at 6 p.m., followed by fireworks from Disneyland Park at 9:30 p.m. A special a la carte menu will feature short rib brisket burgers, all-beef hot dogs, street corn on the cob and specialty drinks. Complimentary family activities and face painting are also in store. Subject to availability. This offering is open to the public and does not require a hotel reservation.
At Disneyland Hotel, on July 4 only, from 12-4 p.m., hotel guests of all ages can get in the patriotic spirit with family activities, live music, complimentary face painting, caricatures and tasty delights on the hotel's Magic Kingdom Lawn. Subject to availability.
At the Downtown Disney® District, Guests will discover an array of patriotic offerings. For patriotic wear, you can visit Curl Surf. For the Frozen Cherry Boba Lemonade, theycan drop in Wetzel's Pretzels, and for the Firecracker Cocktail, they can check out Splitsville Luxury Lanes. Hungry? There's also Berry Ice Creams at Salt & Straw, or a 4th of July Box and Americana Mini Sampler at Sprinkles. For a decadent dessert, you can try the Red, White & Blue Cake Shake from Black Tap Craft Burgers & Shakes. How's that for a fun stroll around the neighborhood?
From entertainment, to merchandise, to dining, to sweet treats and more, there's something for everyone looking to celebrate America's birthday at the Disneyland Resort.
Happy Fourth of July!