Enjoy Black Tap Craft Burgers & Shakes in Downtown Disney District at Disneyland Resort
Enjoy Black Tap Craft Burgers & Shakes in
Downtown Disney District at Disneyland Resort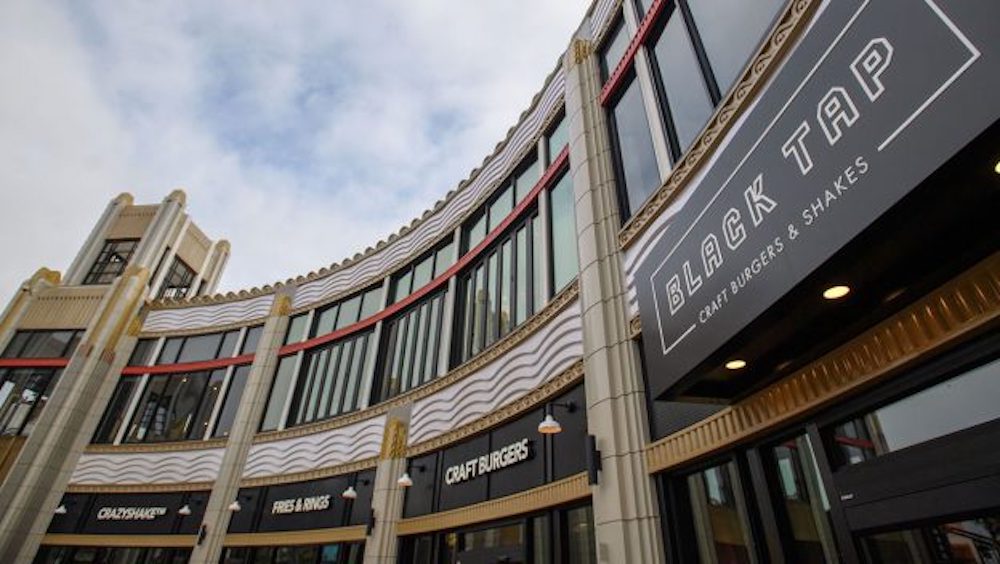 Over-the-top CrazyShake shakes and award-winning, mouth-watering burgers are now wow'ing guests at Black Tap Craft Burgers & Shakes in the Downtown Disney District at the Disneyland Resort!
The Downtown Disney District is Black Tap's first location in California and its first to introduce an enhanced service style where you order at the counter, seat yourself and your order is delivered to your table. Once seated, a Black Tap team member will take any of your additional menu, drink and CrazyShake orders. This is also the first location where CrazyShake shakes can be ordered to go from its take-out Shake Window.
What to order? How about the All American Burger, a classic recommended for first timers, with American cheese and a Martin's potato bun. Or, the Greg Norman Burger, Black Tap's three-time champ! This burger won the People's Choice Award at New York City Wine & Food's Burger Bash three years in a row. It's made with Australian wagyu beef from the famous golfer's ranch and topped with blue cheese for a rich but balanced burger.  Fried pickles, crispy Brussels sprouts, spicy Korean wings and house-made onion rings are tasty add-ons.
How do you top that? The Cotton Candy CrazyShake – the original and still a stunner – is a strawberry shake with a vanilla frosted rim with blue, pink and pearl chocolates, a pink lollipop, rock candy, whipped cream and a pile of cotton candy on top. New and exclusive to the Downtown Disney District is the Strawberry Shortcake CrazyShake with a strawberry shortcake ice cream bar, strawberry drizzle and a pink and white twisty pop!
Black Tap began in SoHo and you can feel the New York vibe throughout the restaurant, with neon signs, a sticker bomb graffiti wall, stacked subway tile, black and white stripes and three pop art murals by local street artist Jason Woodside.  The music is just as fun, listening to '80s pop and '90s hip hop will keep your toes tapping and dancing in your seat while you eat.
Black Tap Craft Burgers & Shakes is the latest fantastic example of the Downtown Disney District bringing dynamic new dining, shopping and entertainment experiences to our guests including The Disney Dress Shop, Disney Home, Splitsville Luxury Lanes, The VOID, the reimagined World of Disney, the re-designed Naples Ristorante e Bar, Napolini Pizzeria and Wetzel's Pretzels.  Other delicious new spots include Ballast Point Brewing Co. and Salt & Straw scoop shop!