Enter the Grid as TRON Lightcycle / Run Presented by Enterprise Opens April 4, 2023, at Walt Disney World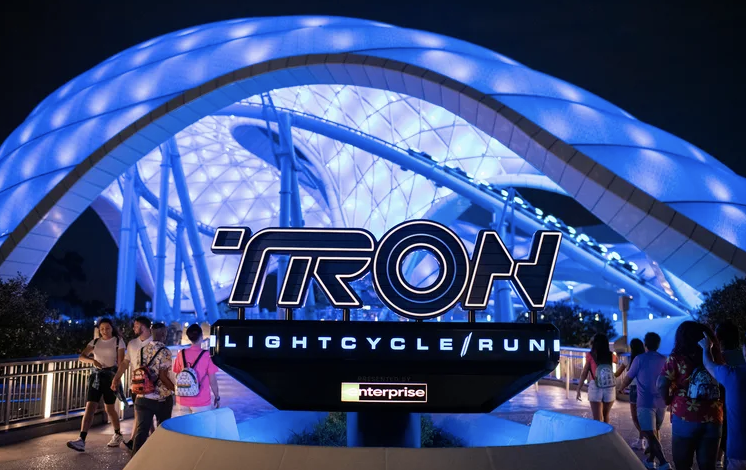 LAKE BUENA VISTA, Fla. (March 14, 2023) – >◎//: Attention Users: Prepare for Team Blue Lightcycle / Run upload sequence.
Beginning April 4, 2023, Walt Disney World Resort guests, also known as Users, will be digitally scanned into a mysterious game world in TRON Lightcycle / Run presented by Enterprise. As members of Team Blue, they will board high-speed Lightcycles for a thrilling race through a dark, computerized world, facing off against a fierce group of Programs known as Team Orange.
The new attraction, located in Tomorrowland at Magic Kingdom Park, is the fastest coaster attraction in a Disney theme park, alongside its sister coaster at Shanghai Disneyland. It masterfully blends coaster thrills with speed, visual effects, music and a one-of-a-kind ride system to create an experience like no other.
Following events in The Walt Disney Studios 2010 film, "TRON: Legacy," TRON Lightcycle / Run enables guests to enter the digital world via gateways that Grid creator Kevin Flynn's son, Sam Flynn, opened. The Magic Kingdom gateway complements another gateway located in Shanghai Disneyland. Sam created the Lightcycle / Run competition as a "friendly" way for Users and Programs to interact in a gaming-style, competitive event.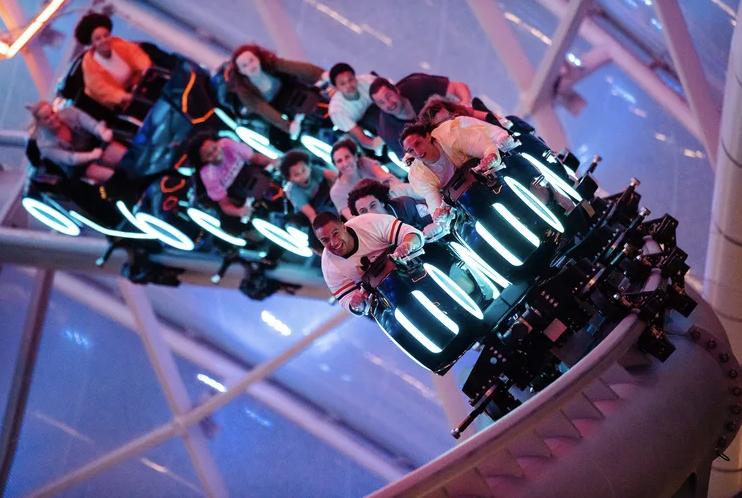 >◎//: Welcome to TRON
With its massive, awe-inspiring "curved wave" canopy, the new attraction is a stunning addition to the Tomorrowland skyline. Lightcycle trains appear from seemingly out of nowhere, making flowing, high-speed twists and turns beneath the gleaming canopy as they launch onto the Game Grid. The experience is even more dramatic after dark as shifting patterns of light and color create a powerful visual for riders and bystanders alike.
>◎//: Onto the Grid
The experience of TRON begins before guests board Lightcycles. After passing beneath the dazzling attraction canopy, they will enter a Digitizer for another powerful preview of what's in store when they join the games. Then it's time to board Lightcycles in the Sync Chamber and prepare for upload.
Launching onto the Grid is an unforgettable experience for Users as their powerful Lightcycles arc gracefully beneath the towering attraction canopy and charge into a mysterious game world of light, sound and speed. The quest: Race through eight Energy Gates to defeat the menacing group of Programs known as Team Orange.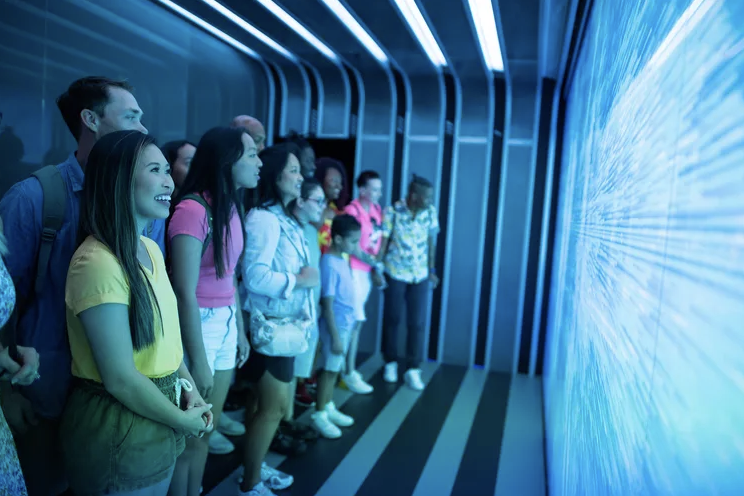 >◎//: Gear Up for the Grid with New TRON Merchandise
An all-new retail experience is the place to gear up for the Grid with racing-themed apparel, collectible pins, must-have toys and light-up accessories all inspired by the TRON films and the new attraction. Guests can also purchase and customize their own TRON action figures.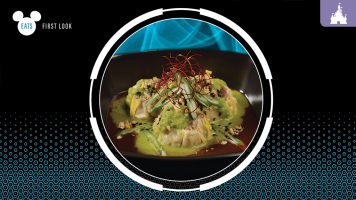 >◎//: Power Up at Energy Bytes
Energy Bytes, a new quick-service kiosk near TRON Lightcycle / Run, will put a fun spin on global cuisines. Items both savory and sweet offer nods to regional food offerings at Shanghai Disneyland, where the first TRON gateway is located. Selections include:
Digital Dumplings – Choose from Buffalo Chicken: Chicken Dumplings, Blue Cheese Powder and Cayenne Pepper Broth; or Beef & Broccoli: Beef Dumplings, Broccoli Pesto and Ginger-Soy Broth
Strawberry IceOform – Strawberry Ice Cream Mochi, Graham Crackers and Cheesecake Foam
Watermelon Refresher – A frozen beverage with Yuzu and Ginger
Chocolate Doughnut Holes with Mocha Sauce
Joffrey's™ Cold Brew Coffee with Mocha Sauce
The new "bytes" are the perfect way to power up for competition.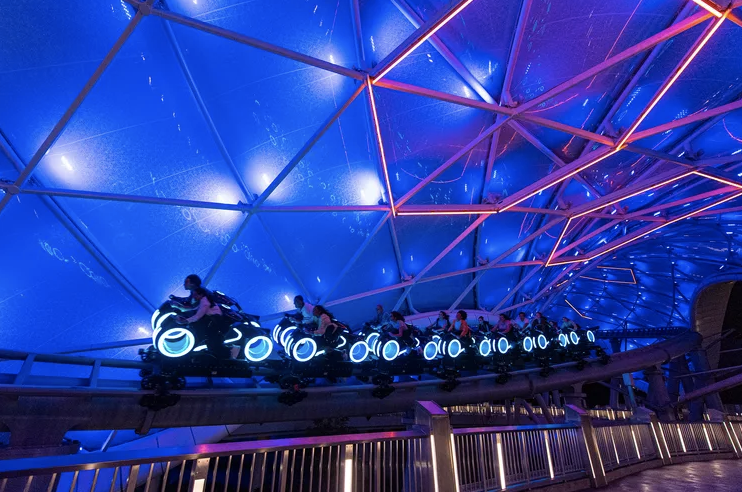 >◎//: TRON Lightcycle / Run – Data Points
TRON Lightcycle / Run is the fastest coaster attraction in a Disney theme park, alongside its sister coaster at Shanghai Disneyland.
It took more than 3,800 pieces of steel weighing almost 1,900 tons to create the attraction. The ride track is more than 3,000 feet long.
The dramatic attraction canopy covers more than 50,000 square feet, reaches 105 feet high and features more than 1,200 lights.
The Lightcycle ride vehicle incorporates onboard audio and lighting, as well as a specially crafted safety restraint that allows riders to lean forward on the cycles.
The urgent, moody musical score for the attraction was written by composer Joseph Trapanese.
The attraction's 10-acre footprint is the largest expansion of Magic Kingdom since New Fantasyland opened in December 2012.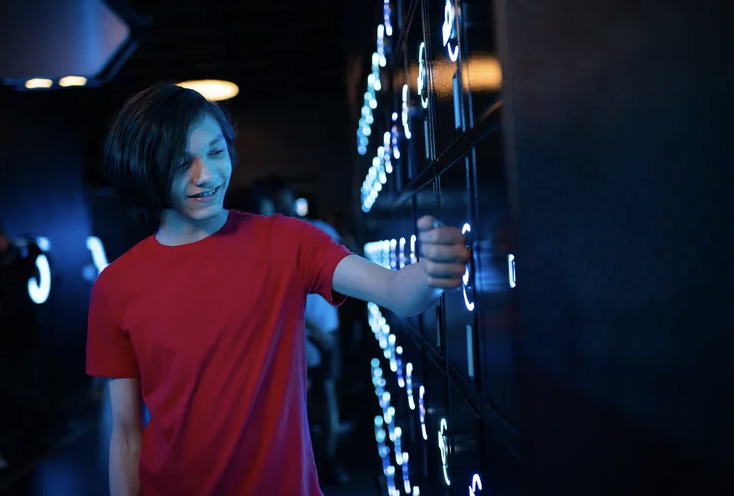 >◎//: Prepare for the Grid
To prepare for upload onto the Grid, guests will input bags, purses, hats and other items into double-sided lockers that are opened and locked using a MagicBand, MagicBand+ or ticket media. Smaller items such as cellphones, sunglasses or wallets can be placed in a small compartment located on each Lightcycle. Following the race, guests will return to the real world and retrieve their belongings.
With Disney PhotoPass, Users have myriad ways to commemorate their experiences on the Grid with special photo and video effects, including Magic Shots.
Guests with valid park admission and Magic Kingdom Park reservations can request to join the virtual queue to experience the attraction via the My Disney Experience app on the day of their visit. The virtual queue is limited and subject to availability and is not guaranteed. Guests will also have the option to purchase individual Lightning Lane entry for the attraction via the My Disney Experience app on the day of their visit. Lightning Lane purchases are limited in availability. More information about the virtual queue is available at DisneyWorld.com/virtualqueue. A standby queue will not be available for TRON Lightcycle / Run.
To experience TRON Lightcycle / Run, guests must be at least 48 inches tall.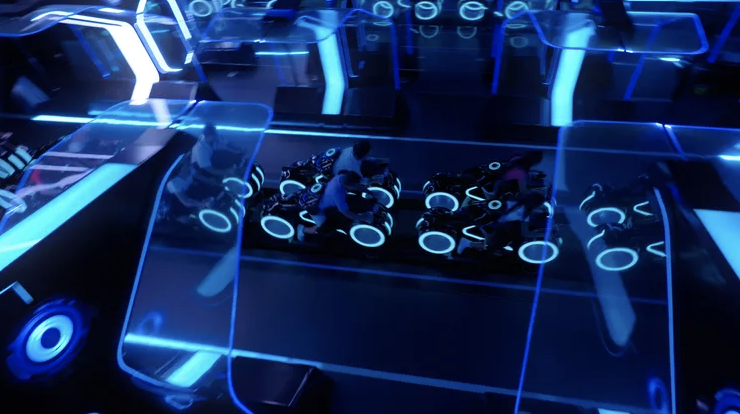 >◎//: System Glossary – Familiarize Yourself with the Grid
Digitizers: Two chambers where the Shiva laser performs a "digitizing procedure" on Users, sending them into the world of the Grid.
Energy Gates: Digital markers that Users and Programs compete to "capture." The first team to capture all eight Gates by passing through them is declared the winner.
Programs: Digital beings who live on the Grid, they are created by humans through written computer code. Programs are opponents of Users on TRON Lightcycle / Run.
Shiva laser: The ENCOM SHV 20905 is the conduit by which human Users pass from the real world into the digital world of the Grid.
Sync Chamber: The load station where Users board Lightcycles, "syncing" their bodies with the vehicles.
The Grid: The digital world created by Kevin Flynn.
The Game Grid: An arena of competition within the larger digital world of the Grid, where competition takes place.
TRON Plaza: The area around and encompassing TRON Lightcycle / Run, mostly covered by its distinct canopy structure that is an expression of biological and technological harmony.
Upload Conduit: Beneath the canopy of TRON Plaza, this section of "track" carries data being uploaded from the Launcher to the Game Grid, much like a fiberoptic cable. This one-of-a-kind piece of technology, co-created by Sam Flynn, enables digital information traveling along its lines to be seen by outside "real world" observers and vice versa. This is why onlookers in Tomorrowland are able to "see" a train of Lightcycles speeding along, and Users can catch glimpses of the surrounding area from their vehicle.
Users: Human beings who must be digitized to visit the Grid and compete in TRON Lightcycle / Run.
Team Green Post-Show Space presented by Enterprise: After competing in an epic race and returning to Tomorrowland, Users are introduced to a bold new race team and their powerful, state-of-the-art Lightcycle that offers an opportunity to capture an incredible photo.
◎//: End of Line.