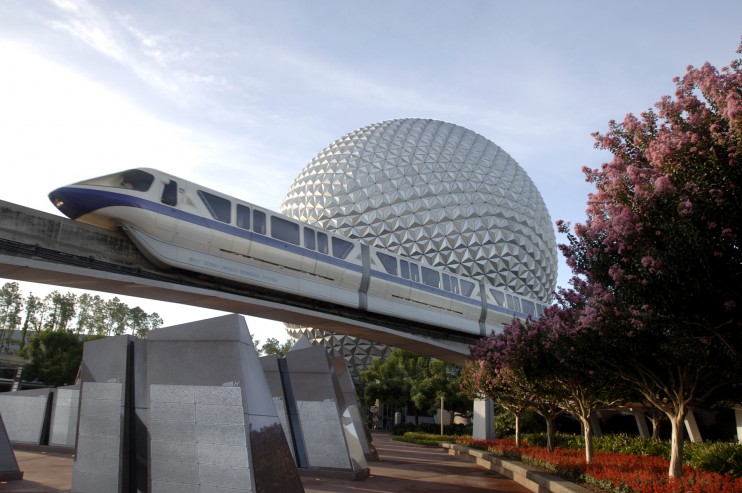 LAKE BUENA VISTA, Fla. — Epcot, the second Walt Disney World Resort theme park, opened Oct. 1, 1982 — 11 years after the Magic Kingdom debuted. The 305-acre park, identified by its iconic Spaceship Earth geodesic sphere, features two distinct areas. Future World is a showcase of discovery filled with new ideas and technology, plus an exploration of planet Earth from land and sea to air and space. World Showcase is a kaleidoscope of nations featuring architecturally authentic buildings and backdrops that celebrate their cultural heritage, arts and entertainment. The 11 nations plus an African-themed Outpost are situated along a 1.3-mile promenade encircling the 40-acre World Showcase Lagoon.
Attractions: Future World
Spaceship Earth (1982) A re-imagined journey exploring the history of communications beginning centuries ago and continuing into the future with interactive guest experience.
The Land (1982) A simulated hang-gliding adventure over the state of California on the Soarin' attraction; a voyage past working greenhouses and a fish farm at Living with the Land; characters from "The Lion King" in the Circle of Life film.
Imagination! (1982) A motley crew led by Michael Jackson in the 3D film "Captain EO;" a Journey Into Imagination ride with Figment; ImageWorks interactive area.
Universe of Energy (1982) Ellen DeGeneres stars as a Jeopardy contestant, gets help from Bill Nye the Science Guy and travels back to the age of dinosaurs on Ellen's Energy Adventure.
The Seas with Nemo & Friends (1986 – originally called The Living Seas) A "clamobile" ride on The Seas with Nemo & Friends with technology that shows animated Pixar characters swimming with live fish in a 5.7 million gallon aquarium; Turtle Talk with Crush interactive show.
Innoventions East and West (1994) Two interactive showcases that tell stories as guests employ hands-on technology for fun and thrills.
Test Track (1999) Re-imagined in 2012, a thrill attraction where guests design a "SimCar," then hop in for a wild ride on the Test Track circuit.
Mission: SPACE (2003) An intense training launch to Mars — a milder journey is offered to the less adventurous; Advanced Training Lab post-show games.
Attractions: World Showcase     
Mexico (1982) "Gran Fiesta Tour Starring the Three Caballeros" musical animated boat voyage with Donald Duck and pals; also live entertainment, restaurants and shops.
China (1982) "Reflections of China" Circle-Vision 360 film; live acrobatic performances, restaurants and shops. Tomb Warriors gallery features replicas of terra-cotta soldiers unearthed in Xi'an, China.
The American Adventure (1982) The American Adventure show featuring film and Audio-Animatronics narrators; restaurants and shops.  Live performances at outdoor America Gardens Theatre.
Germany (1982) Oktoberfest at Biergarten Restaurant with live entertainment; shops.
Italy (1982) Italian specialties at several authentic eateries; live entertainment; shops.
Japan (1982) Sushi and other Japanese dishes at three restaurants; live Taiko drumming performances; shops.
France (1982) "Impressions de France" film features a trip through the French countryside; live performances, restaurants, bakery, ice cream shop and boutiques.
Canada (1982) "O Canada!" Circle-Vision 360 film narrated by Martin Short; live musical performances, restaurant and shops.
United Kingdom (1982) Live entertainment including street actors, British Revolution band; restaurants and shops.
Morocco (1984) Live entertainment including Mo'Rockin band; restaurants and shops.
Norway (1986)  Princess Storybook Dining at Akershus Royal Banquet Hall (breakfast, lunch, dinner); shops.
Entertainment
The entertainment lineup in Future World and World Showcase depends on the day of the week.  Performances may include The Jeweled Dragon Acrobats in China, the Spirit of America Fife & Drum Corps at The American Adventure, Mariachi Cobre band at Mexico or Sergio, the Italian mime/clown and juggler and others.
IllumiNations: Reflections of Earth (every night at World Showcase Lagoon) – Lasers, lights, fountains and fireworks are set to a musical score above the lagoon, where the show's Earth Globe floats and opens like a lotus flower to reveal a gigantic torch.
Food and Beverage
Future World Restaurants: Innoventions: Electric Umbrella and Fountain View; The Land: Sunshine Seasons and The Garden Grill; The Seas with Nemo & Friends: Coral Reef Restaurant.
World Showcase Restaurants:  Mexico: San Angel Inn Restaurante, La Hacienda de San Angel, La Cantina de San Angel, La Cava del Tequila; Norway: Princess Storybook Dining at Akershus Royal Banquet Hall and Kringla Bakeri Og Kafe; China: Nine Dragons Restaurant and Lotus Blossom Café; Germany: Biergarten Restaurant and Sommerfest; Italy: Tutto Italia Ristorante, Via Naoli Ristorante e Pizzeria and Tutto Gusto Wine Celler; American Adventure: Liberty Inn and Fife & Drum Tavern; Japan: Teppan Edo, Tokyo Dining, Katsura Grill and Kabuki Café; Morocco: Restaurant Marrakesh and Tangierine Café; France: Chefs de France, Monsieur Paul, Les Halles Boulangerie & Patisserie and L'Artisan des Glaces; United Kingdom: Rose & Crown Pub & Dining Room and Yorkshire County Fish Shop; Canada: Le Cellier Steakhouse.
Special Events
Epcot International Flower & Garden Festival – 75 days of floral fantasy, Disney character topiaries, gardening seminars, Flower Power concerts and more; early March through mid-May.
Sounds Like Summer – Classic pop hits with tribute bands at America Gardens Theatre in June and July.
Epcot International Food & Wine Festival – 46 days of food, wine, beer and cocktail tastings, seminars, grand dining events, Eat to the Beat concerts and more; late September through mid-November.
Holidays Around the World – Candlelight Processional, holiday storytelling and festive displays; late November through December.
Park Entrances:  Epcot has two entrances.  The original entrance is convenient to the parking area and monorail station (the monorail runs between Epcot and Magic Kingdom Transportation and Ticket Center three miles to the north).  The International Gateway entrance opened in 1990 between the United Kingdom and France pavilions in World Showcase, providing park access to guests staying in Epcot resort area hotels — Disney's Yacht Club Resort, Disney's Beach Club Resort, Disney's BoardWalk, Walt Disney World Swan and Walt Disney World Dolphin.
History
Walt Disney envisioned a showcase for innovation, a place to celebrate human achievement and where people could experience the cutting edge of technology.  On Oct. 1, 1978, Card Walker — then president of Walt Disney Productions — revealed plans for Epcot, a theme park inspired by Walt's philosophies.  A groundbreaking ceremony was held one year later and Epcot opened in 1982.  The debut of Innoventions in 1994 marked an exciting addition to the Epcot experience.  This evolving technology exposition gives Epcot guests an opportunity to explore the latest inventions and innovations that may change the way they live their lives.