Exciting Additions and Enhancements Coming to 'Mickey's Boo to You Halloween Parade' at Magic Kingdom Park
Exciting Additions and Enhancements Coming
to 'Mickey's Boo to You Halloween Parade' at Magic Kingdom Park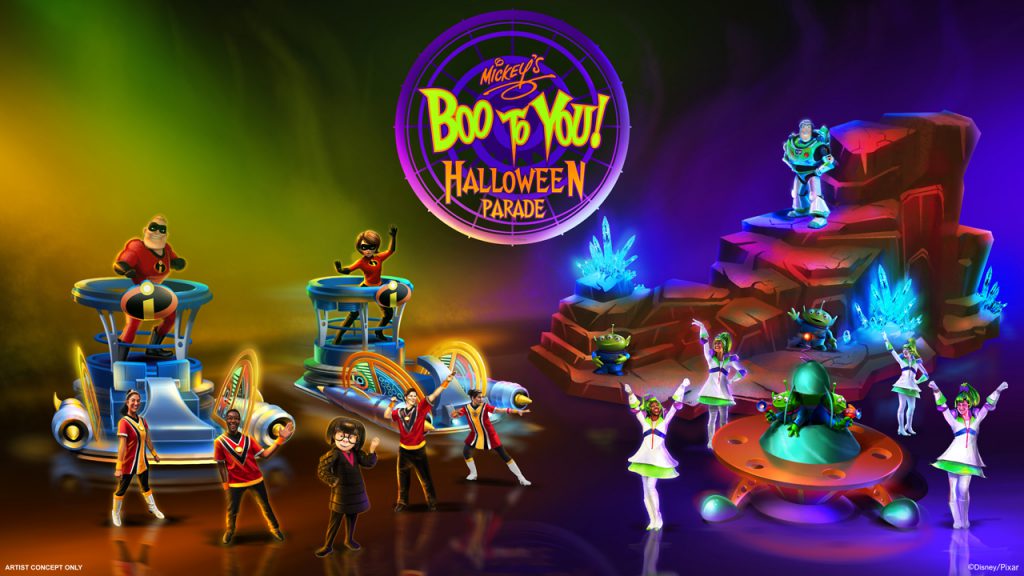 Mickey's Not-So-Scary Halloween Party is already a must-do experience every fall at Magic Kingdom® Park, and it's even more so this year with the debut of the incredible new "Disney's Not-So-Spooky Spectacular," a new interactive treat trail at Monsters Inc. Laugh Floor and attractions updated with new Halloween twists. Now, we're excited to announce even more to look forward to with some great additions to "Mickey's Boo to You Halloween Parade!"
Presented twice nightly during Mickey's Not-So-Scary Halloween Party (Pro tip: catch the second run of the night for the best viewing options), the parade brings forth a cavalcade of fiendishly fun floats as each land of the Magic Kingdomcomes together to celebrate Halloween.
The parade opens with a flurry of favorite Disney friends, including Mickey Mouse and Minnie Mouse in all-new Halloween costumes, as they trick-or-treat down Main Street, U.S.A. Representing Liberty Square, the Haunted Mansion unit features Hitchhiking Ghosts and a new addition, the spectral Bride, who glides among the waltzing spirits.
A new Tomorrowland unit brings The Incredibles and designer extraordinaire Edna Mode to "Mickey's Boo to You Halloween Parade," followed by Buzz Lightyear and Alien explorers discovering crystalline treasures on the surface of a planetary playset float.
Of course, no Halloween parade would be complete without candy. Wreck-It Ralph, Vanellope von Schweetz and the girls from Sugar Rush make sure there's plenty of sweet stuff to go around! Pirates sail in from Adventureland, Clarabelle Cow hosts a square dance during a Frontierland hoedown, and a wicked assortment of Disney Villains reigns over a Fantasyland-inspired grand finale.
Mickey's Not-So-Scary Halloween Party kicks off Aug. 16, 2019, with events held on select nights through Nov. 1, 2019.