First Look at Universal's Epic Universe – Universal Orlando Resort's Fourth Theme Park
First Look at Universal's Epic Universe –
Universal Orlando Resort's Fourth Theme Park
Written By Mark Woodbury –Mark Woodbury is Vice Chairman, Universal Parks & Resorts and President, Universal Creative. During his more than 30 years with Universal, his visionary approach to developing immersive and innovative concepts has been instrumental in shaping the Universal experience around the globe.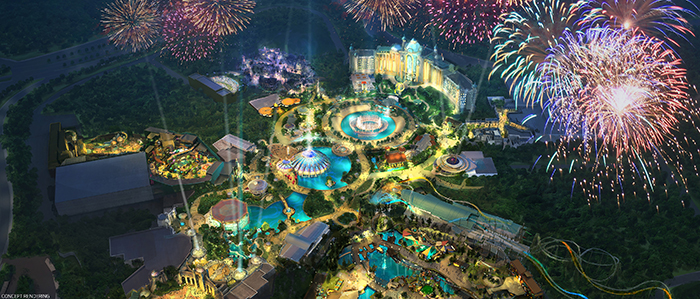 Epic. It's a word that gets tossed around a lot in today's day and age, though not one we use loosely. When we label something as epic, we want that experience to live up to the promise that word makes. Which is why today we are elated to announce the addition of our fourth theme park, Universal's Epic Universe, an experience genuinely worthy of its bold moniker.
Universal's Epic Universe will offer an entirely new level of experiences that will forever redefine theme park entertainment. Guests will venture beyond their wildest imagination, traveling into beloved stories and through vibrant lands on adventures where the journey is as astounding as the destination. The new location will feature a theme park, an entertainment center, hotels, shops, restaurants and more. Ultimately, this expansion will create more space and freedom to let loose and create lasting memories with the people you love.
Here's a peek at the logo and proximity map of Universal's Epic Universe.


It's such an exciting time at Universal Orlando Resort. We can't wait to share more details about Universal's Epic Universe with you, so stay tuned for updates.