First Look: Avengers Campus Merchandise, Including All-New WEB Tech Available at Disneyland Resort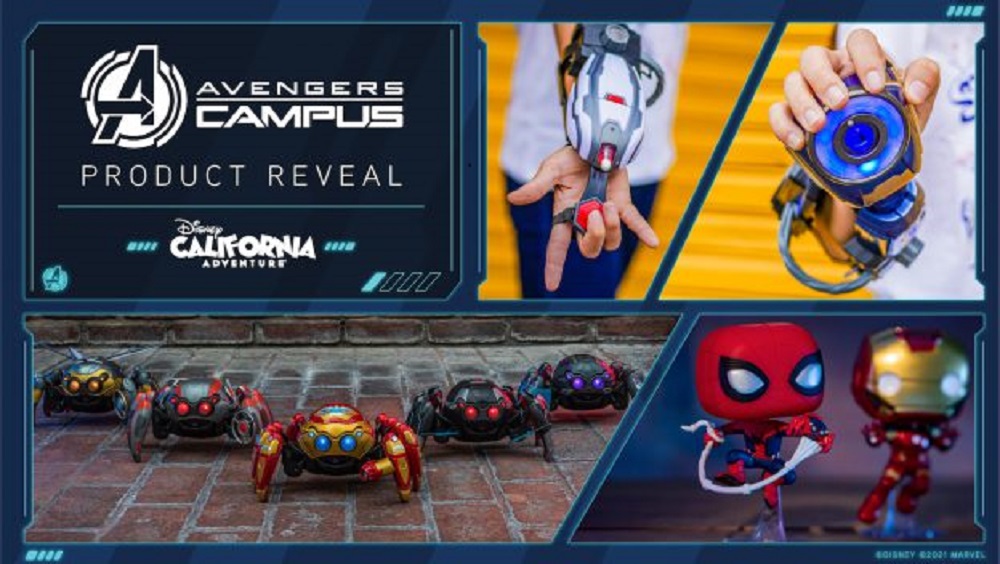 When Avengers Campus opens on June 4, 2021 at Disney California Adventure park, Guests will be able to team up with their family and friends and assemble with Earth's Mightiest Heroes through a collection of attractions, encounters and missions!
What better way for Guests to gear up for this epic adventure and embrace their inner Super Hero than with a first look at all-new merchandise coming to Avengers Campus? And better yet, some of these new products will be coming first to Disneyland Resort Backlot Premiere Shop featuring Avengers Campus, Disney+ and Super Hero products on May 29 before arriving at WEB Suppliers and the Avengers Campus Supply Pod inside Avengers Campus on June 4.
Now there is one SUPER thing we haven't shared yet… While everyone will be able to sling webs on the attraction, for the first time ever on a Disney Parks attraction, Guests will be able to customize their experience aboard WEB SLINGERS: A Spider-Man Adventure with WEB Tech accessories. Yes, you read that correctly; when Guests gear up, they'll be able to find their OWN powers and get a different experience aboard the attraction!
As a refresher, on WEB SLINGERS: A Spider-Man Adventure, Guests will don 3D glasses on a test-drive of the aspiring inventor's latest invention, the WEB Slinger vehicle, and discover their web-slinging super powers. Through specially designed, innovative technology that recognizes body movements and gestures, they'll reach out their hands and sling webs from their wrists, just like Spider-Man!
First, they power up with a WEB Power Band. This base band features an attraction mode that unlocks multi-fire webs aboard WEB SLINGERS: A Spider-Man Adventure to personalize the game play for a cool, new experience on the attraction.

Then, Guests can find their own powers and add on WEB Tech inspired by some favorite Super Heroes including Spider-Man, Ghost Spider, Iron Man and Rescue to their WEB Power Bands.
WEB Tech can change their powers on the attraction to those inspired by fan-favorite Super Heroes– from Spider-Man and Ghost Spider with electro-dynamic webs, to Iron Man and Rescue with repulsor blasts.
Spider-Man and Ghost Spider-inspired WEB Shooters change Guests powers to electro-dynamic webs on the attraction and at home, features lights, sounds, projections, and webs that eject and retract. Iron Man and Rescue-inspired Repulsor Cannons change Guests powers to repulsor blasts on the attraction and at home. They also light up and blast air while Guests practice their repulsor powers with training spheres.
After they're done saving Avengers Campus from a Spider-Bot infestation on WEB SLINGERS: A Spider-Man Adventure, there's even more fun in store for aspiring WEB members! Check out all the details on what else is to come:
Every Super Hero needs a friendly sidekick to help protect their neighborhood. Spider-Bots place Guests in the driver's seat, allowing them to command their Spider-Bot and battle opponents, with programmed combat and defensive abilities.
Looking to take Spider-Bot to the next level? Inspired by some favorite Super Heroes, tactical upgrades change the overall appearance of the Spider-Bot and enhance the Spider-Bot's battle capabilities. These tactical upgrades are inspired by Iron Man, Black Widow, Black Panther and even Ant-Man and The Wasp… But keep an eye out for more to come!
Whether Guests are just hanging out at Avengers Campus or protecting their neighborhood, they will be able to bring their Spider-Bot with them on the go with this backpack, perfect for carrying essentials including a special web-mesh to hold their very own Spider-Bot.
Inspired by the web-slinger himself, these stylish goggles are the ultimate accessory for day or night with 17 unique expressions that come to life digitally. Guests can take their Spider-Man look to the next level with these authentic web-shooters featuring lights, sounds and even a display for when they're not being used to save the day.
Collectors won't want to miss out on the newest Pop! figure featuring everybody's favorite web-slinger, catching Spider-Bots that have run amuck throughout Avengers Campus. And who better to join Spider-Man than his mentor, Tony Stark, aka Iron Man himself, in this all-new Pop! figure.
Those looking to show off their WEB pride can embrace their inner science whiz with a variety of products from apparel to home goods featuring the WEB logo! Aspiring Avengers can also grab an assortment of products inspired by S.T.E.A.M. and even create their own webs using at-home kits.
Looking to suit up in Avengers Campus gear? Guests can power on up at Campus Supply Pod located near WEB SLINGERS: A Spider-Man Adventure with official Avengers Campus gear. Campus Supply Pod carries an assortment of attire featuring the Avengers Campus logo and other gear including Avengers Campus T-shirts, a fleece hoodie and even a deluxe figurine set featuring some favorite Avengers.
---
Published: May 20, 2021

[