Foodie Guide to the 2018 Disney Festival of Holidays at Disney California Adventure Park
Foodie Guide to the 2018 Disney Festival of Holidays at Disney California Adventure Park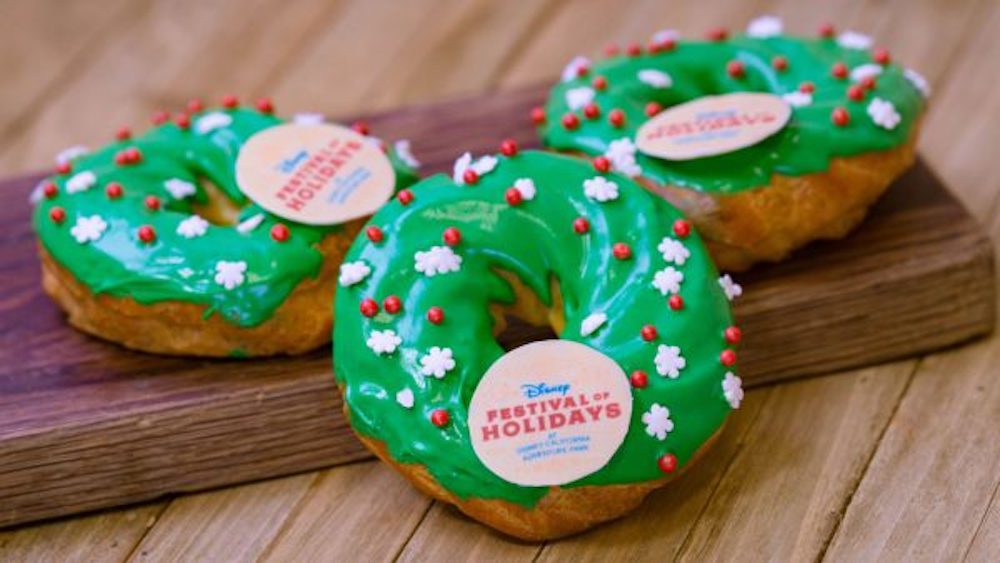 It's BACK – Disney Festival of Holidays returns to Disney California Adventure® Park on Nov. 9, 2018 with music, dance, and diverse cultural festivities. Your Clients can also enjoy the Festive Foods Marketplace featuring 12 delicious destinations and lots of good cheer!
You can even grab a Disney Festival of Holidays Tasting Passport at any of the marketplaces to guide you on your yummy holiday journey. As you visit each marketplace, you can get your passport stamped and when you've filled your passport, you'll get a special completion stamp!
In addition, available for all Guests is the Sip and Savor Pass, which gives you the opportunity to taste your way through your choice of eight different dishes or non-alcoholic beverages from participating Festive Food Marketplaces. This pass can be purchased at various locations throughout the park, including Festival Merchandise Carts, Seaside Souvenirs, Kingswell Camera Shop, and Rushin' River Outfitters.
This special holiday festival runs through Jan. 8, 2018. Here's a look at what you will find at each marketplace:
Merry Mashups

Food:
Turkey & Stuffing Tamale with Cranberry Relish
Lox & Everything Bagel Nachos
"Hot Cocoa" Marshmallow Macaron
Beverages:
Sparkling Wine Punch with Chandon Brut, Sparkling Wine and Lime Sherbet
Holiday Punch with Lime Sherbet and Sprite (non-alcoholic)
Winter Wonders
Food:
Pumpkin Soup with Maple Cashew Cream
Chana Masala with Grilled Garlic Naan
Vanilla and Cranberry Trifle
Beverages:
Pomegranate Lemonade (non-alcoholic)
Brews & Bites

Food:
Chorizo Queso Fundido with House-made Tortilla Chips
Beverages:
Figueroa Mountain Brewing Co., Paradise Rd, Pilsner
North Coast Brewing Co., Blue Star, Wheat
Brewery Ommegang, Rosetta, Aged Cherry Ale
Deschutes Brewery, Mirror Pond, Pale Ale
Anderson Valley Brewing Company, Boont, Amber Ale
Aftershock Brewing Co., Oatmeal Raisin Cookie Ale
Karl Strauss Brewing Company, Isomerizer, IPA
New Belgium Brewing Company, Accumulation, White IPA
Cigar City Brewing, Maduro, Brown Ale
Karl Strauss Brewing Company, 9 Bonfires Blazing, Golden Stout
Legends Brewery, Cookies Galore, Chocolate Cookie Milk Stout
Festive Progressive Flight:
Figueroa Mountain Paradise Rd Pilsner
Anderson Valley Boont Amber Ale
Karl Strauss Isomerizer IPA
Cigar City Maduro Brown Ale
Flavors of the Season Flight
Ommegang Rosetta Cherry Ale
Aftershock Oatmeal Raisin Cookie Ale
Karl Strauss 9 Bonfires Blazing Golden Stout
Legends Cookies Galore Milk Stout
Favorite Things

Food:
Holiday Ham Shanks with Brown Sugar-Pineapple Glaze
Reuben Potato Tots with Russian Dressing and Rye Toast
Beverages:
Cranberry Sangria with Lime Garnish
Eggnog Cocktail with Whipped Cream and Nutmeg Dusting
Holiday Duets

Food:
Curry Cauliflower Soup with Braised Lamb and Mintchurri
Shrimp and Grits with Andouille Sausage
Holiday Mickey and Minnie Cookies
Beverages:
Ballast Point Brewing Company, Spruce Tip Sculpin, IPA
Warm Peppermint Chocolate Float with Peppermint Hot Chocolate, Vanilla Ice Cream, Whipped Cream and Peppermint Crumbles
Visions of Sugarplums

Special Offering:
Sweet Dreams and Milk – Horizon Organic Lowfat Milk and Choice of Dessert
Food:
Warm Sticky Toffee Pudding with Butterscotch Sauce
White Chocolate Cranberry Blondie
Eggnog Wreath Éclair with White Chocolate Icing
Horchata Fudge
Beverages:
Warm Bourbon Cider with House-made Bourbon-infused Marshmallow
S'mores Frozen Chocolate Milk with House-made Toasted Marshmallow-infused Whipped Cream, Graham Cracker Crumble and Chocolate Drizzle (non-alcoholic)
Horizon Organic Lowfat Milk
Blissfully Braised

Food:
Braised Pork Belly Adobo with Garlic Fried Rice
Cornbread Cakes with Braised Collard Greens and Smoked Bacon Gravy
Beverages:
Blood Orange Ginger Mule with a Rosemary Sprig
Grandma's Recipes

Food:
Beef Pot Roast on a Potato Roll with Horseradish Cream
Candied Yams with Marshmallow Cream and Toasted Pecans
Gingerbread Mickey
Beverages:
Wyder's Cider, Hard Pear Cider
Towne Park Brew Co, Gose Fresca
Avery Brewing, White Rascal, Belgian-Style White Ale
Smog City Brewing Co., Snugglebug, Sour Blonde Ale
Merry Cherry Pineapple Punch with Red Maraschino Cherries (non-alcoholic)
Tart & Fruity Flight:
Pear – Wyder's Cider, Hard Pear Cider
Watermelon, Lime, Hibiscus & Cayenne – Towne Park Brew Co, Gose Fresca
Orange – Avery Brewing, White Rascal, Belgian-Style White Ale
Boysenberry & Raspberry – Smog City Brewing Co., Snugglebug, Sour Blonde Ale
Spicy Celebrations

Food:
Nashville Hot Fried Turkey with Dill Pickles
Jalapeño Latkes with Chipotle Crema
Chocolate Chipotle Pot de Crème
Beverages:
Pomegranate Margarita with Chipotle-smoked Sea Salt Half-Rim
A Twist on Tradition

Food:
Pozole Rojo Beef with Hominy Polenta
"Chicken-less" Mole with Spanish Rice
Black Forest Yule Log
Beverages:
Winter Michelada with Modelo Negra and Brown Sugar Rim
Modelo Negra, Dark Lager
Winter Sliderland

Food:
Roasted Turkey Slider with Cranberry Sauce
Holiday Stuffing Mac & Cheese
Milk Chocolate Candy Cane Pot de Crème
Beverages:
Frosty Frosé with Fleurs de Prairie Rosé, Blue Curaçao, and White Cranberry Juice served frozen with Mint Sprig
Oskar Blues Brewery, Old Chub, Scotch Ale
Making Spirits Bright

Beverages:
Kim Crawford, Sauvignon Blanc, Marlborough, New Zealand
Baileyana, Firepeak, Chardonnay, Edna Valley
Bartenura, Moscato, Italy
MacMurray Ranch Estate, Pinot Noir, Russian River Valley
Joel Gott, Zinfandel, California
Rodney Strong, Cabernet Sauvignon, Sonoma County
Chandon, Sparkling Wine, Brut, California
Mimosa Flight:
Pomegranate Mimosa
Pear Mimosa
White Cranberry Mimosa
White Wine Flight:
Kim Crawford, Sauvignon Blanc, Marlborough, New Zealand
Baileyana, Firepeak, Chardonnay, Edna Valley
Bartenura, Moscato, Italy
Red Wine Flight:
MacMurray Ranch Estate, Pinot Noir, Russian River Valley
Joel Gott, Zinfandel, California
Rodney Strong, Cabernet Sauvignon, Sonoma County