From Bright Suns to Rising Moons: A Day of Adventure at Star Wars: Galaxy's Edge at Disneyland Park
From Bright Suns to Rising Moons: A Day of Adventure at
Star Wars: Galaxy's Edge at Disneyland Park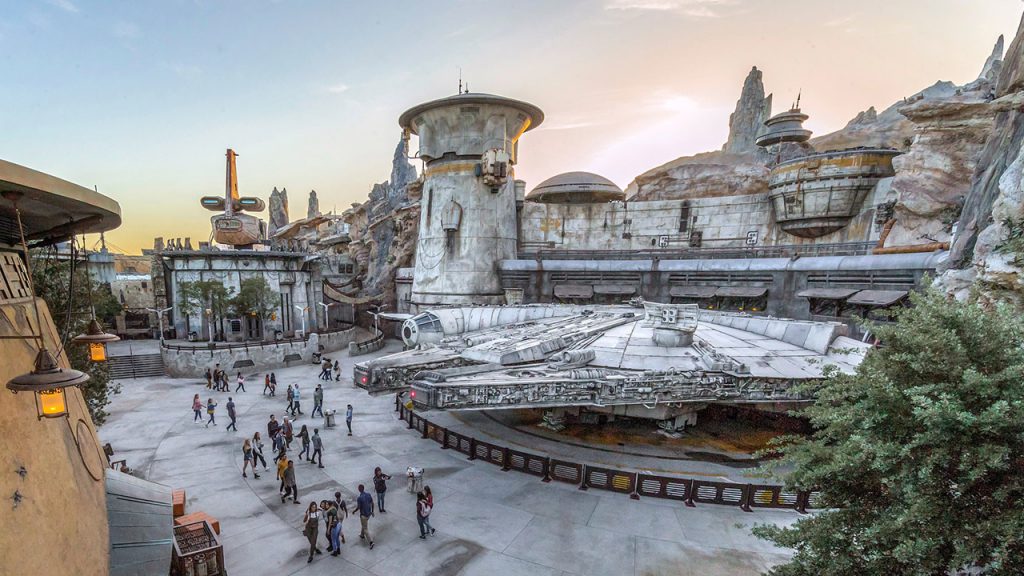 Star Wars: Galaxy's Edge is now open at Disneyland® Park. With the ability to join a boarding group when needed, it's the perfect time for you to visit the remote planet of Batuu. Here's a day-to-night itinerary to help you plan your trip. Let's go!
Plan ahead and reserve a spot
Business has been booming at Oga's Cantina and Savi's Workshop, so reservations are required for entry to either experience. Reservations can be made as early as 7 a.m., the morning of your visit at Disneyland.com/Cantina, Disneyland.com/SavisWorkshop or the Disneyland app (subject to change). Be sure to check the Disneyland app or signage inside Disneyland Park to see if the digital queue is operating and whether you need to request to join a boarding group to visit Star Wars: Galaxy's Edge.
Breakfast bites
Your first stop in Black Spire Outpost should be Ronto Roasters to fuel up for the day. The large podracing engine hangs overhead, which fires the barbecue pit, while a former smelter droid carefully turns a spit of meats. This marketplace stall offers mouth-watering Ronto Wraps, including the savory Ronto Morning Wrap. It's a delicious snack with scrambled eggs, grilled pork sausage, shredded cheese, and peppercorn sauce wrapped in pita.
To market, to market
After breakfast, you can stroll the Black Spire Outpost Marketplace to haggle with vendors from across the galaxy. Black Spire Outfitters has all the latest Batuuan styles and the Creature Stall houses some of the galaxy's most unique (and cuddly) pets. The marketplace is a great place to explore, with something new to see seemingly around every turn.
Tip: Kowakian Monkey-Lizards and Porgs are among the "critters" you will find at the Creature Stall available for purchase.
Take control of the "fastest hunk of junk"
If you have ever wished to step aboard the "fastest hunk of junk in the galaxy," now is your chance with Millennium Falcon: Smugglers Run. You can strap into the Falcon cockpit and take the controls as a pilot, defend as a gunner or maintain the ship's systems as a flight engineer. It's up to you and your fellow passengers to smuggle goods while avoiding any unnecessary entanglements.
Tip: The chess-type game played on the table in the Millennium Falcon main hold and lounge is called Dejarik. You can sit at this table and snap a photo with your crew before taking off!
First Order or Resistance?
You should be on the lookout for agents of the First Order or heroes of the Resistance. Supreme Leader Kylo Ren lands at Black Spire Outpost and gathers Stormtroopers to help you hunt for Resistance fighter Rey. You may also encounter Millennium Falcon co-pilot Chewbacca or Resistance spy Vi Moradi.
Astromech adventures
You can build and customize your own indispensable sidekick at Droid Depot. You can step into this immersive workshop stocked with stacks of parts, chips and manuals. You can pick pieces and parts off a conveyor belt to construct one of two core models: BB-series or R-series astromech.
Tip: Droid Depot also offers prebuilt droids, housewares and apparel, all inspired by the design, engineering and building of droids.
Blue or green?
What does Blue Milk taste like? You can head to the Milk Stand to find out! You can sample Blue or Green Milk, which are delicious frozen blends with dashes of fruity accents.
Galactic dining
You will notice Docking Bay 7 Food and Cargo by the transport shuttle that is sitting atop this food joint. Chef Strono "Cookie" Tuggs' journeys from system to system allow him to fill his pantry with exotic ingredients he uses to make new and unusual dishes. Perfect for a hearty lunch or dinner, you may want to try smoked Kaadu ribs or Fried Endorian Tip-yip, followed by a Batuu-bon for dessert.
Tip: You can save time by using the mobile ordering feature on the Disneyland app for Docking Bay 7 Food and Cargo, Ronto Roaster's and Milk Stand.
Local watering hole
No trip to Batuu would be complete without a stop at Oga's Cantina. The heartbeat of Black Spire Outpost, gather with other visitors to share tales from around the galaxy as you enjoy exotic beverages such as the spicy Bloody Rancor, the foamy Fuzzy Tauntaun or the fruity Carbon Freeze.
Tip: You can groove along to the entertaining jams from DJ R-3X, the former droid pilot from Star Tours.
Throughout your visit, be sure you have the Play Disney Parks mobile app downloaded to your mobile device.** When accessed inside Star Wars: Galaxy's Edge, the Play Disney Parks app transforms your mobile device into your very own Star Wars: Datapad. Scan the contents hidden inside containers, translate languages, and tune into communications happening throughout the land.
Tip: You can also use this tool to hack into droids and door panels (what the locals call "slicing") to unlock additional stories.
*Access to Star Wars: Galaxy's Edge experiences at Disneyland Resort is subject to capacity.
**Message, data and roaming rates may apply. Availability subject to handset limitations, and features may vary by handset, service provider or otherwise. Coverage and app stores not available everywhere. If you're under 18, get your parents' permission first.