Grab a Galactic Bite at Star Wars: Galaxy's Edge
Grab a Galactic Bite at Star Wars: Galaxy's Edge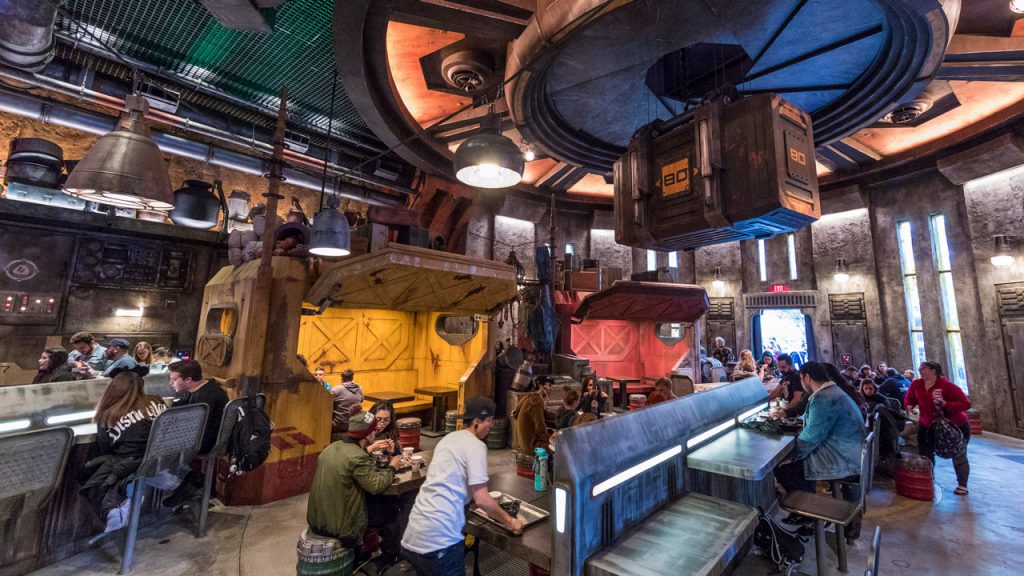 Take a look at the innovative food and beverage offerings throughout Galaxy's Edge! From Fried Endorian Tip-yip to Blue Milk and Ronto Wraps, there are so many offerings to get excited about.
Disney Parks Blog met with Culinary Director Brian Piasecki, one of the creative minds behind the food Guests will see throughout the land, to share an exclusive look at some of the dishes at Docking Bay 7 Food and Cargo. This quick-service restaurant serves up some galactic grub. Smoked Kaadu Ribs, Fried Endorian Tip-yip,  Yobshrimp Noodle Salad, and Ithorian Garden Loaf (plant-based meatloaf) are just a few of the savory options on the menu. For dessert, your can indulge in a raspberry Oi-oi Puff or a chocolate Batuu-bon. Wash it all down with some Phattro, a specialty beverage with unsweetened tea, lemonade, and desert pear, and you're good to go!
If you're planning on traveling to the Black Spire Outpost in the morning, there's a delicious selection of new breakfast offerings at Ronto Roasters, Docking Bay 7 Food and Cargo, and Oga's Cantina. First is the Rising Moons Overnight Oats, available at all three locations. These delicious oats are a great healthful option with dragon fruit, yogurt, and seasonal fruit.
At Docking Bay 7 Food and Cargo, you can try the Bright Suns Morning, which is a three-cheese egg bite with pork sausage and purple potato hash served with a mini Mustafarian Lava Roll. And what is a Mustafarian Roll? It's a sweet galactic delight Guests can only find on the planet of Batuu at Docking Bay 7 Food and Cargo and Oga's Cantina. It's topped with raspberry fondant, lemon, and cookies and cream cookie crumbles. And for the kids, at Docking Bay 7 Food and Cargo, they can enjoy a Bright Suns Youngling Breakfast with scrambled eggs, purple potatoes, and fresh fruit (or a mini Mustafarian Lava Roll substitution upon request) as well as their choice of small lowfat milk or a small bottle of Dasani water.
And finally, at Ronto Roasters, travelers can get energized with a Ronto Morning Wrap. This savory snack comes with scrambled eggs, grilled pork sausage, shredded cheese, and peppercorn sauce wrapped in pita.
If you're visiting the Black Spire Outpost later in the day,you'll want to be sure to try all of the other delicious items available throughout the park. For travelers looking to plan their meals in advance, mobile ordering will be available for Ronto Roasters, Docking Bay 7 Food and Cargo, and the Milk Stand via the Disneyland app. Guests with no-cost reservations to enter the land may plan their trip to Batuu in advance by selecting an arrival window within their reservation period. Mobile orders will not grant access to the land.
Star Wars: Galaxy's Edge is now open at Disneyland Park! Guests with reservations may enter the park through June 23, and starting June 24, reservations will no longer be required to experience the land.