Holidays Around the World at Epcot
You can celebrate a world of cheer as Holidays Around the World returns to Epcot® at Walt Disney World® Resort. Amid joyful music and seasonal food favorites, time-honored traditions spring to life as costumed performers present holiday heritage throughout World Showcase.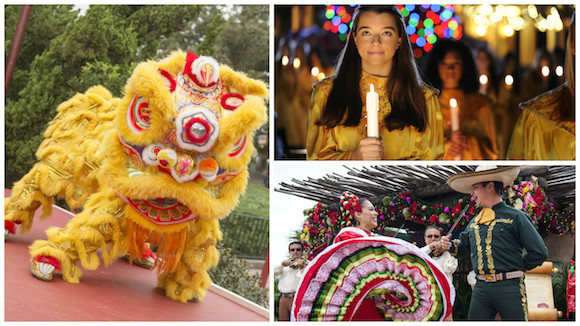 This year, you can enjoy new live musical performances by American Music Machine. This five-member a capella group will perform modern and nostalgic holiday hits, including "White Christmas," "Rudolph the Red-Nosed Reindeer" and "All I Want for Christmas is You."
"Joyful! A Gospel Celebration of the Season" enlivens the Fountain Stage throughout the day, while the Canadian Holiday Voyageurs take us on a musical exploration of holiday traditions from across the Great White North in the Canada Pavilion. In Mexico, "Feliz Navidad" features colorful dancers and mariachis, who celebrate the holiday customs of Mexico in an interactive, musical performance, and the China Pavilion bursts to life with the vibrant Chinese Lion Dance, bringing good fortune and happiness to all in honor of major holidays such as the Lunar New Year and Lantern Festival.
Plus, Candlelight Processional, one of the most beloved holiday traditions at Walt Disney World Resort, takes place at America Gardens Theater at 5, 6:45 and 9 p.m. each evening.