Holidays at the Disneyland Resort: 'World of Color – Season of Light' Fact Sheet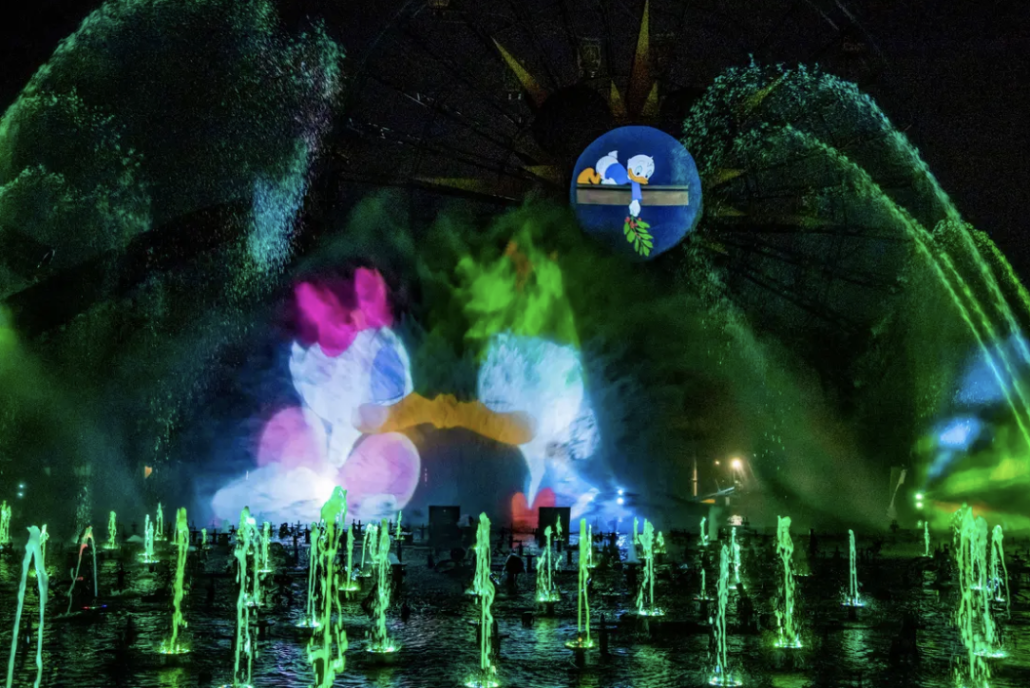 ANAHEIM, Calif. – The nighttime spectacular "World of Color – Season of Light" returns to Disney California Adventure Park during Holidays at the Disneyland Resort, Nov. 10, 2023, through Jan. 7, 2024. This enchanting production, which debuted in 2016, wraps guests in holiday magic by weaving favorite seasonal songs with beloved moments and more than 120 characters from 30 Walt Disney Animation Studios and Pixar stories – complemented by brilliant lighting, lasers and high-definition projections. MagicBand+ adds extra magic to this captivating nighttime spectacular, coming alive with vibrations and colorful holiday lights during the show. 
Show times can be found on Disneyland.com and the Disneyland app.* Disney California Adventure Park guests will be able to access viewing areas for "World of Color – Season of Light" through the complimentary virtual queue** system available only via the Disneyland app. More information about the virtual queue system is available here. Joining the virtual queue is not required, but it is highly recommended as walk-up viewing options for each performance are available on a first-come, first-served basis.  
Fun facts about 'World of Color – Season of Light' 
"World of Color – Season of Light" opens with the last leaves of fall giving way to the arrival of winter, as Mickey Mouse and his pals begin to decorate their homes for Christmas. The spectacular then features themes that capture the magic of the holidays:

 

Snow:

 The Frost Fairies from "Fantasia" create a shimmering winter wonderland.

 

Love and Romance:

 Favorite Disney fairytale couples show the meaning of true love as their romance brings warmth to the holiday season.

 

Family and Home:

 From Andy's family in Pixar's "Toy Story" to a "Mele Kalikimaka" with Stitch and his 'ohana' and a "Feliz Navidad" from the Three Caballeros, this story demonstrates that precious family moments are cherished for years to come.

 

The Nutcracker:

 The dancing hippos, ostriches, elephants and alligators from Disney's "Fantasia" add a comical moment to this performance as they dance to the holiday classic of Tchaikovsky's "The Nutcracker" ballet.

 

Lights:

 All is merry and bright as Goofy prepares his holiday light display – until his over-the-top spectacle short circuits, leading to a "Blue Christmas" with Sadness from Pixar's "Inside Out."

 

Peace on Earth:

 In the enchanting finale, the lagoon is illuminated with the light of hope, leaving guests filled with the spirit of peace, joy and goodwill.

 
The soundtrack of catchy tunes features popular musical artists performing favorite holiday songs that guests will want to sing along to: 

 

"The Christmas Song" by Nat King Cole

 

"Let It Snow" by Dean Martin

 

"Baby It's Cold Outside" by Michael Bublé and Idina Menzel

 

"Have Yourself a Merry Little Christmas" by Amy Grant

 

"Mele Kalikimaka" by Bing Crosby and the Andrews Sisters

 

"Feliz Navidad" by José Feliciano

 

"Dance of the Sugarplum Fairies" by Pentatonix

 

"Wizards in Winter" by Transiberian Orchestra

 

"Blue Christmas" by Elvis Presley

 

"Let There Be Peace on Earth" by Heather Headley

 
Five barges ignite in a brilliant lighting effect to create the grand finale for "World of Color – Season of Light," filling the lagoon with a magical glow. Plus, more than 800 individual light fixtures illuminate the show.

 

The fountain heights during the show start at 30 feet and can reach up to 200 feet in the air, 50 feet taller than the Pixar Pal-A-Round.

 

The 3.5 acres of Paradise Bay set the stage for "World of Color – Season of Light," as more than 1,200 fountains bring the show to life.