How to Have Fun at Mickey's Not So Scary Halloween Party by Liliane Opsomer
How to Have Fun at Mickey's Not So Scary Halloween Party by Liliane Opsomer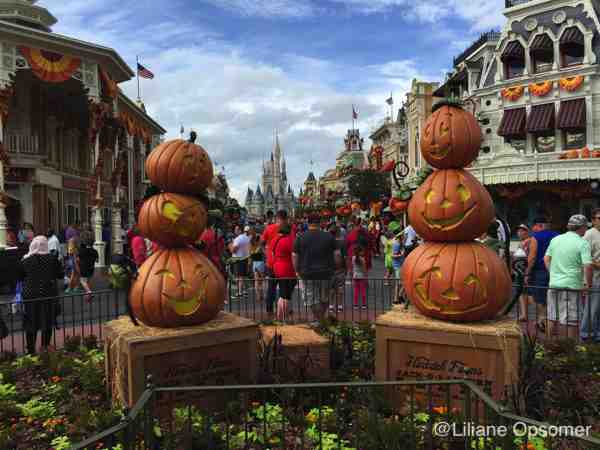 Every year Mickey's Not-So-Scary Halloween Party draws thousands of enthusiastic guests to Disney's Magic Kingdom.
There's so much to do!
There is simply so much to do and see that one cannot do it all. Be prepared, arrive early, and make choices as to what is most important to you and your family. Do you want to meet the special characters? Is trick-or-treating a must? What shows do you want to see? To help you with your planning I have put together my list of dos and don'ts.
Top Five Must-Do Events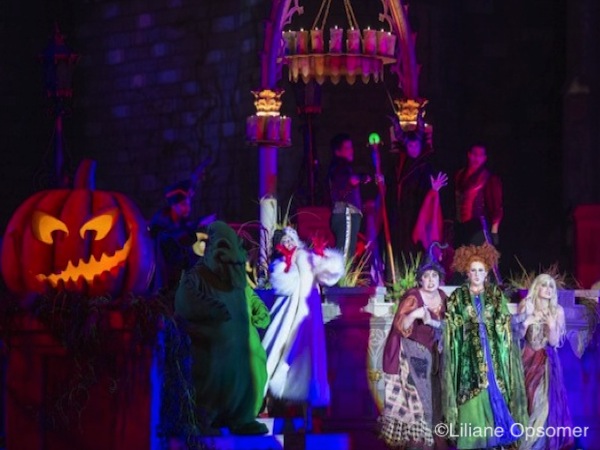 Three to four times a night, the Sanderson sisters (Winifred, Mary, and Sarah) of Hocus Pocus fame, are joined by such Disney villains as Dr. Facilier, Oogie Boogie, and Maleficent as they attempt to take over the Magic Kingdom. The show dubbed Hocus Pocus Villain Spelltacular takes place on the Castle Forecourt Stage. Good viewing spots are available all around Main Street's Central Plaza. The best time to view the show is 8:35 p.m. when most guests get ready to claim a spot for the first parade of the night.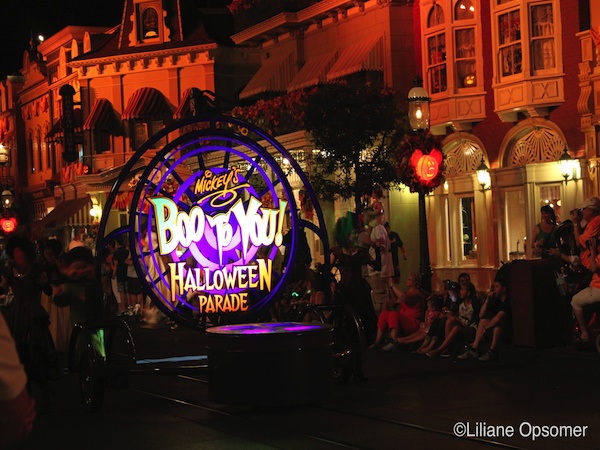 Nothing, however, tops the Boo-to-You Parade. You'll know the parade is about to reach your viewing point when the headless horseman gallops along the route. He is a sight to behold!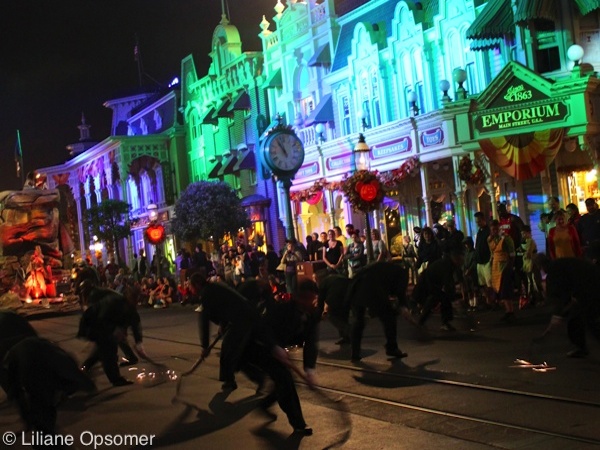 There are, of course, Halloween-themed parade floats and plenty of Disney characters, but I especially love the Haunted Mansion dancers and the gravediggers that are hitting the pavement of Main Street with their shovels until sparks fly.
The parade is held at 9:15 and 11:15 p.m. and starts in Frontierland, ending at the entrance to the park. Getting a good viewing point is usually easier for the second parade, but keep in mind that inclement weather could lead to cancellations.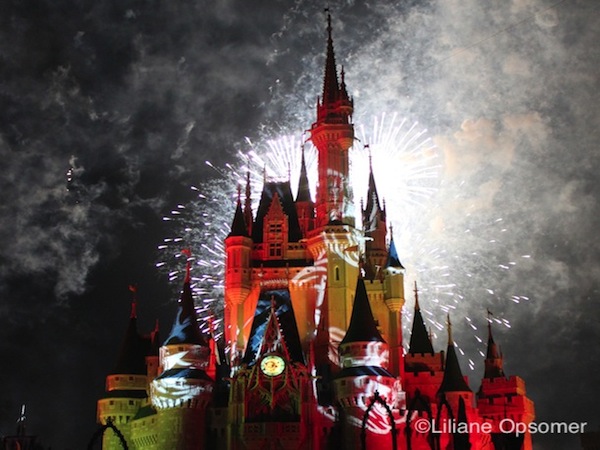 At 10:15 p.m. it is time for the Happy HalloWishes Fireworks. The Ghost Host from the Haunted Mansion is joined by Disney Villains in this spectacular fireworks show featuring beloved holiday tunes such as "This is Halloween" from Tim Burton's Nightmare Before Christmas.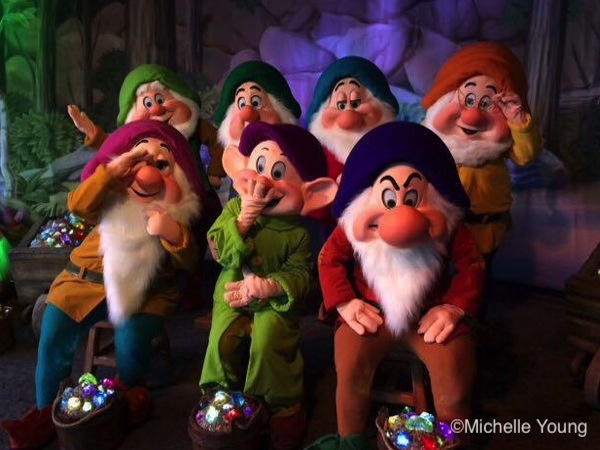 Meeting rare characters is another special treat during Mickey's Not-So-Scary Halloween Party. Doing so is a tricky endeavor, and meeting all of them is impossible. I recommend that you download the special events map issued for the party. The map usually becomes available a week or two prior to the first party. Check which characters are available and where they can be met.
Select your favorite two and be ready for long lines. The most popular characters are Jack Skellington and Sally, The Seven Dwarfs, Cruella De Vil, the Queen of Hearts, and Jafar. Lines for Jack Skellington and Sally, as well as for The Seven Dwarfs, form as early as 5 p.m.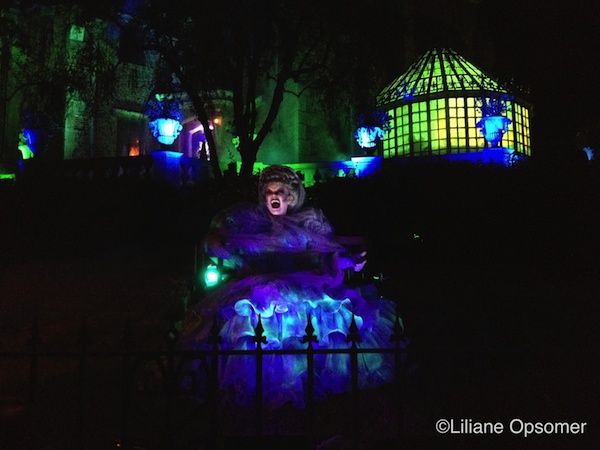 At times, Lady Carlotta Dubois, her sister Renata, and one of the twirling ghosts from inside the mansion's dinner scene make appearances on the front lawn of the Haunted Mansion. The characters, sitting on a bench, interact with guests as they are about to enter the queue for the ride. They are hilarious and one of my favorite things to see.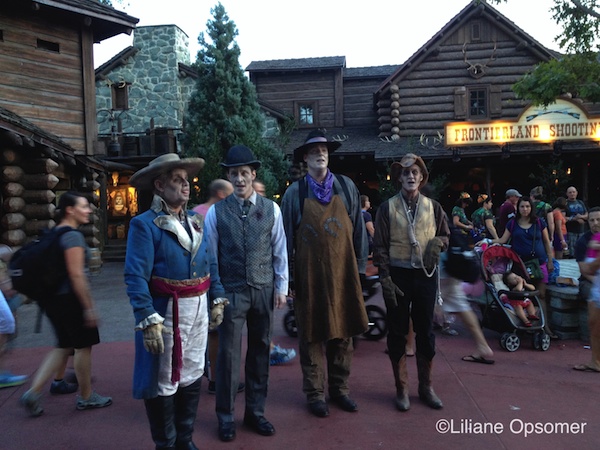 Check the Times Guide for appearances of the Dapper Dans, who transform into the Cadaver Dans and show their dark side by performing Halloween tunes in Frontierland.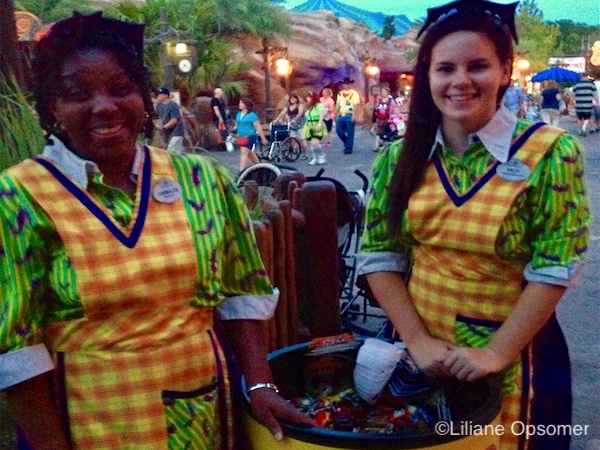 Families with young children will want to visit the Trick-or-Treating stations, but, if at all possible, leave this activity until later in the evening. Disney distributes more than 240 tons of candy annually, and it is handed out generously, all night long. In addition to the trick-or-treating bag you receive upon entering the park, I recommend you bring a backpack in which to empty your loot regularly as the evening progresses.
What Not to Do?
Guests with tickets for the party will be allowed into the park at 4 p.m. Don't be late. Use this time to experience some rides, but do not waste precious party time for things you can do during any regular park visit. Unless event merchandise is important to you, forget about shopping.
Don't go to the dessert party held at Tomorrowland Terrace Restaurant. The dessert party is pricey ($75 adults and $47 kids, in addition to the party ticket) and starts at 9:15 p.m. This is prime time you should use for seeing the first parade, a show, or visiting with a character. Special Halloween-themed desserts are available throughout the park for a fraction of the cost, and remember—there's free candy! (Prices subject to change.)
Do not book any sit-down meals; rather, square dinner away before 7 p.m. at a fast-food eatery. Better yet, go to a quick-service restaurant that participates in mobile ordering, such as Columbia Harbor House, Pecos Bill Tall Tale Inn and Café, or Pinocchio Village Haus.
Don't plan major activities prior to attending the party because you will be on your feet till past midnight. Take it easy, enjoy the pool at your hotel, and make sure small children take a nap.
The Basics
Mickey's Not-So-Scary Halloween Party is an annual event at the Magic Kingdom that runs 7 p.m. till midnight on select nights August 25th through November 1st. Upon entering the park, guests receive a special event wristband and a trick-or-treating bag.
Many guests, including yours truly, come to the party in costume. Disney does have a few rules about this that you can check out on their official website. Most importantly, make sure the costume is not too heavy, as average daytime temperatures in September are still around 90°F, with minimum temperatures going down to 72°F.
I love seeing the many imaginative outfits and the smiles on children's faces. This, for me, is Halloween! (Picture of author, Liliane Opsomer, with Jack Skellington and Sally.)
Tickets went on sale in early May; prices vary $74-$115 adults and $69-$94 ages 3-9, plus tax. The Halloween night party is the most expensive Mickey's Not-So-Scary Halloween Party ticket—and also the most crowded party. Tickets for the October 31st party generally sell out weeks prior to the event. (Prices subject to change.)
Liliane Opsomer is the coauthor of The Unofficial Guide to Walt Disney World with Kids.
She visits the parks several times a year.