Mama Odie to Appear in Tiana's Bayou Adventure, Plus More Updates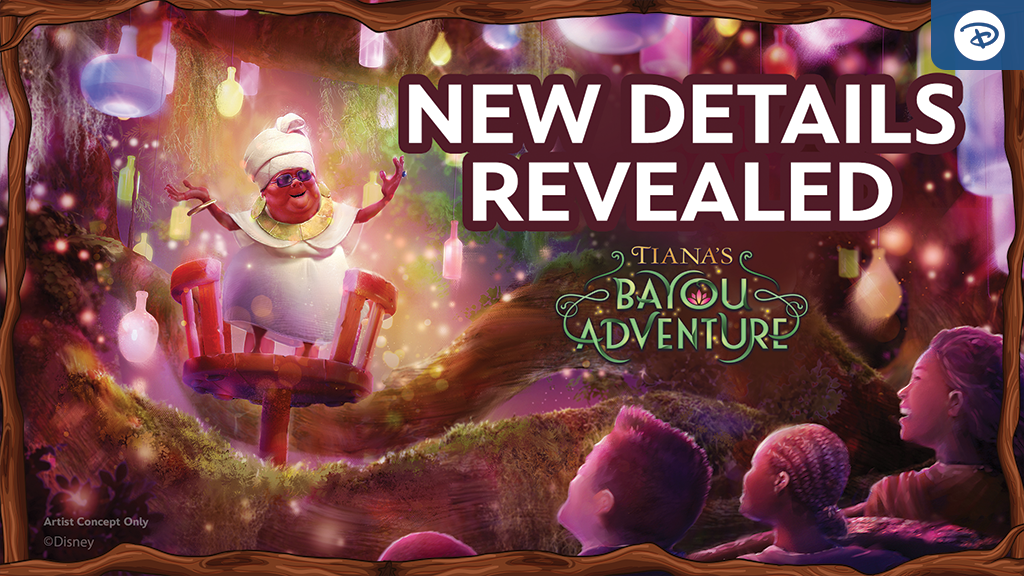 The magic of the bayou is calling, so listen closely because we're "digging a little deeper" into the experience guests can expect from the future attraction coming to Disneyland Resort and Walt Disney World Resort, Tiana's Bayou Adventure! The enchantment of the bayou will illuminate with a celebration during Mardi Gras season hosted by Princess Tiana and Prince Naveen. And today, we're thrilled to announce that Mama Odie will reprise her role as the catalyst to that magic.
As depicted in this newly released rendering, Mama Odie jokes with guests along their journey after a special display of her magic. The two-hundred-year-old Bayou Fairy Godmother, with her eccentric belongings and "seeing eye snake," Juju, is comically eccentric, yet wise and all-knowing, throughout the adventure. We're so delighted that legendary actress Jenifer Lewis, who starred as the voice of Mama Odie in Walt Disney Animation Studios' "The Princess and the Frog," is once again returning to her role for the attraction.
If Mama Odie is a catalyst to the magic, then Sharika Mahdi is a catalyst to the Imagineers' creations. This New Orleans artist and YAYA Arts Center alumna has inspired our work on the attraction with a local's perspective. As we bring our attention to Mama Odie and the important role she plays in Tiana's story, I'd like to share the latest in a four-part series commissioned to Sharika: a tribute to our wise and whimsical keeper of the bayou.
Notice how the long, flowing brush strokes offer visual cues for the floating journey that lies ahead in Tiana's premier attraction. Along with "The Princess and the Frog" film, our team continues to use Sharika's latest piece as inspiration for how Mama Odie will appear throughout the attraction. You may see evidence of this in the resemblance of the images above depicting Mama Odie.
Mama Odie joins a cast of friends – familiar and new – in Princess Tiana's debut attraction. In December, we shared how a band of newly introduced critters will provide some of the soundtrack to your journey. In February, we shared the backstory behind the water tower that will punctuate the exterior. But what else is in store? Here's a sample of what to expect from this musical adventure:
Brand-new cast of original Disney characters with distinct names and personalities
Dozens of entirely new Audio-Animatronics figures
Adorable critters with incredible talent, bringing the diverse flavors of musical gumbo found in New Orleans!
New, original music alongside favorite tunes from the film
Do you love beignets as much as Louis? Well, you're in luck because the alluring scent of beignets being prepared for the party will be part of the attraction queue!
Additional talent voices from the film reprising their roles, including Bruno Campos as Prince Naveen, Michael Leon Wooley as Louis, and the one and only Anika Noni Rose as Princess Tiana
Familiar faces from the film such as Princess Tiana, Prince Naveen, Mama Odie, Louis, Eudora, Charlotte, "Big Daddy," the King and Queen of Maldonia and Prince Ralphie
Tiana's Bayou Adventure builds on the story of Princess Tiana, a character whose pride and perseverance reminds us of a universal truth: within us lies the potential to make our dreams come true. This all-new adventure will bring Disney Parks guests into Princess Tiana's world like never before when the attraction opens in Disneyland Park at Disneyland Resort and Magic Kingdom Park at Walt Disney World Resort in 2024.
To make room for this new magic, Splash Mountain at Disneyland park will be closed starting May 31, 2023, so we can begin the next phase of development for Tiana's Bayou Adventure.