More Live Entertainment, Disney Character Experiences, and Indiana Jones Returning to Walt Disney World Resort This Fall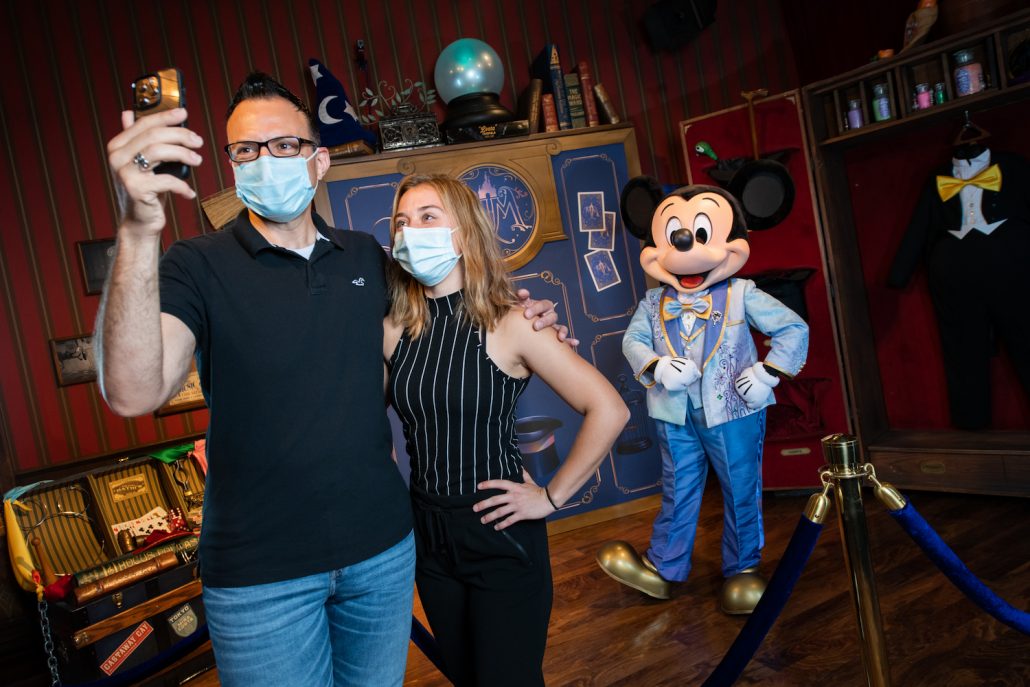 It's an exciting time to be at Walt Disney World Resort! We just launched The World's Most Magical Celebration, with dazzling new EARidescent experiences in every corner of our world. Of course, our Cast is at the heart of everything, and since the reopening of our theme parks, Walt Disney World Resort is proud to have returned more than 50,000 Cast Members to work. Now, more than 65,000 are working across the resort, and we are hiring hundreds more each week as we continue to open more resorts and guest locations. Today, we're thrilled to tell you we're bringing back more Entertainment Cast Members this fall, as we relaunch some favorite live entertainment experiences at all four theme parks and beyond!
Some of our atmosphere entertainment resumed October 1 with the start of the Walt Disney World 50th Anniversary Celebration. Early birds at Magic Kingdom Park are now starting their day with "Let the Magic Begin" on the Cinderella Castle Forecourt Stage, and we've welcomed back the ragtime piano player at Casey's Corner on Main Street, U.S.A. Over at EPCOT, World Showcase travelers are dancing to the Canadian rhythms of Alberta Bound, laughing at the antics of Sergio in Italy, and experiencing the majestic percussion of the Taiko drummers of Matsuriza in Japan.
Next week at Disney's Animal Kingdom Theme Park, guests visiting Asia can once again enjoy the music of Chakranad, and Kora Tinga Tinga returns to the streets of Harambe in Africa. And guests can look for the Tam Tam Drummers to come back to Africa in early November. Performers will also soon be captivating guests strolling along the waterfront at Disney's Boardwalk Resort, and the inimitable Yeehaw Bob will have his audience in stitches of fun starting October 14 in the River Roost Lounge at Disney's Port Orleans Resort – Riverside.
Over the past year, beloved Disney Characters have been popping up in cavalcades, motorcades, flotillas, and surprise sightings, much to the delight of our guests, and we're pleased to tell you many of those experiences will be continuing. Although the environment is not right just yet for hugs and autographs, guests will soon be able to have individualized time with some of their favorite characters, getting to visit with them in a themed location and snap a photo or two. Look for the Disney Princesses to return to Princess Fairytale Hall in Magic Kingdom Park. At Disney's Hollywood Studios, guests will soon find Minnie Mouse at Red Carpet Dreams and the stars of Disney Junior in Animation Courtyard. And when guests stop in to see Mickey Mouse backstage at Town Square Theater on Main Street, U.S.A., he'll be sporting his all-new EARidescent look designed just for the Walt Disney World 50th Anniversary Celebration! Each of these locations is planned to start welcoming guests in November.
Nov. 7 also marks the return of "Disney Movie Magic," the cinematic nighttime experience at Disney's Hollywood Studios celebrating Disney's live-action film legacy, and when this projection show resumes, it will feature a new sequence from Disney's epic adventure, "Mulan." And guests can mark their calendars for December 19, when the cast and crew of "Indiana Jones Epic Stunt Spectacular" bring back all the comedy and thrills of that action-packed show.
Live entertainment experiences such as these are among the reasons Walt Disney World Resort truly is The Most Magical Place on Earth. We are incredibly grateful to our cast and guests for the patience they've demonstrated as we presented modified forms of some entertainment while continuing to work through the details required to resume others. We're delighted to be welcoming back so much live entertainment – and so many of our favorite entertainers – this fall and look forward to sharing news about even more additions very soon. Stay tuned for news and updates throughout the 18 months of The World's Most Magical Celebration!