New Details Revealed on Restaurants Coming to Epcot and Disney's Hollywood Studios
This year we've announced several new dining experiences coming to Walt Disney World® Resort, and today we're excited to share a few more details on three of the restaurants coming soon to Epcot® and Disney's Hollywood Studios®!
Regal Eagle Smokehouse: Craft Drafts & Barbecue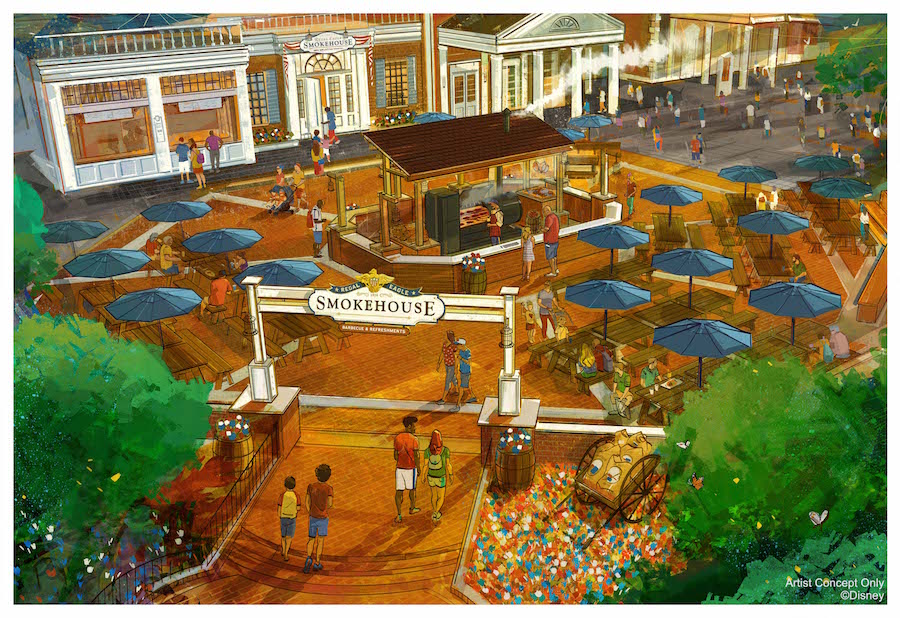 The new fast-casual restaurant opening this winter at The American Adventure in Epcot will serve classic barbecue and home-style craft brews. When Guests step into the pavilion, you'll be greeted by the enticing aromas of barbecue coming from a large smoker located in the center of the outdoor bar and seating area. Regal Eagle Smokehouse: Craft Drafts & Barbecue will celebrate American backyard barbecue with flavors from different regions around the United States.
Space 220 Restaurant
Space 220 is a new table-service restaurant debuting this winter at Epcot next to Mission: SPACE. When you enter the restaurant, you'll step into a special space elevator that will take them 220 miles above the earth's surface and offer incredible celestial views. Guests will feel as if you're traveling straight up into space to dock next to the Centauri Space Station suspended just beyond the orbit of Mission: SPACE. Upon arrival, you will be guided to their seats past the grow zone, a spinning wall of produce that mimics Earth's gravity and represents some of the fresh ingredients used by the restaurant's culinary team.
Roundup Rodeo BBQ Restaurant
Coming in 2020 to Toy Story Land at Disney's Hollywood Studios is a new table-service restaurant that invites you to a rootin', tootin' rodeo right in Andy's back yard! Guests will be immersed with all their favorite toy pals in the western atmosphere of Woody's Roundup providing a fun, family-friendly dining experience that could only be had in Toy Story Land. A new artist concept image released today emphasizes the theme of the new dining locale constructed from Andy's favorite larger-than-life playsets and games.