New 'Epcot Forever' Nighttime Spectacular, Epcot Experience
New 'Epcot Forever' Nighttime Spectacular, Epcot Experience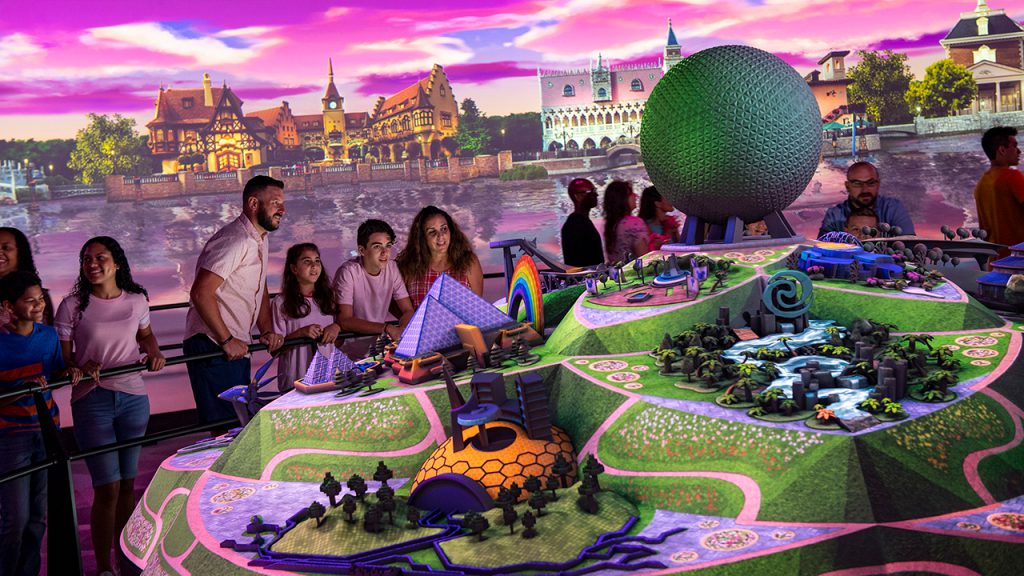 On the anniversary of the grand opening of Epcot® in 1982, the park unveils two new experiences that celebrate its past, present and bright future.
Walt Disney Imagineering presents the Epcot Experience opens with the park this morning in the Odyssey Events Pavilion (located between Test Track and the Mexico pavilion). This engaging and immersive new space is the first in-depth look at the historic transformation underway across the park. The Epcot Experience blends cutting-edge technology and fun, personal moments to create an environment that honors everything you love about the park.
Inside, Guests are surrounded by a seamless, 360-degree, floor-to-ceiling screen showing a continuous 12-minute film with vignettes about new experiences coming to the park. All the while, a three-dimensional artfully designed model in the center of the room appears to change in time with the film, as projection-mapping technology highlights different areas of the park in special ways.
The Epcot Experience also features new dimensional photo locations – including a scene where it looks like Guests are standing atop the Spaceship Earth geosphere – historical artifacts on display, and attraction posters from throughout the park's history. This place is a must-see!
But wait … there's more! October 1 marked the debut of "Epcot Forever," the new nighttime spectacular that will brighten the skies above World Showcase Lagoon. This new show is a scintillating collection of soaring fireworks, lasers, and colorful glowing kites that dance through the sky above the water
The Epcot story plays out to a grand orchestral soundtrack, with noted conductor and composer Don Harper producing new arrangements of classic Epcot tunes threaded throughout the show. It features stirring renditions of music from the park's history that are sure to stoke some fond memories, such as "One Little Spark" and the theme from the "Tapestry of Nations" parade.
"Epcot Forever." is set to perform into 2020, leading to the park's next nighttime spectacular, "HarmonioUS."
This is an amazing time to visit Epcot, with these new experiences debuting today and the Epcot International Food & Wine Festival already underway this fall – there's even a new line of Epcot merchandise featuring the park's new logo you can pick up