Now Open! Discover The Tropical Hideaway in Disneyland Park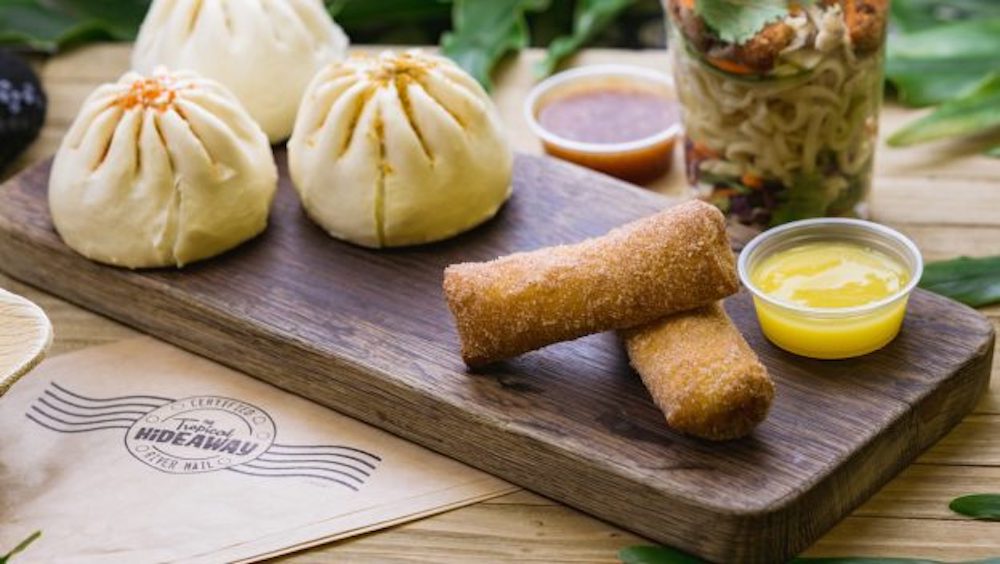 The tiki torches are lit and the food is ready. The Tropical Hideaway is now open at Disneyland® Park! This new marketplace is nestled between the Jungle Cruise and Walt Disney's Enchanted Tiki Room and offers unique eats along the tropical shores of Adventureland.
The marketplace features an open-air dock where patrons can sit back and relax on the Jungle River waterfront while enjoying sweet and savory bites. As the sun goes down, flickering torch lights illuminate the area making for an enchanting nighttime setting. Rosita is also hanging out with the visitors, awaiting a Jungle Navigation Co. Ltd. boat (which is running uncharacteristically late) to take her on a journey towards a solo career. She spends her time telling jokes and reminiscing about the hideaway from way back when.
When you walk into The Tropical Hideaway, you'll be greeted by local merchants peddling their goods. Over at the fruit whip counter, Guests will see a few new Dole Whip flavors, including orange and raspberry, as well as the classic pineapple flavor. These can be ordered in a cup or as a float. Swirl options are also available – pineapple and orange swirl or pineapple and raspberry swirl.
An old boiler heats up warm hand-held food at the next booth over. Guests can stop by this vendor and take a bit out of a delicious bao. The Spiced Vegetable Bao is filled with chickpeas and braised vegetables, while the Bulgogi Beef Bao is filled with sweet chilies and potatoes.
And you definitely won't want to miss the Sweet Lumpia or the Chilled Ramen Shaker with fresh vegetables, ramen noodles, togarashi cashews, and Asian vinaigrette dressing, YUM. Other grab and go options include baked potato chips, salt and vinegar potato chips, onion chips, organic chickpea puffs, and plantain chips. A variety of cold beverages will also be available with options including soft drinks, coconut water, tea, and even mango orange juice!