On with the Show: Disney Wonder Offers World-Class Entertainment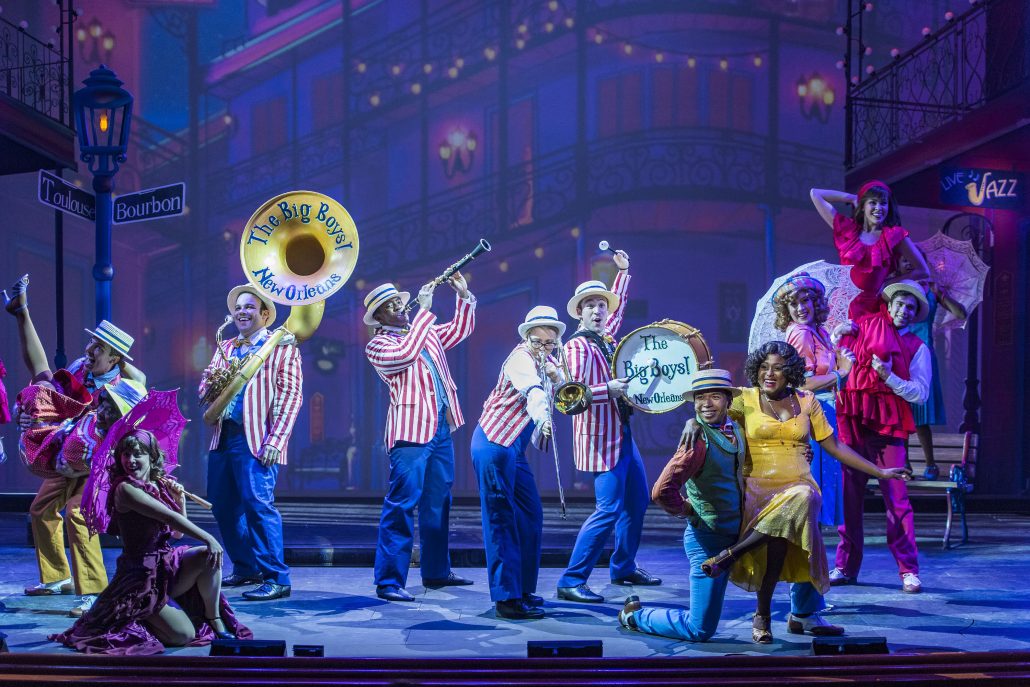 CELEBRATION, Fla. — Disney Cruise Line developed entertainment designed to charm and dazzle the entire family. On the Disney Wonder, guests delight in the most elaborate original Broadway-style musicals presented at sea, over-the-top deck parties and, bursting above it all, a nighttime fireworks spectacular.
Broadway-style Stage Shows at the Walt Disney Theatre
The whole family will be dazzled by brilliant Broadway-style productions in the magnificent 977-seat Walt Disney Theatre. Extraordinary singing, dancing, costumes, special effects, Disney characters and moments of sheer magic delight guests of all ages.
"Frozen, A Musical Spectacular" 
For the "first time in forever," the beloved animated hit "Frozen" got the Disney Cruise Line theatrical treatment as a stage show. On the Disney Wonder, the story is presented like never before with an innovative combination of traditional theatrical techniques, modern technology and classic Disney whimsy.
"Frozen, A Musical Spectacular" follows the captivating adventure of royal sisters Anna and Elsa as they embark on a journey to discover the meaning of sisterhood, inner strength and true love. Fans of the film and newcomers alike will be enchanted by favorite characters brought to life onstage along with beautiful renditions of the movie's iconic music.
The show features dynamic costumes and sets, remarkable special effects and spectacular production numbers that delight Disney Cruise Line guests in new and surprising ways. The creative disciplines blend to create a seamless environment – blurring the lines between costume and scenic, set piece and video, puppet and puppeteer – and expand upon the most imaginative elements of the film.
The production is led by Tony Award-nominated director Sheryl Kaller ("Next Fall," "Mothers and Sons"). Tony Award-winning costume designer Paloma Young ("Peter and the Starcatcher"), choreographer Josh Prince ("Beautiful: The Carole King Musical"), scenic designer Jason Sherwood ("Paint Your Wagon"), and writer Sara Wordsworth ("In Transit") are among the talented individuals that joined the creative team.
"Frozen, a Musical Spectacular" features music direction by Marco Paguia, projection design by Aaron Rhyne and lighting design by Rui Rita.
Dynamic puppetry by Michael Curry, whose designs are featured in Disney's Tony Award-winning Broadway musical "The Lion King," bring exciting physicality to characters like Sven and Olaf.
The production features the popular music and lyrics by the creators of the "Frozen" film score, Kristen Anderson-Lopez ("In Transit," "Up Here") and Robert Lopez ("Avenue Q," "The Book of Mormon," "Up Here"), and is adapted from the screenplay by four-time Tony Award nominee Chad Beguelin ("Gotta Dance," "Aladdin," "The Wedding Singer," "Elf").
During a stand-out moment, the emblematic ballad "Let it Go" is transformed into a full-fledged stage spectacle. Complete with real-life magic – transformative scenery, snow flurries and state-of-the-art video technology – this show stopping number brings Elsa's enchanted icy blasts to reality like never before.
"Disney Dreams – An Enchanted Classic" 
Delight in this musical about the power of dreams and family, starring a cavalcade of Disney characters. Enjoy a touching story about a little girl named Anne Marie who can't seem to find it in her heart to believe. The story begins one night as Anne Marie, almost asleep, is visited by several beloved Disney Characters. Each recounts a tale, complete with rousing renditions of treasured songs.
Journey with Anne Marie as she learns how to believe in herself. You'll see the strength of positive thinking, and be reminded about the ways that an optimistic and encouraging attitude can have an effect on the whole world!
Delight as Mickey, Minnie, The Blue Fairy, Peter Pan and friends reveal the secret powers of the heroes residing within her own home—and heart. This live stage show features a dazzling procession of characters and songs from some all-time Disney classics. Get immersed and inspired by this musical spectacular, showcasing films such as Peter Pan, Pinocchio, Cinderella and Aladdin.
An award-winning musical, this show also includes stunning special effects and a very special cameo appearance by Tinker Bell.
"The Golden Mickeys"
"The Golden Mickeys" celebrates the musical heritage of Disney animated films, immersing guests in all the glamour and excitement of a Hollywood awards gala. On the Disney Wonder, the show gets an extra sprinkle of glitz and glamour with additional musical numbers, enhanced technology and dazzling special effects.
 Party on Deck
In addition to nightly stage productions, Disney Cruise Line brings the upper decks of the Disney Wonder to life with incredible live entertainment.
The fun begins with "Mickey's Sail-a-Wave Deck Party… A Bon Voyage Celebration," a 'welcome aboard' show starring Mickey Mouse, Minnie Mouse and the Disney gang.
During a special night on select cruises, the Disney Wonder transforms into a pirate ship with a night of events brimming with buccaneer fun and a fireworks spectacular.
Families can venture to the pool deck to dance off dinner with their favorite Disney characters and enjoy an entertaining pirate show, as well as interactive games with some special surprises.
Spectacular Fireworks at Sea
Disney Cruise Line ups the entertainment ante and lights up the sky with a fireworks extravaganza like only Disney can do.
As part of the pirate night celebration, the skies above the Disney Wonder explode with brilliant colors during "Buccaneer Blast," a pyrotechnic spectacular choreographed to a dramatic score featuring songs from the "Pirates of the Caribbean" movies.
Family Entertainment Venues
Disney Cruise Line combines innovative design and technology to create the family entertainment venues on board the Disney Wonder. These imaginative environments surround guests in storytelling in unique ways, putting them front and center as they play a part in the magic.
D Lounge
D Lounge is the venue for activities that the whole family can enjoy. Audience participation game shows entertain and amuse; trivia contests put knowledge of Disney facts to the test; and karaoke nights encourage families to make memories together.
Buena Vista Theatre
`The Buena Vista Theatre hosts first-run Disney film premieres, allowing cruisers to enjoy a film's opening at the same time it's making its nationwide release on land, as well as first-run features and Disney classics.
Small World Vacations offers $50-$1000 onboard credit based on your cruise fare.
Get on our 2024 Disney Cruise Line Waitlist here!