Onboard the Disney Wish: A Decadent Dessert Shop Featuring 'Inside Out' Characters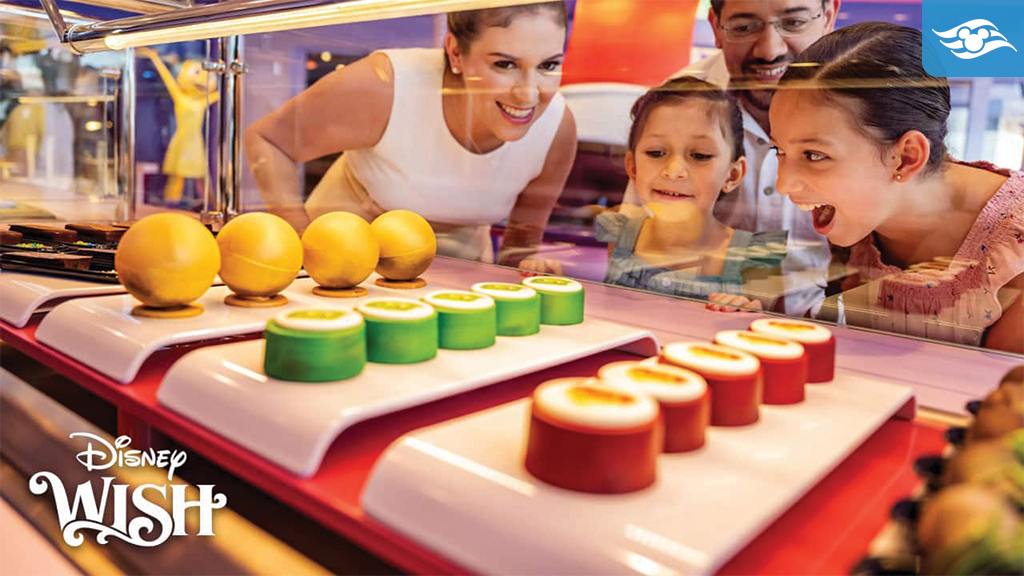 Guests can now have a sweet treat that matches how they feel onboard the Disney Wish! Inside Out: Joyful Sweets is a brand-new specialty dessert shop that features the loveable characters from Pixar's "Inside Out," and offers a bevy of delicious treats.
When guests walk in the doors, they'll be greeted by life-size fixtures of the iconic emotions, a wall filled with brightly colored memory orbs and, of course, the sweet, sweet aroma of freshly made waffle cones.
Signature desserts inspired by the film include colorful cupcakes representing the five emotions — Joy (lemon), Sadness (blueberry), Disgust (pistachio), Anger (red velvet) and Fear (bubble gum) — and chocolate Memory Orbs filled with sweet candy remembrances.
In addition to the exclusive cupcakes, the shop offers nearly 40 flavors of gelato and ice cream to choose from. If a sundae is more their style, guests will find all the toppings they could possibly want including fluffy whipped cream, sweet fruit compotes, delectable candy pieces and homemade sauces.
While strolling along the upper deck, be sure to stop by and take a peek at the daily handcrafted gelato specials, such as sweet n' salty peanut butter pretzel and luscious white chocolate raspberry. Other offerings include delicious macaroons, cake pops, handcrafted truffles, cookies and colorful candy.
Even though all of the emotions are represented at this impressive new dessert shop, these special treats bring nothing but joy!

---
Published: August 9, 2022

[