Opening Date Revealed for Pixar Place Hotel at Disneyland Resort, Plus Sneak Peek of Great Maple Menu, Pixar-Themed Hotel Rooms and More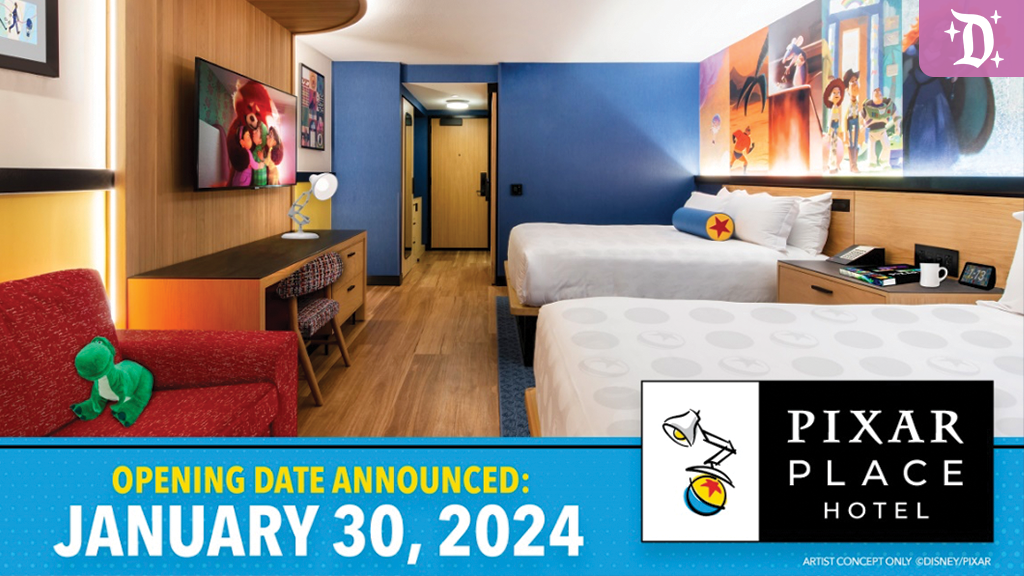 Playful Pixar elements have been coming to life over the past few months at Disney's Paradise Pier Hotel at Disneyland Resort, and we're excited to share that the property will officially transform into Pixar Place Hotel on Jan. 30, 2024, becoming the first fully Pixar-themed hotel in the United States. Today, we're giving you a glimpse of rooms inspired by Pixar stories, menu items to look forward to when Great Maple opens soon, plus what you can enjoy on your vacation now!
Favorite Pixar Stories Abound in the New Pixar Place Hotel Lobby
Pixar Place Hotel will evoke the inspiration and humor that goes into every Pixar film, while celebrating the artistic process. Showcasing early sketches to finished design, the art and decor will highlight vibrant Pixar stories, revealing some never-before-seen artwork.
When the lobby is complete, guests will see even more unique art inspired by Pixar films and be greeted by the iconic Pixar Lamp balancing atop its ball, with an imaginative mobile of beloved Pixar characters floating from the bright skylight above. The mobile will depict the beginning stages of Pixar filmmaking, when animators create the characters' designs with their most basic shapes and colors. The characters we'll see are at the beginning of their journey, just as the guests who step into the lobby begin their own story at the Disneyland Resort!
First Look at a Reimagined Guest Room Featuring Iconic Pixar Characters 
Now, let's give you a colorful peek inside one of the guest rooms! From pillows inspired by the Pixar Ball to lighting reminiscent of the Pixar Lamp, there will be whimsical nods to the animation studio throughout these comfortable and contemporary accommodations. Some of the art was even created by Pixar Animation Studios artists expressly for Pixar Place Hotel! The headboards will consist of concept art from a variety of Pixar features, including "The Incredibles," "Toy Story 3" and more that are arranged in order from warm to cool colors, sharing the importance of color to the tone of a scene.
Great Maple Opening Soon, Plus More Snacking Details Revealed
Now, let's dish! Opening in November, Great Maple restaurant will bring its innovative menu of upscale comfort food for breakfast, lunch and dinner. This modern American eatery will serve a robust selection of dishes made from scratch daily including the Cajun Shrimp & Cheddar Biscuit Benedict, Soda Pop-Braised Baby Back Ribs, Charred Cauliflower Hummus, Maple Pecan-Crusted Salmon, Market Fish, a variety of inspired salads, and my favorite, the Buttermilk Fried Chicken & Maple Bacon Doughnuts!
A few weeks after the ground-floor flagship eatery opens, more culinary delights also operated by Great Maple will open. A new grab-and-go coffee shop in the lobby called Sketch Pad Café will serve assorted pastries accompanied by a selection of coffee and tea. Plus, an all-new menu will debut at the rooftop pool bar to be named Small Bytes, serving up salads, wraps, assorted cheese plates and more which you can enjoy with signature beverages.
Pixar-Themed Offerings You Can Enjoy Now
If guests are ready to "dive in" to the fun now, families can frolic at the hotel's new "Finding Nemo"-themed splash pad and pool area! Recently opened for guests of Disney's Paradise Pier Hotel, this rooftop oasis features Pixel Pool, which is lined with relaxing loungers, along with Nemo's Cove pop-jet splash pad, and the not-to-miss Crush's Surfin' Slide, a 186-foot-long waterslide inspired by the coolest sea turtle in the ocean. The adjacent play court and pool bar will open later this fall.
Near the pool, gather with friends on comfy couches surrounding firepits inspired by some of Pixar's more hotheaded characters, including Jack-Jack from Pixar's "The Incredibles" and Anger from Pixar's "Inside Out."
Back in the lobby, browse through the new gift shop STOR-E — a playful take on the Pixar film name "WALL-E" — featuring Pixar-themed apparel and toys, plus more Disneyland Resort souvenirs and sundries.
Plus, a new and expanded fitness center recently opened, offering treadmills, free weights and more complimentary for hotel guests. Keep an eye out for a mural of Mike and Sulley running on a treadmill, inspired by Pixar's "Monsters University."
Disney's Paradise Pier Hotel is open and welcoming guests during this transformation and offers the added benefits of staying on property at the Disneyland Resort, including a dedicated entrance across the street with direct access to Disney California Adventure Park.*
There's much more to come, so don't miss a thing!
*Both Theme Park admission and park reservation for Disney California Adventure Park are required for park entry at this special entrance for Disney's Paradise Pier Hotel guests, and a hotel reservation does not guarantee theme park access.