Planning to Purchase a Disneyland Resort Magic Key Pass? Your Top Magic Key Questions, Answered!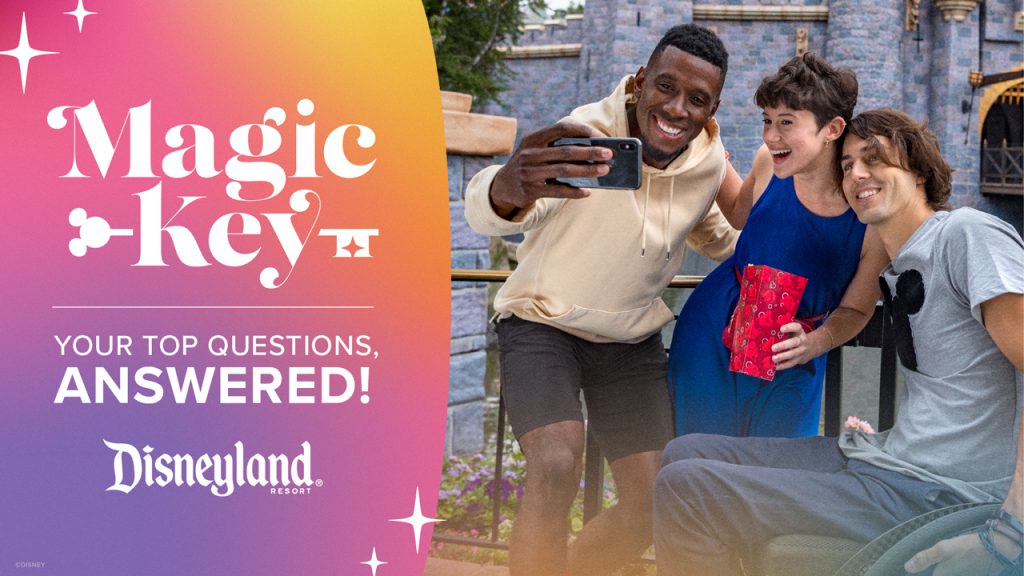 There's lots of excitement for the new Magic Key program, and we know many are ready to get back to unlocking unforgettable memories over and over again at the Disneyland Resort. As you likely know, Magic Key passes will officially go on sale beginning August 25 (no earlier than 10 a.m. PT). Before we officially launch our four new Magic Key options in just a few days, we wanted to help answer some of the top questions to best help Guests plan and prepare ahead of time!
Where can I purchase a Magic Key pass?
Guests will need to buy your Magic Key pass online at either Disneyland.com or on the Disneyland app. We will not be selling Magic Key passes at the ticket booths at Disneyland Resort at this time.
Do I need to purchase my Magic Key pass on August 25?
We know our Guests are eager and excited to "unlock" the new Magic Key pass, and we want them to have a magical experience upon their return to the Happiest Place on Earth. Please know it is not necessary to purchase a Magic Key on the first day of sale.
Is there a monthly payment option available for purchasing my Magic Key pass?
Yes! Monthly payment options are available for eligible California residents purchasing a Magic Key pass.
I'd like to upgrade my existing theme park ticket to a Magic Key pass. Is that doable?
Yes, most theme park tickets are upgradeable to a Magic Key pass. Fully used, or partially used and expired, theme park admission media, complimentary ticket media, special event ticket media and ticket media stating its ineligibility for an upgrade (such as the California Resident promotional ticket) may not be upgraded to a Magic Key pass.
How will I upgrade my eligible theme park ticket to a Magic Key pass?
If Guests have a partially used, unexpired ticket that is upgradable, they can do so directly on the Disneyland app! Visit Disneyland.com to learn more.
How exactly will my Magic Key holder theme park reservations work?
Depending on what Magic Key type Guests choose to purchase, they may hold a specific number of theme park reservations at a time, within a 90-day booking window, subject to applicable blockout dates (you can check the number of holds per pass type at Disneyland.com/MagicKey). For example, if Guests purchase an Imagine Key pass, they can hold up to 2 theme park reservations at a time. Once Guests enter a park on one of their two booked reservation days (or timely cancel a reservation), then they can make another, new reservation within that 90-day window! Park reservations may be made for one or both parks, subject to availability, and park reservations are limited and are not guaranteed for any specific dates or park.
Once Guests purchase your Magic Key pass, here are the steps to book a theme park reservation, beginning Aug. 25:
Visit the theme park reservations page on Disneyland.com or the Disneyland app to start the reservation process.
Select the date that they wish to visit from the available theme park reservation dates. Guests can make reservations for one park, or both, depending on park availability for that selected date.
If Guests will be visiting both parks, they must select a starting park in which to begin their day. They may cross over and switch between parks beginning at 1 p.m. that day, subject to capacity. If Guests arrive after 1 p.m., they may start their visit at either park.
After making their selection, Guests can review and confirm their reservations details.
Tip: If Guest's are planning to visit with friends and family, they can add their theme park admission to their account to make theme park reservations as a group!
If I want to visit both parks on the same day, do I need to make two separate reservations?
No. If a Magic Key theme park reservation is for both parks, it will count as one reservation toward available reservation holds. Reservations for both parks are subject to availability and are not guaranteed.
If I purchase my Magic Key pass within the first 66 days, what additional benefits will I receive?
In addition to all the great benefits that come with being a Magic Key holder, Guests will also receive a special charter member welcome package sent to the address on file, which will include a limited-edition Magic Key pin, celebratory button, magnet and more!
Additionally, the Magic Key holders who enter Disneyland park from Sept. 1 – Oct. 31, 2021 may enjoy access to a limited-time experience at Starcade in Tomorrowland. Here, Magic Key holders can enjoy a fun photo opportunity, charging stations, and other fun Magic Key surprises!
We hope this helped answer some of your questions! Now, who's excited to become a Magic Key holder?!