Reservations Now Open for Storybook Dining at Artist Point
Reservations Now Open for Storybook Dining at Artist Point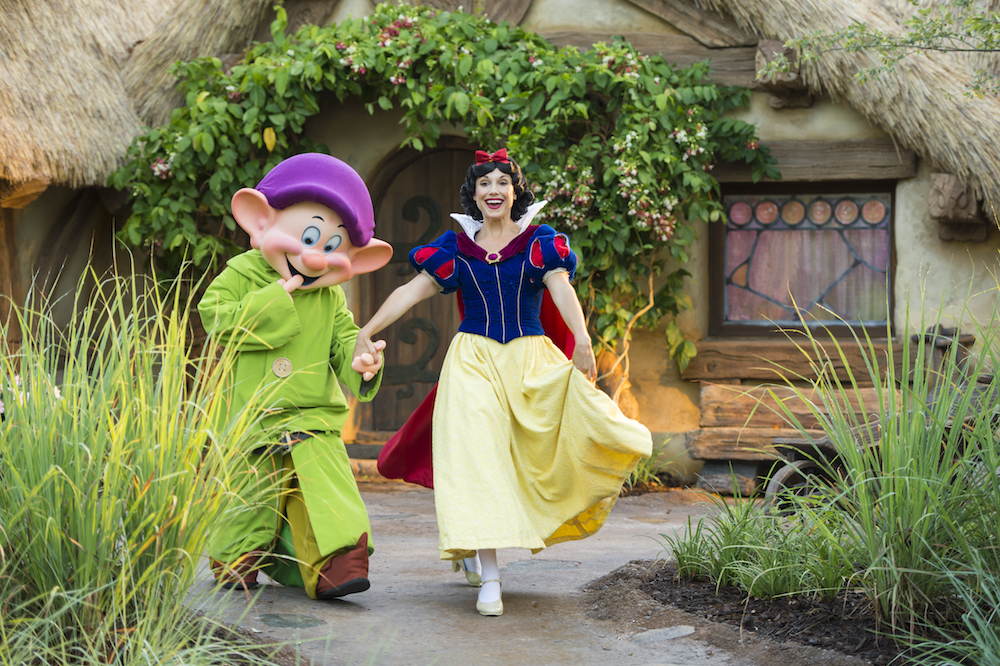 Reservations are now open for Storybook Dining at Artist Point, located at Disney's Wilderness Lodge. This unique Character Dining experience is inspired by the Disney film, Snow White and the Seven Dwarfs.
Storybook Dining with Snow White at Artist Point will offer you a delicious, fanciful dinner with visits from Snow White, Dopey, Grumpy and even The Queen!
You can quench your thirst with creative and fun cocktails (and mocktails) and a variety of beers in bottles and on draft. A wine list with a focus on the most highly rated wines from Oregon and Washington State rounds out the beverage menu.
The storybook-themed dining experience begins with shared appetizers including Hunter's Pie, Winter Squash Bisque and Wicked Shrimp Cocktail.
Then, you can choose your entrée from a prix fixe menu. You can feast on the Royal Prime Rib Roast, Brother's Grimm Roasted Chicken, Magic Mirror Slow Braised Veal Shank, Seafood Stew and Bashful's Butter Poached Snapper. Or enjoy the vegetarian option – A Stroll Through Nature – featuring butternut squash, arugula and gnocchi.
Children can choose from a selection of kid-friendly items, including Royal Prime Rib Roast, Grilled Chicken, Princess Pasta and Vegetarian Steam Bun.
And for a sweet finale, you can top the experience with a "Poison" Apple; Fairy Tale Gooseberry Pie; a sponge cake with chocolate gems and buttercream icing called Miner's Treasures; and The Hunter's Gift to the Queen, which features cracked maple popcorn with a ganache heart. Remember, the desserts are shared, so you don't have to choose – you get one of each!
Pricing is $55 for adults and $33 for children ages 3-9 (tax and gratuity not included). Each Guest will receive one of each appetizer, their choice of entrée, and one of each dessert as well as their choice of non-alcoholic fountain beverage (alcoholic and non-alcoholic specialty beverages are not included). All menu items are subject to change.
Make advance reservations for Storybook Dining with Snow White at Artist Point now and up to 180 days prior to your visit for dates beginning Dec. 16, 2018.
Please note the current Signature dining experience at Artist Point will be available through Nov. 10, 2018.