Restaurant Spotlight: Handmade Pasta at Tony's Town Square Restaurant
Restaurant Spotlight: Handmade Pasta at Tony's Town Square Restaurant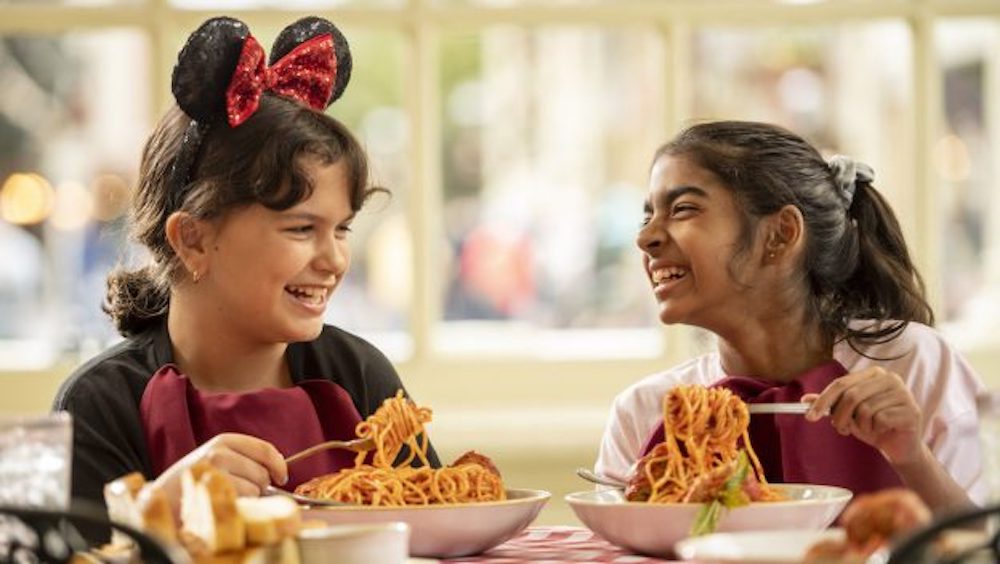 Nestled at the front of Main Street, U.S.A., Tony's Town Square Restaurant is one of the hidden gems of Magic Kingdom® Park. Here, you can relive the romance of Disney's 1995 animated classic "Lady and the Tramp" in a charming turn-of-the-century trattoria where the famous love-struck pups shared their first plate of spaghetti and meatballs. With its whitewash balustrades, French doors, and expansive front porch, Tony's classic Italian restaurant is the perfect spot for hopeless romantics and pasta-lovers alike!
Start your meal off with one (or more!) dishes from the antipasti menu like the Caprese with vine-ripened tomatoes, fresh mozzarella, and balsamic glaze. Or if you're looking for a light seafood appetizer, Tony's is also known for their crispy calamari served with spicy house-made pickles and herb aïoli.
For the main course, you will find a variety of Italian dishes such as pizza pies, meatballs, and a variety of pastas. Tony's pizza pies come topped with a blend of cheeses as well as a choice of pepperoni, sausage, or garden vegetables and make for a perfect shareable entrée! The Roman-style steak is another great option with spinach and ricotta ravioli, heirloom tomatoes, wilted chard, hazelnut, and lemon Parmesan crema, or you can chow down on the classic chicken parmigiana featuring lightly-breaded chicken breast topped with provolone and Tony's marinara sauce served over freshly-made thin spaghetti and local vegetables.
Choose from options like chicken fettuccine alfredo or ravioli and house-made gnocchi primavera, both topped with their choice of grilled chicken breast or grilled jumbo shrimp. The scampi pasta is also a popular dish which features fresh linguine pasta made from scratch in-house and tossed with shrimp, classic butter sauce, Parmesan, and fresh vegetables.
And you can never go wrong with good ol' spaghetti and meatballs! The freshly-made thin spaghetti can be topped with their choice or hand-rolled pork-beef meatballs or Italian sausage. If you'e looking for a plant-based option, you can even order mushroom meatballs!
For dessert, end your meal with a sweet treat that you won't forget. Some options include a cannoli with ricotta cream-filled shells and powdered sugar or the Tiramisù featuring espresso-soaked sponge cake layered with mascarpone sweet cream and served with chocolate sauce. There's even a yummy chocolate cupcake option for the kiddos!
Whether it's for lunch or dinner, Tony's Town Square Restaurant is a must-try spot when visiting Magic Kingdom Park.