Set Sail with Adventures by Disney on the First Disney-themed Rhine River Cruise Presented by D23
Set Sail with Adventures by Disney on the
First Disney-themed Rhine River Cruise Presented by D23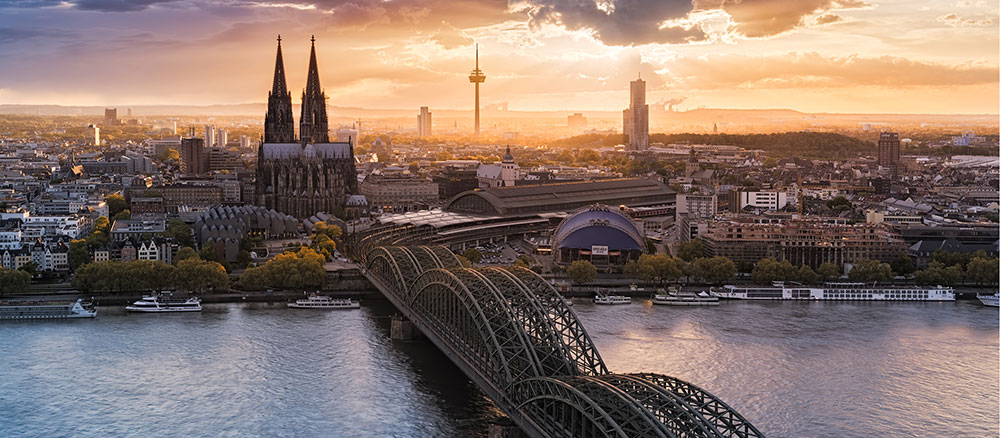 A new Adventures by Disney® experience was announced at the D23 Expo. This magical voyage on the Rhine River will feature Disney legends and luminaries who will offer insider insights and Disney-themed activities, all presented by D23: The Official Disney Fan Club. Best of all this one very special sailing is available for you to experience, whether you are a D23 member or a not.
"Hey there, hi there, ho there! You're as welcome as can be"—on this magical voyage on the Rhine River that features esteemed D23 guests and Disney icons who will provide an insider look, exclusive Disney-themed activities and lots of special surprises! So grab your Mickey ears and set sail on this Adventures by Disney Rhine River Cruise presented by D23: The Official Disney Fan Club!
Grab your Mickey ears and get ready to take in the stunning sights along the Rhine River as they discover six destinations in four countries on an all-inclusive cruise. This seven-night sailing, departing Aug. 9, 2020, will transport your Clients to enchanting destinations in Switzerland, France, Germany and the Netherlands, all with a very special Disney twist.
In addition to amazing adventures ashore like ziplining above the Black Forest and exploring medieval wine caves, the onboard experience will be distinctly Disney. You will be able to meet and mingle with Disney icons including Becky Cline, director of the Walt Disney Archives; renowned producer and film historian Don Hahn; Imagineer and Disney Legend Tony Baxter; and Bret Iwan, the voice of Mickey Mouse. These very special guests will share behind-the-magic stories about insights into the imagination of Walt Disney, inspirations for Disney's first European theme park and the real-life locations that inspired him.
The onboard fun will continue with fireside chats, compelling presentations and more Disney-themed activities. And as always, while onboard their AmaWaterways ship, you will savor fresh, locally sourced cuisine, elegantly appointed staterooms and an abundance of amenities.
If you need one more reason to jump onboard this one-time Adventures by Disney river cruise? Make sure you don't miss your chance to save $750 per person* on this special sailing when you book now through Oct. 4, 2019.
Set Sail with Adventures by Disney and D23: The Official Disney Fan Club!
Show your love for all things Disney as you delight in meeting and mingling with esteemed guests and Disney icons.
Meet Special Disney Guests
Go behind the magic with stories, conversations and presentations from some very distinguished Disney guests.
Becky Cline
As director of the Walt Disney Archives, Becky is charged with collecting and preserving all aspects of Disney history and making the material available to company researchers, historians, writers, documentarians and fans around the world. Becky also participates in the research and development of many new company initiatives, such as D23: The Official Disney Fan Club.
Don Hahn
Don is best known for producing the Disney's classic animated films, Beauty and the Beast,—the first animated film nominated for a Best Picture Oscar®—and The Lion King. He has authored a number of books, including "Before Ever After," "Animation Magic," "The Alchemy of Animation" and "Brain Storm: Unleashing Your Creative Self." He has also compiled and edited "Drawn to Life."
Tony Baxter
After joining Walt Disney Imagineering in 1970 to work on the opening of Magic Kingdom park, Tony went on to create classic attractions such as Big Thunder Mountain Railroad, Star Tours and Splash Mountain. After leading the creative effort for Disneyland Paris, Tony returned to Disneyland park to spearhead Indiana Jones Adventure, as well as revivals of attractions like the Finding Nemo Sumbarine Voyage and Sleeping Beauty Castle Walkthrough. Tony became a creative advisor for Walt Disney Imagineering in 2013 and that same year he was named a Disney Legend and received a window on Main Street, U.S.A.
Bret Iwan
Since 2009, Bret has been the official voice of Mickey Mouse, providing the famous falsetto for Disney theme parks around the world, video games, toys, promotional material, Mickey Mouse Clubhouse, as well as an array of television series and shorts. The opportunities presented by the role continue to surprise him, and he looks forward to "filliln' in for the boss" far into the future.
Disney-Themed Highlights
Take a behind-the-magic peek as our D23 guests bring you amazing insights into some fascinating Disney topics, plus some hands-on activities!
Become immersed in the Disney magic through shared stories, up-close fireside chats and multi-media presentations that offer insights into the imagination of Walt Disney and some of the iconic sites that inspired his vision.
Plus, learn how to draw Disney characters, test your Disney knowledge with trivia contests and so much more!
Special Offer
Save $750 per person on the one-time Adventures by Disney Rhine River Cruise presented by D23: The Official Disney Fan Club departing August 9, 2020 when you book through October 4, 2019!*
Explore 4 European countries as you sail along the Rhine River with esteemed Disney guests on this once-in-a-lifetime adventure. Hear the stories and get a peek behind the magic as you visit the inspirations behind Disney films and theme park attractions.
Important Information
Offer not combinable with any existing offers
Suites and category E staterooms excluded
Offer is available for new bookings only
*The per person per reservation discount is taken from the non-discounted prevailing rate as quoted on AdventuresByDisney.com on the date of booking ("Regular Rate") and valid only for select Adventures by Disney itineraries and departures. Regular Rates vary by departure date and time of booking and are subject to change. Regular Rates are based on double occupancy. All Guest names required at time of booking. Courtesy holds will not be accepted without compliance with standard payment terms. Offer valid for the Adventures by Disney river cruise sailing departing on August 9, 2020. The number of river cruise staterooms available for this offer is limited. Excludes river cruise suites and category E staterooms. The AdventuresByDisney.com website is not updated in real time; availability is subject to confirmation at the time of booking with Adventures by Disney. Discount not applicable to deposit. Valid on new bookings only. Offer cannot be combined with any other offers, discounts or promotions. Offer is not transferable or redeemable for cash in whole or in part. Void where prohibited. Offer is subject to change without notice. Offer available to U.S. and Canada residents only. Bookings subject to restrictions and Adventures by Disney's standard terms and conditions.
Departure Information
See trip information for the Rhine River Cruise: D23 Experience sailing, including departure date, accommodations and more.
DEPARTURE DATE:
August 9, 2020
FLIGHT INFORMATION:
2020 Departure
Arrive: Basel Airport (BSL)
Return: Amsterdam Airport Schiphol (AMS)
ACCOMMODATIONS:
MEALS:
7 Breakfasts
6 Lunches
7 Dinners
AGES:
Minimum age: 4
Suggested age: 8+
This one-of-a-kind itinerary is now open for booking, along with other 2020 vacations.
*The per person per reservation discount is taken from the non-discounted prevailing rate as quoted on AdventuresByDisney.com on the date of booking ("Regular Rate") and valid only for the Adventures by Disney Rhine river cruise sailing departing on August 9, 2020. Regular Rates vary by time of booking and are subject to change. Regular Rates are based on double occupancy. All guest names required at time of booking. Courtesy holds will not be accepted without compliance with standard payment terms. The number of river cruise staterooms available for this offer is limited. Excludes river cruise suites and category E staterooms. The AdventuresByDisney.com website is not updated in real time; availability is subject to confirmation at the time of booking with Adventures by Disney. Discount not applicable to deposit. Valid on new bookings only. Offer cannot be combined with any other offers, discounts or promotions. Offer is not transferable or redeemable for cash in whole or in part. Void where prohibited. Offer is subject to change without notice. Offer available to U.S. and Canada residents only. Bookings subject to restrictions and Adventures by Disney's standard terms and conditions