Skillets and Shenanigans – A New Menu Gallops Into Whispering Canyon Café
Skillets and Shenanigans – A New Menu Gallops Into Whispering Canyon Café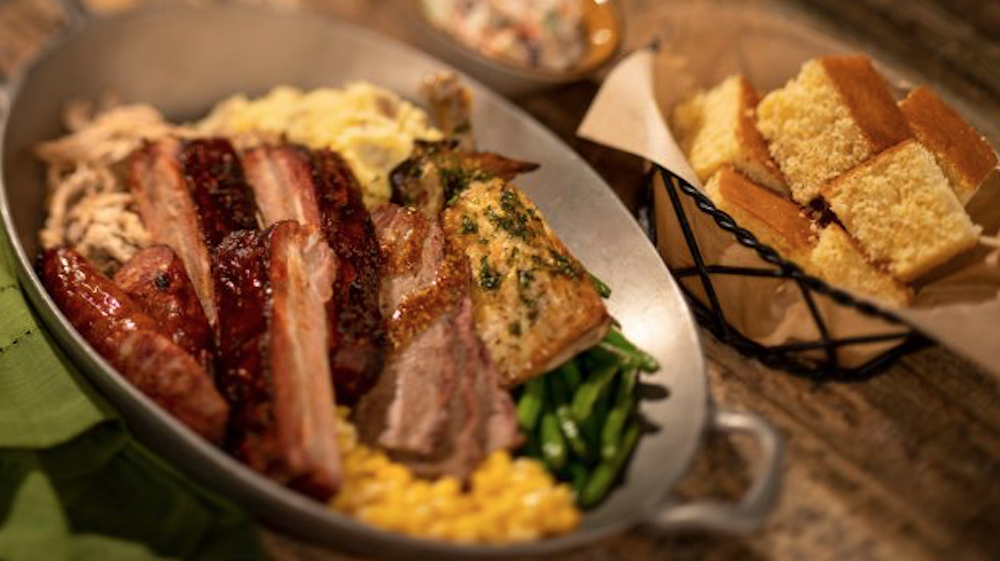 Whispering Canyon Café at Disney's Wilderness Lodge launched a new menu, offering skillets galore! The fun-filled restaurant is known for its sassy cast members, Old Western games, and fine frontier fare, which now includes a whole new array of all-you-care-to-enjoy signature skillets for lunch and dinner (starting today), as well as breakfast skillets (starting March 26). And while you chow down on these signature skillets, Disney's rowdy canyon townsfolk are here to serve you, and their boisterous goings-on aren't going anywhere anytime soon. Do the hokey pokey, ring the dinner bell, and even ask for ketchup (at your own risk, of course). But that's enough hootin' and hollerin' for right now – let's get right into these delicious new items!
Starting with a hearty lunch option, the Signature Lunch Skillet comes with maple-chipotle BBQ slow-smoked pork ribs, barbecued pulled pork, and citrus-herb chicken.
On the dinner menu, you can try the Traditional Dinner Skillet with oak-smoked mustard BBQ beef brisket, maple-chipotle BBQ pork ribs, slow-smoked pulled pork, and citrus-herb chicken. You can also pig out on The "Pig" Dinner Skillet with heaping helpings of braised pork belly, maple-chipotle BBQ pork ribs, slow-smoked pulled pork, and mustard BBQ "piggy wings." Both of these particular skillets come with western-style sausage as well.
Sea-farers can order the Land and Sea Dinner Skillet, which comes with house-smoked salmon, citrus herb chicken, vegan sausage, and charred portabellas.
You can also feast on the Vegan Dinner Skillet – filled with maple-chipotle BBQ jackfruit, spicy vegan sausage, mustard-glazed beefless tips, and herb-brushed trick'n chick'n.
In addition, each one of these hearty all-you-care-to-enjoy skillets comes with a different assortment of sides that may include coleslaw, sautéed green beans, buttered corn, oven-roasted carrots, charred peppers, BBQ cauliflower, Yukon mashed potatoes, or roasted potatoes. Plus, chow down on freshly-baked cornbread served with delicious honey butter with every dinner skillet.
For dessert, order the Apple Pie. This mouth-watering slice of pie comes dusted with powdered sugar and is served with a big ol' scoop of vanilla ice cream.
Thirsty cowpokes will also enjoy a selection of newly-themed cocktails such as the Bourbon Cowboy, which comes garnished with apple slices and pairs great with any lunch and dinner skillet. Selections of wines and draft beers are also available.
In addition, starting on March 26, you will also be able to feast on an array of breakfast skillets. Rise and shine to a delicious chuck wagon breakfast with the Heritage Skillet or the Carnivore Skillet. The Heritage Skillet comes with country potatoes, hickory-smoked bacon, and pork sausage links. For the meat-lovers, the Carnivore Skillet comes loaded with house-smoked ham, hickory-smoked bacon, pork sausage links, and oak-smoked beef brisket. Both of these skillets come with house-made buttermilk-cheddar biscuits, scrambled eggs, and Mickey Waffles.
For those looking for a lighter start to their morning, the Lighter Side Breakfast Skillet is a great option. It comes with Bircher Muesli (Swiss oatmeal), egg white spinach frittata, turkey bacon and turkey sausage, country potatoes, fresh fruit, yogurt, and of course, more Mickey waffles!