Star Wars: Rise of the Resistance Opening at Disney's Hollywood Studios
Star Wars: Rise of the Resistance Opening at Disney's Hollywood Studios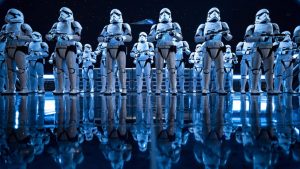 Are you ready to rise up with the Resistance? If you plan on going out to experience it, no matter if you're partial to the Light side or the Dark side, Disney will be using a virtual queue as one of the tools to help reduce your time in line. This will give you more time to enjoy the rest of the theme park.
For those going to Disney's Hollywood Studios, the first step is to make sure you download the My Disney Experience app if you don't already have it. Once you enter the park, you can open the Star Wars: Galaxy's Edge section and go to "Star Wars: Rise of the Resistance – Access by Boarding Group." Click on "Find Out More." The next screen will share the current boarding status of Star Wars: Rise of the Resistance. If boarding groups are available, you may be able to tap "Join Boarding Group." There will also be a display indicating which boarding group may now enter the attraction.
Additional information about virtual queue:
If "Join a Boarding Group" is grayed out, that means the boarding groups are full for the day and are no longer available.
As long as your My Disney Experience account is linked to park tickets for you and the others in your group, you'll be able to enroll everyone in the virtual queue at the same time.
Guests should make sure push notifications are turned on for My Disney Experience so they will be alerted if their boarding group is called to return.
Guests will have up to two hours from the time of the alert to go to the entrance of Star Wars: Rise of the Resistance, so there's no need to rush right over. Once there, they can expect to wait and spend some time getting immersed in the story and soaking in the rich details before experiencing the attraction.
Please note that joining a boarding group does not guarantee the ability to experience Star Wars: Rise of the Resistance.
If you have any questions or need a hand with the virtual queue, the members of the Guest Experience Team are available throughout the park to assist. And while Guests wait for their turn to rise, there's plenty to do around Disney's Hollywood Studios. They can sing along with the Royal Historians of Arendelle at "For the First Time in Forever: A Frozen Sing-Along Celebration;" drop in for a visit at the Twilight Zone Tower of Terror; stop by Andy's backyard in Toy Story Land; or enjoy any number of experiences that let them live their own adventure!