Sweet New Additions at Disney Springs
Sweet New Additions at Disney Springs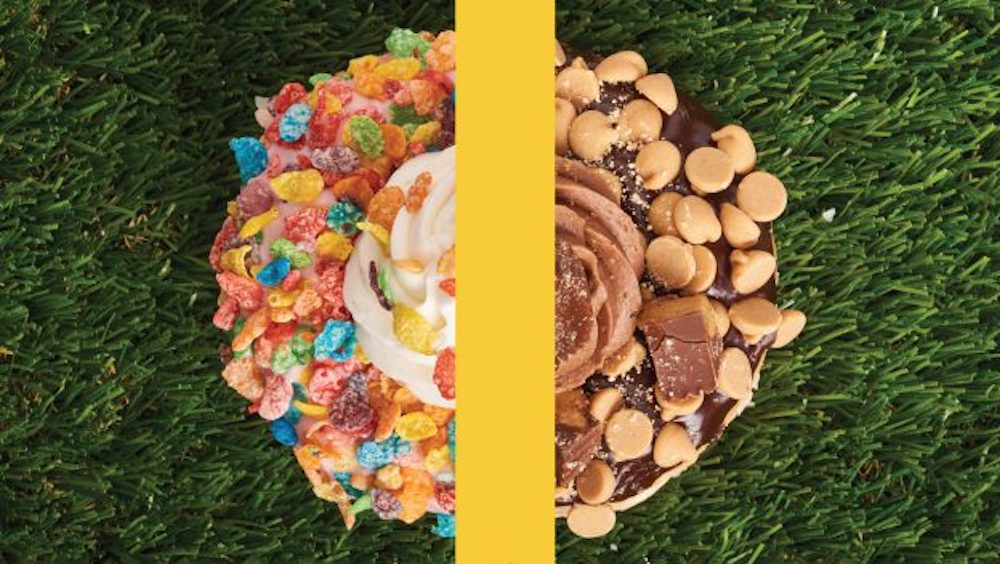 Guests planning ahead for their next Disney Springs visit will not want to miss these sweet new additions!
Gideon's Bakehouse
Celebrating its grand opening just last weekend, Gideon's new flagship location is already a popular destination at Disney Springs. Nestled in the heart of The Landing is where Guests will find this incredible bakery packed with handmade, almost half-pound cookies, double frosted cakes, and delicious iced coffees. Not only is the menu amazing, but the dark and mysterious atmosphere themed to an old bookshop creates an unforgettable experience as soon as Guests walk through the door including some interactive elements inside. (Not to give too much away!) Gideon's Bakehouse carries the same popular menu from their original East End Market location with a few Disney Springs exclusive offerings like the ever-popular Coffee Cake Cookie (previously only available one month a year) and hot cookie hour each evening. Due to popular demand, Gideon's does offer a virtual queue each day so we recommend that Guests arrive early so they can grab their spot in-line and do a little shopping while they wait.
Everglazed Donuts & Cold Brew
Open for just a few weeks now at Disney Springs West Side, there is no better foodie destination for any and all donut-loving fans. The menu boasts an impressive selection of both classic donut flavors and over-the-top gourmet creations like Peanut Butter Explosion, Maple Double Bacon and Oreo Supreme just to name a few. And what's a donut without an awesome cup of joe? Everglazed also specializes in cold brew coffees and even spiked coffees. Other noteworthy items on the menu include their hand-crafted flavored milks, savory breakfast sandwiches, and loaded fries.
Fit2Run, The Runner's Super Store
We're thrilled to share that Fit2Run is back and now open at Disney Springs! Guests can find them in Town Center across from Sugarboo Co. in their brand-new store offering top-notch gear for runners and walkers at every fitness level. The Fit2Run team offers expert advice with a curated collection of the best athletic wear encouraging active and healthy lifestyles (perfect timing to start crushing those new year goals!) Fit2Run knows not every athlete is the same, and offers a complimentary, videotaped gait analysis to determine what kind of shoe is right for each Guest's natural movement. Guests can ask a team member for more information and get ready to hit their stride in style.
Rustic Cuff
Now open in a beautiful storefront in Town Center, Rustic Cuff is the perfect destination for any jewelry and accessory lover! Guests won't want to miss this charming boutique filled with colorful and fashionable pieces including everything from cuffs, bangles, beads, leather, metals, charm bracelets and more. Looking for a personalized piece? Some items are even engravable offering the perfect gift for trendsetters of all ages.
Wondermade
Guests will have to make room for "s'more" treats at the new Wondermade pop-up shop located in The Landing just outside of Paddlefish. A local Central Florida brand, Wondermade specializes in hand-crafted marshmallows including flavors such as S'mores, Key Lime Pie, Birthday Cake and Salted Caramel.  Guests ready to indulge in some real luxury can ask about their Gold Champagne flavor hand-covered in 24 karat edible gold.
Coming Soon — M&M'S
As we enter 2021, Guests can get ready to play in a whole new world of color at M&M'S opening soon at Disney Springs West Side! This beloved brand is a guest-favorite and we're thrilled to share there's even more to love about M&M'S. Be on the lookout for new Mickey and Minnie Mouse M&M's designs and packaging sold exclusively at Disney Springs. If that's not exciting enough, the new store will be filled with their signature chocolate wall and feature a vast assortment of whimsical merchandise, including apparel and accessories. Be sure to follow @disneysprings and @mmschocolate on social media for more details on the upcoming opening. There is always something new to check out or a sweet treat to try at Disney Springs and we can't wait to share more exciting happenings with you in the new year!