Taste of the Magic Kingdom Park VIP Tour by Small World Vacations' Agent, Alissa

Taste of the Magic Kingdom Park VIP Tour by Small World Vacations' Agent, Alissa
Recently, my fellow Small World Vacations' agent Brandi and I took a trip to Walt Disney World to learn more about the resorts, parks, restaurants etc. During our "educational mini-vacation", we wanted to experience things we had never done before so that we could share our knowledge with our guests. The Taste of Magic Kingdom Park VIP Tour – 'A Must Eat Experience! was at the top our list. Disney describes it as a "discovery how food memories are made as you taste your way through kitchens of the Magic Kingdom Park."
This 3-hour tour is $99 per person (plus tax) and you must be at least 16 years old to participate. The tour is currently offered on Mondays, Tuesday, Fridays, Saturdays and Sundays. Valid theme park admission is not included in the price of the tour.
Food is an essential part of visiting the Magic Kingdom and this tour samples some of the sweet and savory dishes found on menus at counter service and sit down restaurants throughout the Magic Kingdom. You are also given access to backstage kitchens and working areas as well as Q & A sessions with some Walt Disney World Chefs.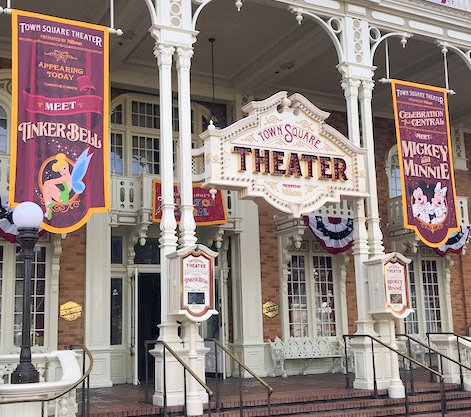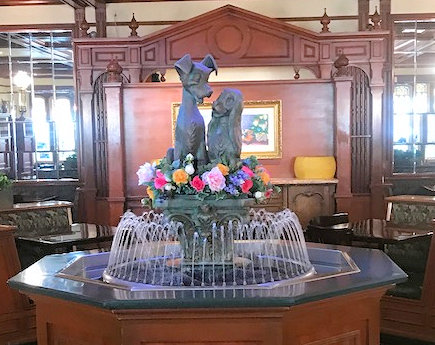 Check in for the tour is located inside the Town Square Theater located on Main Street in Disney's Magic Kingdom.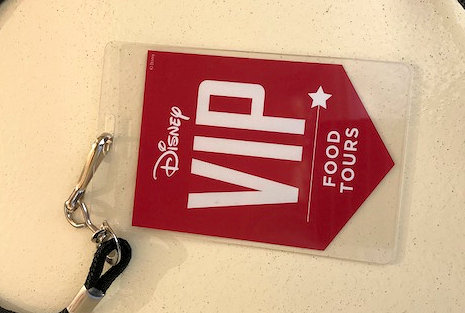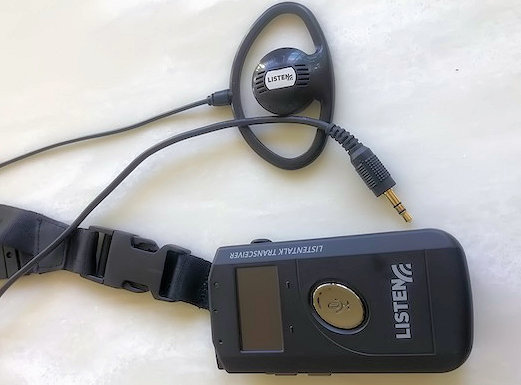 You will be greeted by Disney VIP tours guides who will give you  a VIP Food Tours Lanyard as well as a headset so you can hear the VIP Tour Guides as you follow them around the park.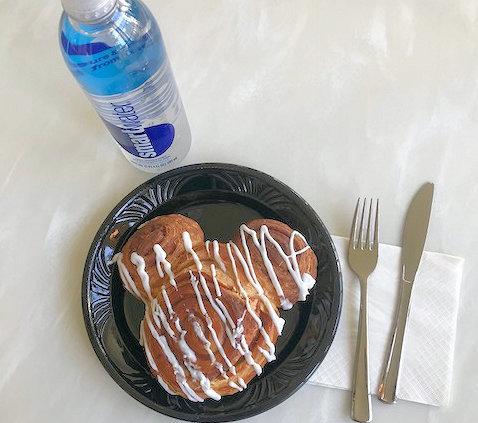 The tour begins in the atrium of Tony's Town Square Restaurant for a Mickey Cinnamon Bun, coffee and water. Here the Guides introduce themselves and offer details on what the group is about to experience and asks everyone to share their favorite food item at Walt Disney World.
The Guides were enthusiastic and knowledgeable, sharing interesting facts and history about the foods of Walt Disney World. Did you know there are over 33,000 recipes and 500 restaurants at Walt Disney World and Cosmic Ray's Starlight Café, located in Tomorrowland, is the 3rd busiest restaurant in the world!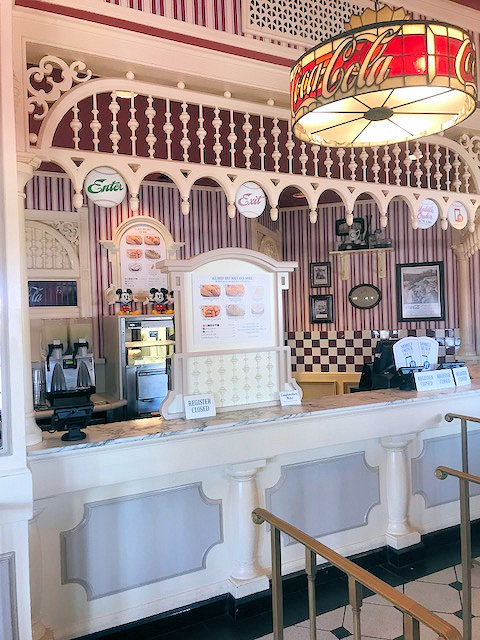 The next stop was Casey's Corner for a brief history and a chance to walk through their very tiny kitchen. Because the kitchen is so small, we were surprised to learn that the hot dogs are actually made in the kitchen behind Tomorrowland Terrace and then transported through the underground utilidors to Casey's, where they are then assembled and served to guests.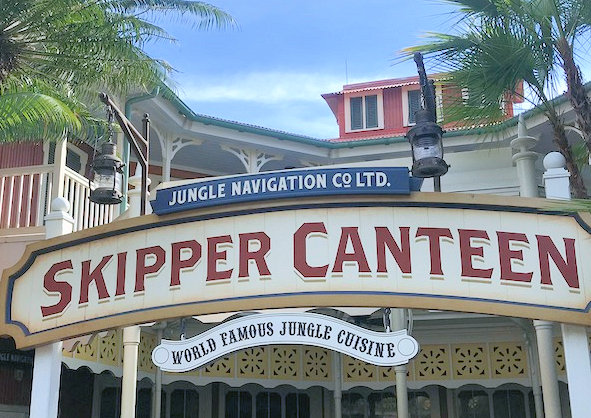 We then headed over to Adventureland for a stop at Jungle Navigation Co. Ltd. Skipper Canteen.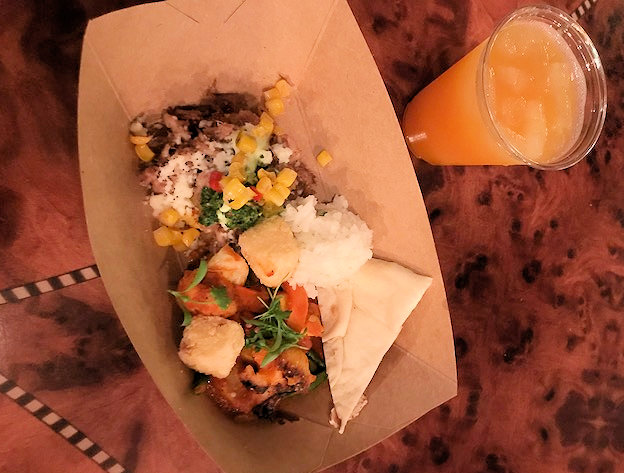 Here we had an opportunity to walk through a portion of a very large kitchen shared by Skipper Canteen, Liberty Tree Tavern and the Diamond Horseshoe. After the kitchen walk-through, we sampled a passion fruit guava drink, corn cakes with braised pork, corn salsa, curried vegetables with rice and naan bread from the Skipper Canteen.
While we ate, the head Chef of Skipper Canteen came out to talk about menu development, running Walt Disney World kitchens and answered questions.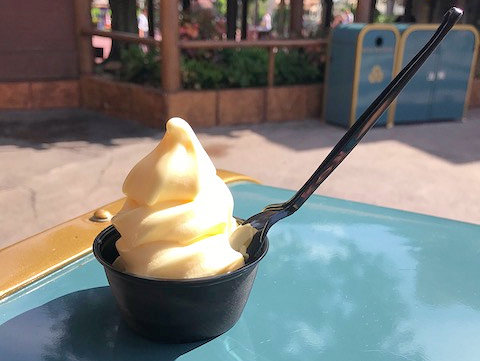 Next was a stop at Aloha Isle for the very popular and famous, Dole Whip.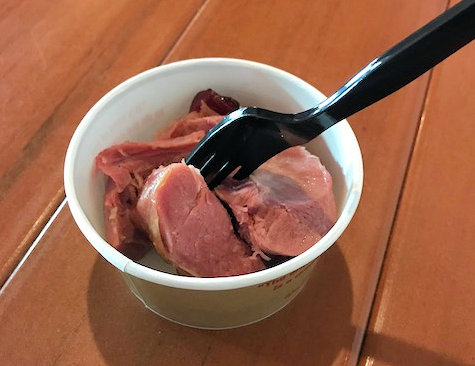 After the Dole Whip we stopped at Tortuga Tavern for a sample of the legendary Turkey Leg. Here additional water bottles were handed out and you were encouraged to take as many as you'd like. It was a hot day and the Guides were great at making sure everyone stayed hydrated.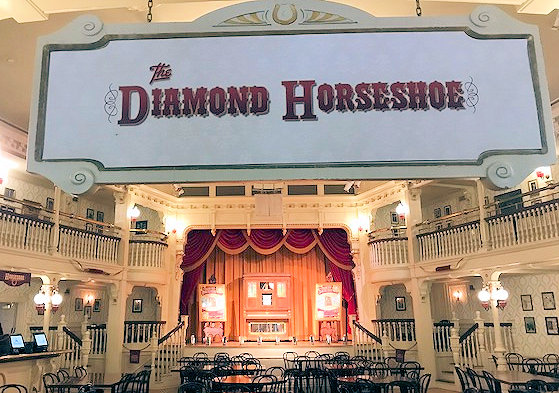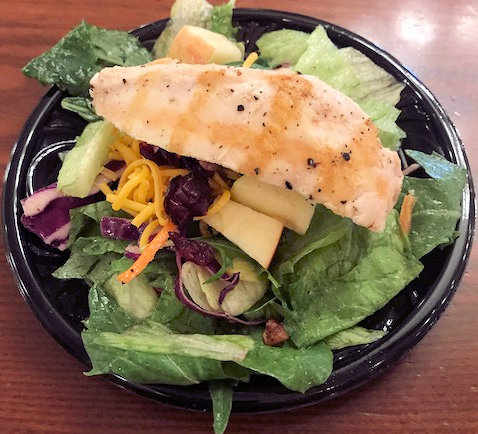 The next stop on our VIP Tour was the Diamond Horseshoe in Liberty Square for their Colony Salad. The head Chef stopped by to share the history of the Diamond Horseshoe and answer any additional questions we had.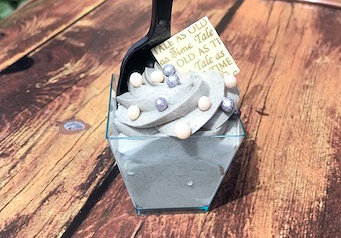 We were then led backstage in Fantasyland for a behind-the-scenes look at the great opening to the utilidoors located underneath the Magic Kingdom. This is where most of the food is dropped off and transported inside. We came back on-stage outside of Gaston's Tavern to sample the Grey Stuff, a sweet treat made famous in the song, "Be Our Guest" in Disney's Beauty and the Beast animated movie.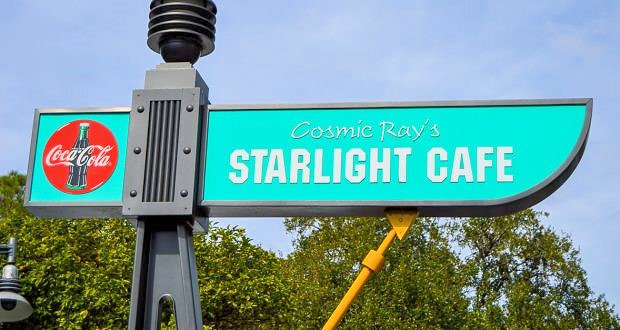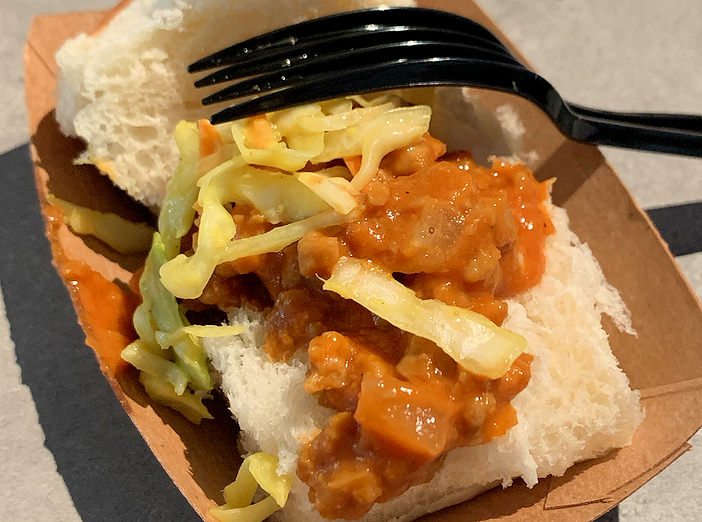 Cosmic Ray's Starlight Café was the next stop with a walk through of their kitchens and then a sample of their Vegan Sloppy Joe.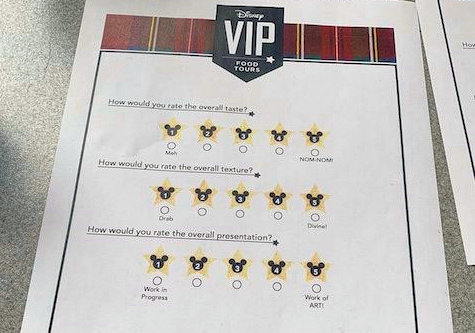 The final stop of the VIP Tour was at the Tomorrowland Terrance to try a secret dish currently in development. We were asked not to share what the dish was or to take any pictures. Surveys were handed out give our opinion of the dish.
The tour concludes after a farewell from the guides and the opportunity to take selfies with popular Magic Kingdom food props.
If you are interested in all things food and snacks at Walt Disney World then this could be a great tour, especially if you have experienced the Magic Kingdom many times and would like to try new foods and see how they create Magic in the kitchen at Disney.
Know Before You Go