The Pandora Conservation Initiative Utility Suit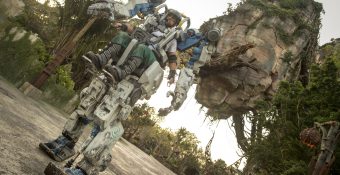 A 4.2-ton, towering mechanical suit is sure to stop you n your tracks at Pandora – The World of Avatar at Disney's Animal Kingdom® Theme Park. The new Pandora Utility Suit is inspired by the iconic Amplified Mobility Platform (AMP) suits of power armor from the epic film AVATAR.
Perched ten feet high, a human pilot straps into the cockpit of this exo-carrier and controls its powerful, yet agile movements. The giant walking suit was designed with articulated hands and a shoulder span of more than five feet.
As the suit traverses the land daily, its pilot will interact with Guests, share details about the land's otherworldly landscape, and highlight the importance of preserving nature.
The Pandora Utility Suit continues the collaboration between Disney and Lightstorm Entertainment that first brought Pandora – The World of Avatar to life nearly a year ago.