Travelers at Orlando International Airport are Immersed in the Walt Disney World Resort 50th Anniversary Celebration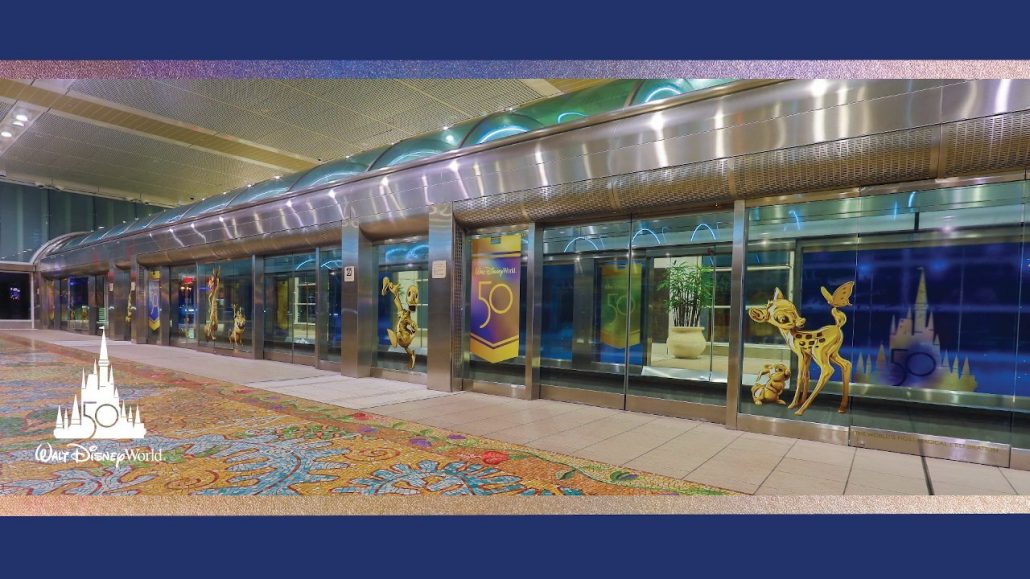 The 50th anniversary celebration of Walt Disney World Resort starts next week on Oct. 1! And now, we're excited for air travelers at the Orlando International Airport to feel immersed in the magic as soon as they arrive in Central Florida, after a magical transformation of the passenger arrival experience.
This transformation of exciting Disney touches includes a wide-spanning art installation in the terminal train stations featuring the Disney Fab 50 Character Collection, found throughout all four Walt Disney World theme parks, as well as a photo opportunity with a golden teacup inspired by the famous Mad Tea Party attraction at Magic Kingdom Park, and a glistening glow of projected EARidescent light patterns engaging passengers as they walk through the airport terminal just outside the Magic of Disney Store in the East Hall. Here guests will also pass a 36-foot long video screen showcasing the shimmering EARidescence of the four parks "Beacons of Magic."
This magical makeover has arrived at Florida's busiest airport just in time for the start of "The World's Most Magical Celebration" at Walt Disney World Resort and will stick around through March 2022. Whether flying into Orlando at the beginning, middle or end of our 18-month 50th Anniversary celebration, we can't wait to share this magical milestone!