Unique New Restaurants Offer Dining Delights, Spectacular Views at the Re-Imagined Disney's Coronado Springs Resort
Unique New Restaurants Offer Dining Delights,
Spectacular Views at the Re-Imagined Disney's Coronado Springs Resort
With two restaurants and a stylish rooftop lounge leading the way, new food and beverage experiences share the spotlight as Disney's Coronado Springs Resort emerges fresh from a multi-year, resort-wide re-imagining. The two new restaurants extend the wide variety of palate-pleasing dining options found throughout the resort.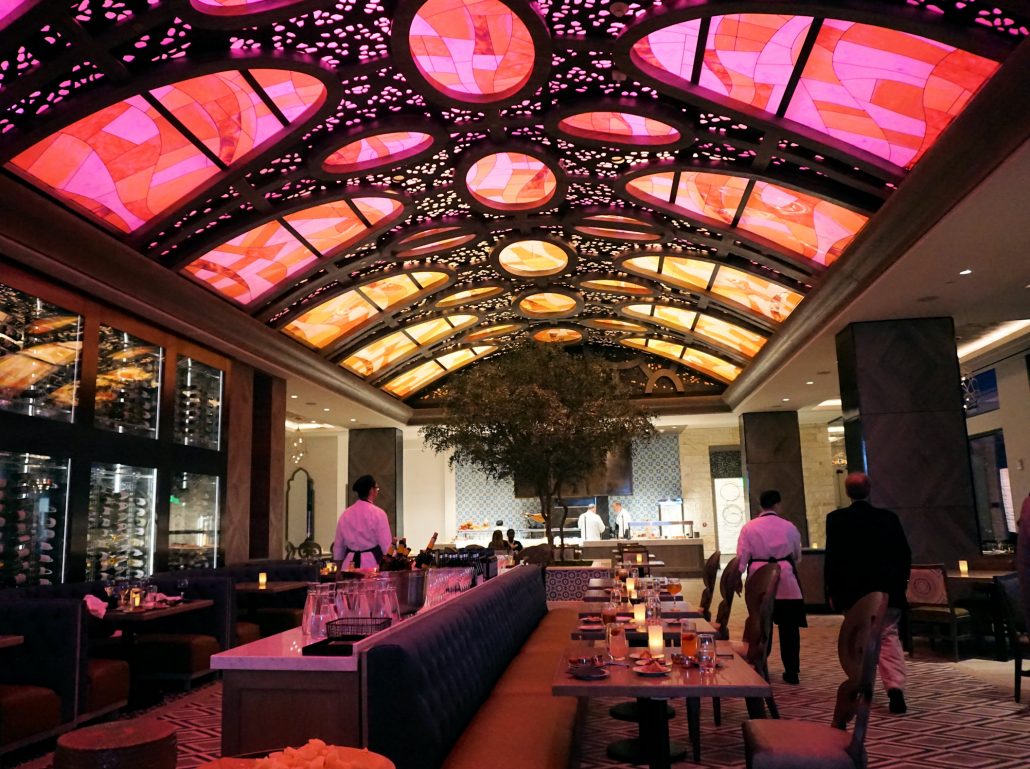 Photo by David Caamano of Beyondthekingdoms.com
The new Gran Destino Tower is home to an unforgettable new dining experience, Tolédo – Tapas, Steak & Seafood, a unique rooftop table-service restaurant offering dishes and small plates inspired by the flavors of Spain. Featuring sweeping views of Walt Disney World Resort, this charming, surrealistic location invites guests to dine indoors under a pair of large olive trees nestled beneath an intricate vaulted ceiling with shimmering stained-glass accents.
Tolédo – Tapas, Steak & Seafood is the namesake of the Spanish city that was home to avant-garde writers and artists in the 1920s and '30s. Spain also inspires the savory menu choices:
Begin the adventure with tapas from the Basque region of Spain. An onstage tapas kitchen serves small plates, charcuteríá, and cheeses.
Or choose from Cazuelas – chef interpretations of classic recipes presented in a traditional Spanish terra cotta dish.
Entrees include rioja-braised chicken, Spanish-style bone-in ribeye or golden tilefish (100% sustainable seafood).
Spanish sides include bravas (potatoes) with pimento aioli, braised gigante beans with aged sherry vinegar, and roasted cauliflower with harissa vinaigrette.
Three signature desserts from the Master Pastry Chef include the Tapas Bar, a crunchy chocolate bar with bite-sized flavors of Spanish coffee, crunchy chocolate, raspberry mousse and lemon curd.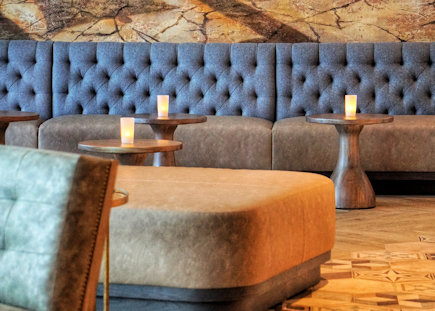 Photo by David Caamano of Beyondthekingdoms.com
In the Disney animated film "Destino," from which the tower takes its name, the immortal Chronos is in love with the mortal Dahlia. This passion shines through in the Dahlia Lounge, a convivial room that shares the tower's rooftop with Tolédo – Tapas, Steaks & Seafood. The heroine inspires the lounge's visual aesthetics – from dandelion chandeliers and metal bell accents to ceiling coffers with swirling patterns reminiscent of her flowing hair. Cocktails are crafted by expert mixologists, while wines from California and Spain include high-end cavas handpicked by the master sommelier. Visitors to the lounge – indoors or outdoors – can also choose from tapas or small-plate specialties.
The second new restaurant at Disney's Coronado Springs Resort is on an island in the middle of Lago Dorado. Three convenient new walkways stretching across the 22-acre lake lead to Villa del Lago and its Three Bridges Bar & Grill. Offering casual waterside dining in an open-air setting, this idyllic new location presents a varied menu that includes curry-lentil hummus, Szechuan peppercorn wings, salads, a signature burger and a grilled skirt steak with pepper relish. Behind the central bar, a beautiful stone hearth invites guests to unwind with a pitcher of sangria or a vibrant cocktail while enjoying tranquil lake views.
Here's a taste of other venues found at Disney's Coronado Springs Resort:
NEW! Barcelona Lounge – On the ground floor of the two-story lobby in Gran Destino Tower, this dramatic yet casual space offers a European coffee experience paired with Spanish and classic American pastries as well as healthy breakfast items. The city of Barcelona inspired the eclectic patterns and warm colors, including the stained-glass feature wall behind the bar. Under a magnificent chandelier, the space transforms throughout the day, transitioning by late morning to an artisanal cocktail bar with a variety of tonics to complement an international gin collection. Those tonics include the resort's own house-crafted, signature Gran Destino Gin Tonic. Guests can linger over lake views while enjoying select wines and craft beers from both Spain and California. Dishes of cheeses, olives and more, paired with sourdough, are served beginning at 11 a.m.
NEW! Chronos Club – With its casual yet intimate shadings, this bright, open-air club-access space located on the 15th floor of Gran Destino Tower is perfect for unwinding and enjoying light refreshments throughout the day. Chronos Club offers lake views and a Barcelona vibe with its cooler color palette.
Maya Grill – This grand Mexican dining room features ancient-modern styling and Nuevo Latino cuisine.
Rix Sports Bar & Grill – This stylish establishment puts a unique spin on classic bar food.
El Mercado de Coronado – There's something for everyone at this food court filled with kitchens serving made-to-order breakfast, lunch and dinner.
Café Rix – At this charming grab-and-go location, guests find pastries and coffee, among other tasty snacks.
Laguna Bar – Signature cocktails are available at this breezy lakeside lounge.
Siestas Cantina – This poolside hideaway is a place to unwind with refreshing beverages and snacks.